Day 1 (Friday the 13th) - Boston to Albuqueque to Santa Fe
Nancy's sister Diane, and her husband Donald, were kind enough to put us up for the night at their house near Boston, so we could get up at 4 am to make our 6 am flight. There were no pictures of this - we were not totally coherent at that hour.
Luckily the Starbucks at Logan airport opens at 4:45 am. The flight to Cincinatti was uneventful.
We landed in Albuqueque about 10:30 MDT where we were met by our tour director, Phil, and met our bus driver, Russ. We also met Jerry and Helene from Honolulu.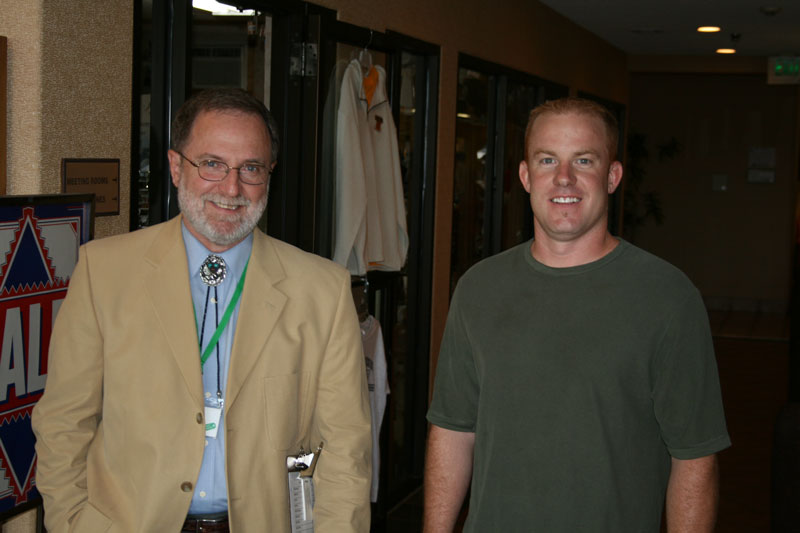 We were the first 4 of the 40 people on the tour to arrive, so we had time to visit Old Town where we found a great restaurant that Russ recommended. It had a tree growing in the middle of the dining room.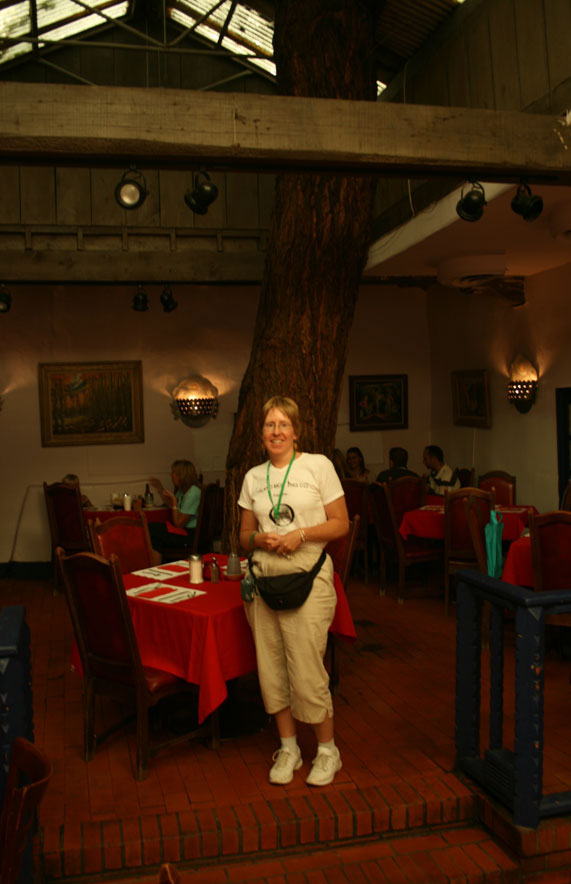 The restaurant was called La Placita. EXCELLENT Mexican food!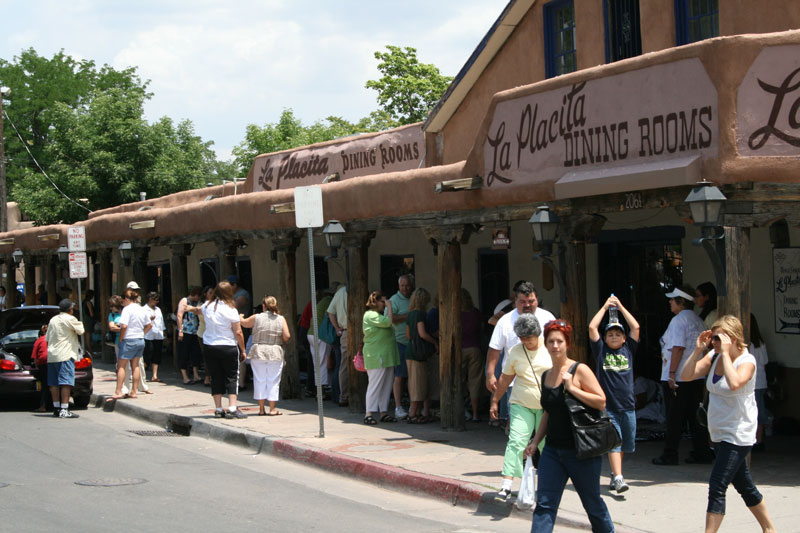 The reason so many people were hanging out on the sidewalk was that some local artisans were selling hand made Arizona-style jewelry. Nancy checked it out.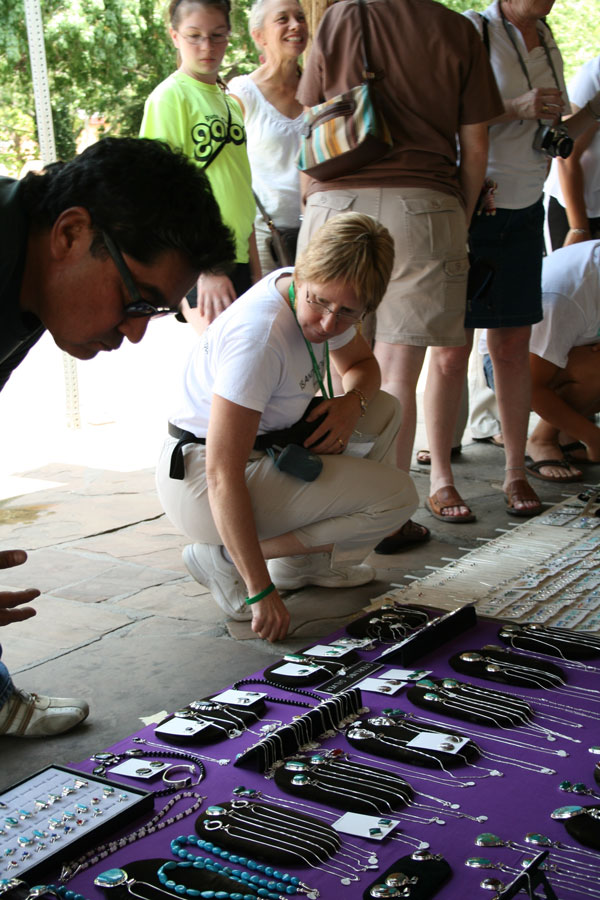 We strolled Old Town, peering in the shops and meeting the locals. Nancy met an interesting character.
So did Bill. Bad boy! Watch those hands, mister!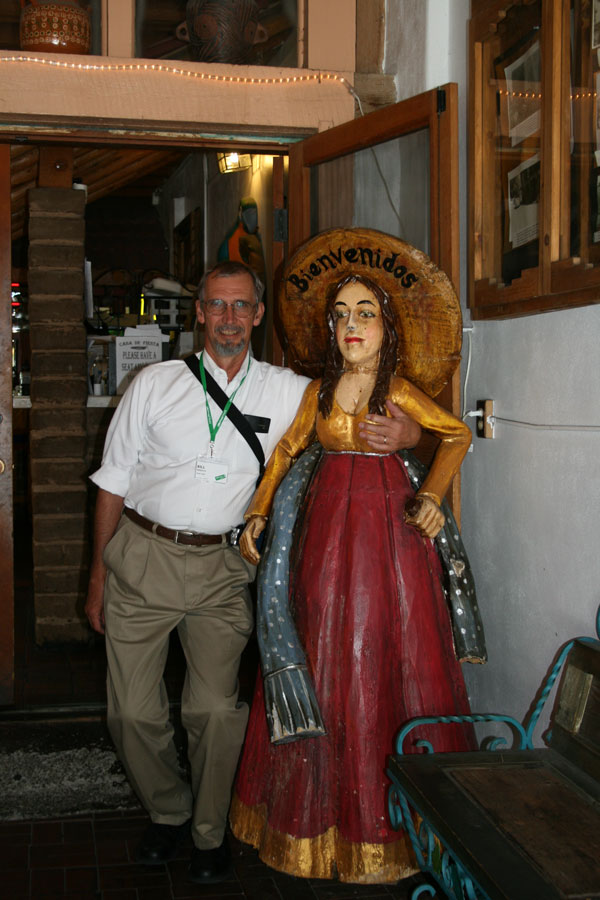 Near the Old Town square we saw San Felipe de Neri, the oldest church in Albuqueque. It has served the community without interruption since 1706.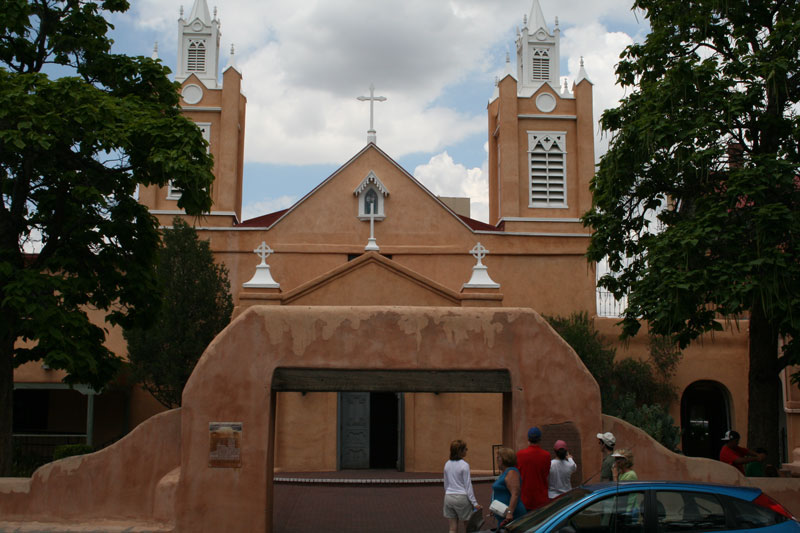 Just to the right of the church there was an enormous catalpa tree, with long seed pods hanging off of it.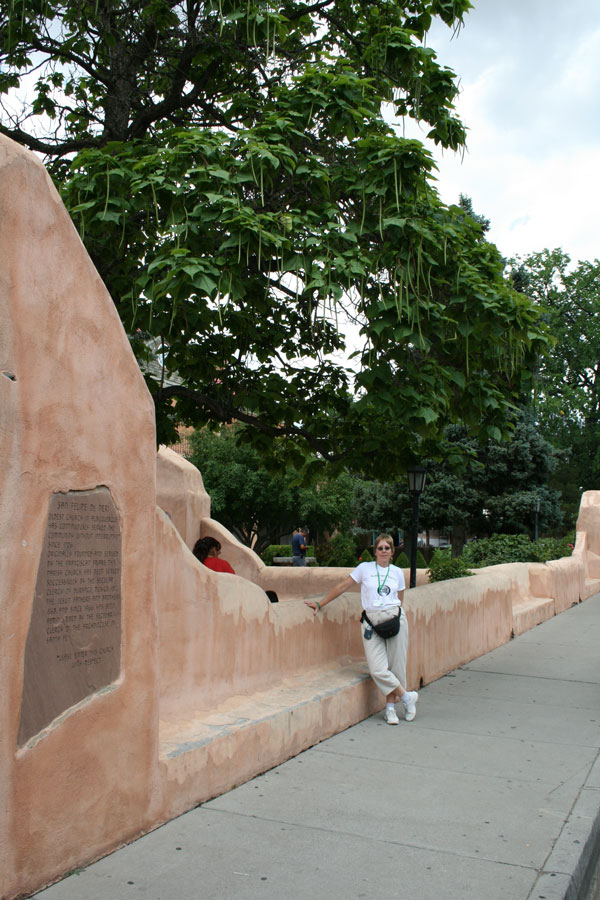 The seed pods looked like giant foot-long green beans.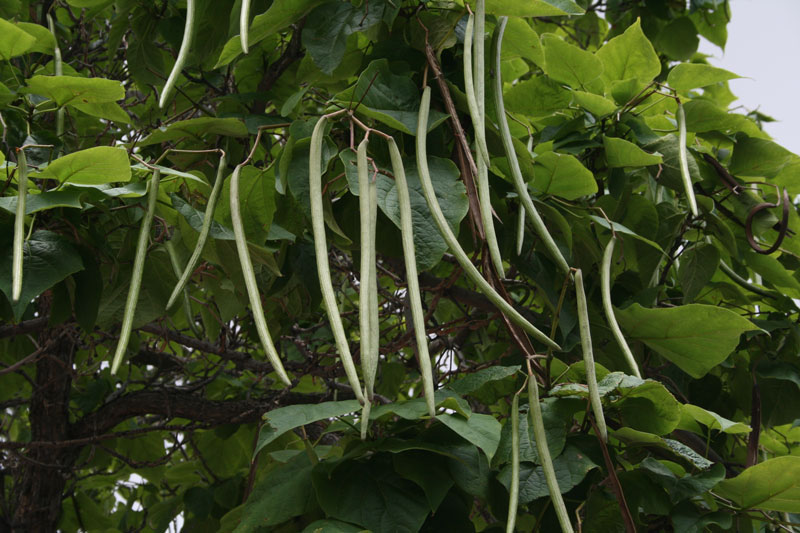 Russ picked us up and, along with the rest of our group who had now arrived, we headed north for Santa Fe, about an hour's drive north of Albuqueque.
We saw some dust devils (small whirlwids) kicking up in the flat desert land, and watched a thunderstorm blow in from miles away over the mountains. The land was flat and open - there was so much SKY! The cumulous nimbus clouds rising up thousands of feet were very dramatic.
We arrived at a very nice Courtyard Marriott in Santa Fe, grabbed a power nap, and hit the indoor pool and mineral water hot tub. We met Brittany from Virginia who is traveling with her mom.
We were provided an excellent dinner - mixed veggies and ravioli southwest style with a creme sauce - and everyone introduced themselves. We set with a group of band directors and other musical people from Ohio. They were very friendly.
Tomorrow we tour Santa Fe on Day 2.