We boarded the bus out front of the Courtyard Marriott at 8:30. Russ made a most awesome U-turn, for which he received applause from all of us, and we headed for downtown Santa Fe.
We met our local guide, Carol, at a scenic overlook of Santa Fe. Carol provided a prodigous amount of local information about the city and its surroundings.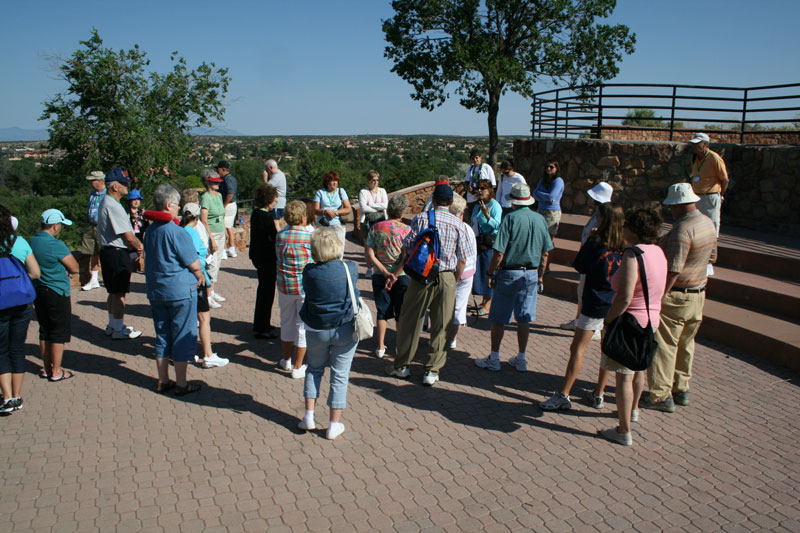 Santa Fe is situated at an altitude of 7000 feet, near the Sangre de Cristo Mtns. From where we were, we could look down at the city and the surrounding terrain - lots of adobe - everywhere.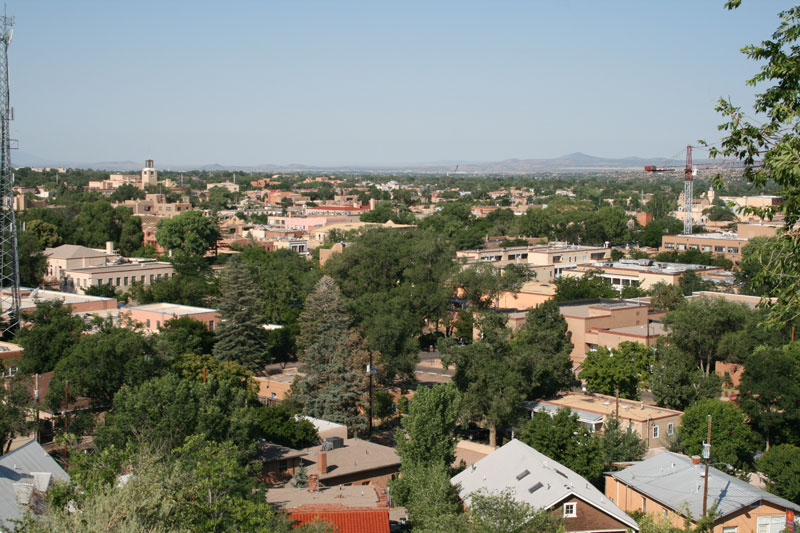 Nancy enjoyed the view.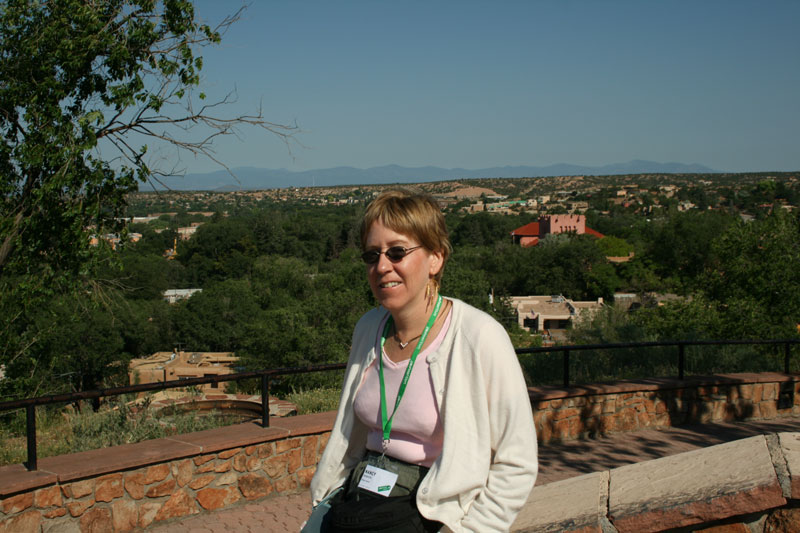 Like I said, LOTS of adobe structures. Also lots of Russian Sage and scrubby vegitation. The trees are pinon pines.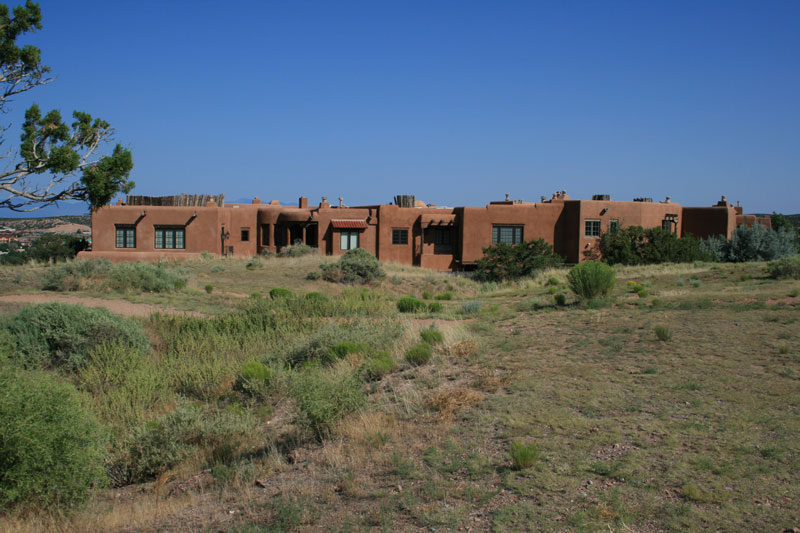 Here's some Russian Sage, known as chamisa.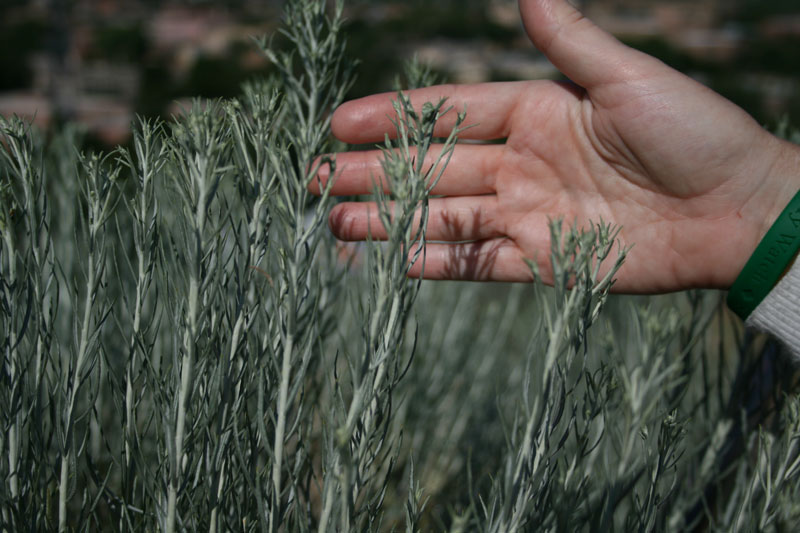 We toured around the city on the bus for half an hour - then got off near The Plaza (Carol said don't even think about calling it the town "square") right in the center of the oldest part of Santa Fe. That's our bus on the right, in front of the Institute of American Indian Arts Museum.
Carol took us on a walking tour of downtown, pointing out places of interest. We passed this intersection.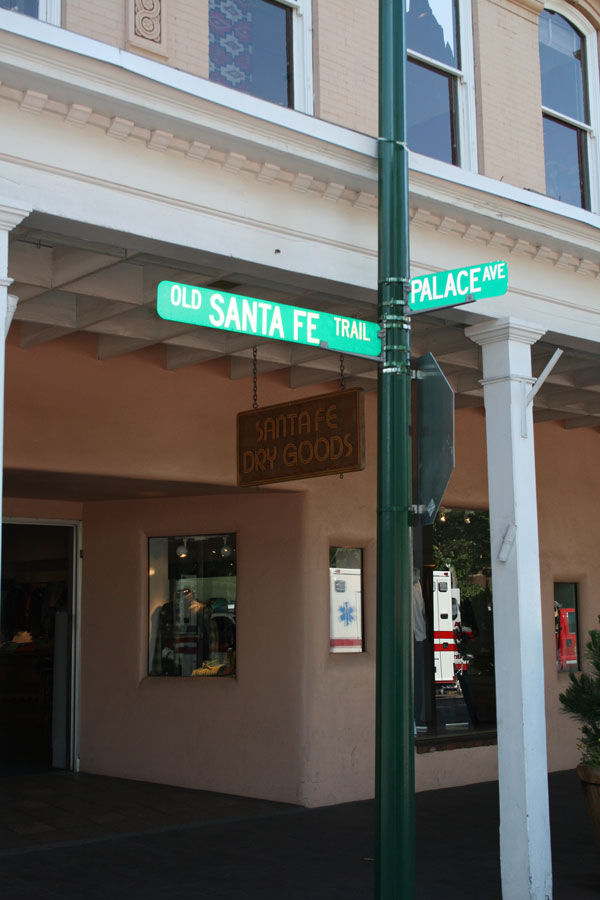 Santa Fe is second only to New York in art sales in the United States. The town is full of galleries and other interesting places. I thought this sculpture was kinda neat.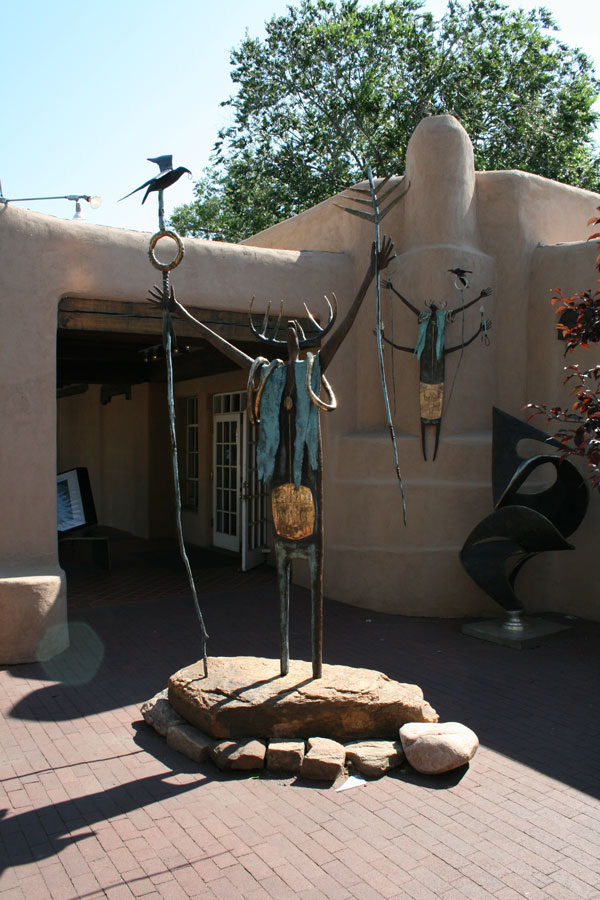 We stepped into a courtyard off the street. It was filled will local flora, like this blooming sage.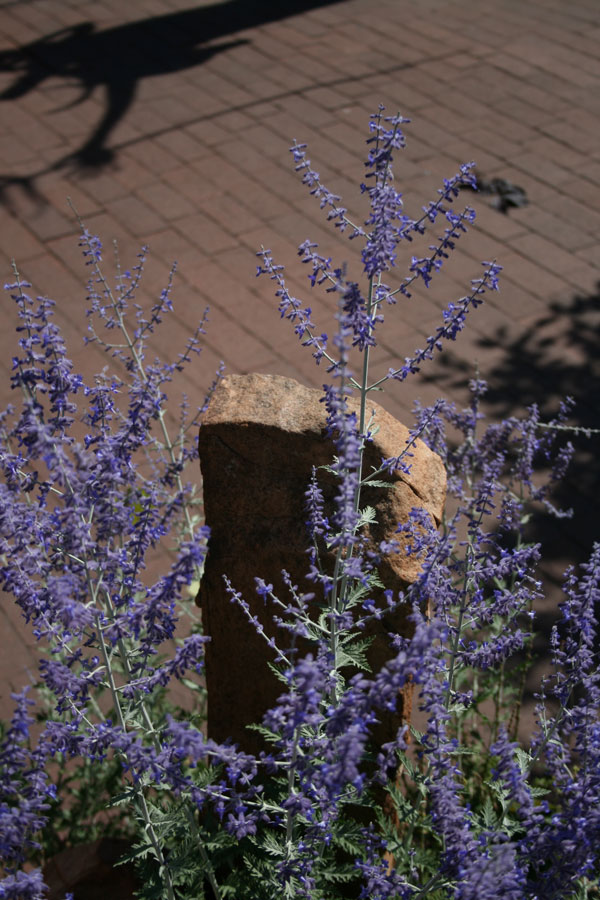 OK, I don't know what it is ... holly, of some kind? ... it was in the garden where we were gathered.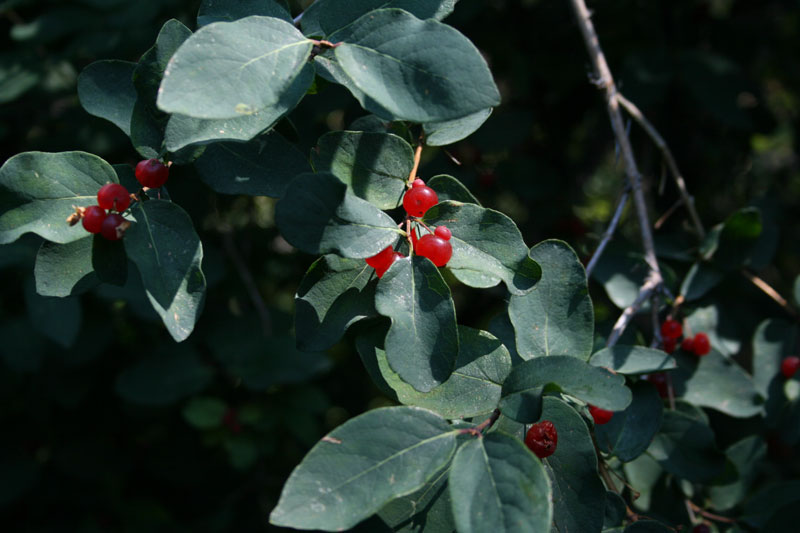 Georgia O'Keefe would like this hollyhock.
After a short bus ride around town, Russ and Phil dropped us off in the center of town for some free time on our own. We said goodbye to Carol and headed off to discover the sights of downtown Santa Fe.
We shopped the local jewelry displays in front of the Palace of the Governors.
We stopped for a healthy organic lunch at Cafe Pasqual's, which was recommended by Nancy's friend, Margaret. Excellent Mexican food!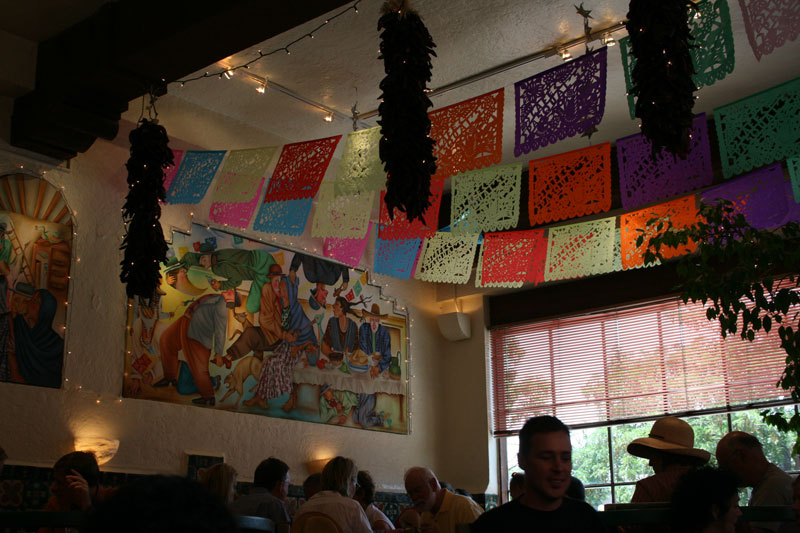 We went to the Georgia O'Keefe Museum - fantastic display of her life and work! Couldn't take pictures inside, though.
We shopped and shopped, then headed back to where the bus pick-up was. Here's an interesting character we ran into. He was taking a rest with his pets.
It's not everyday you see a mouse taking a nap on top of a cat taking a nap on top of a dog. Weird!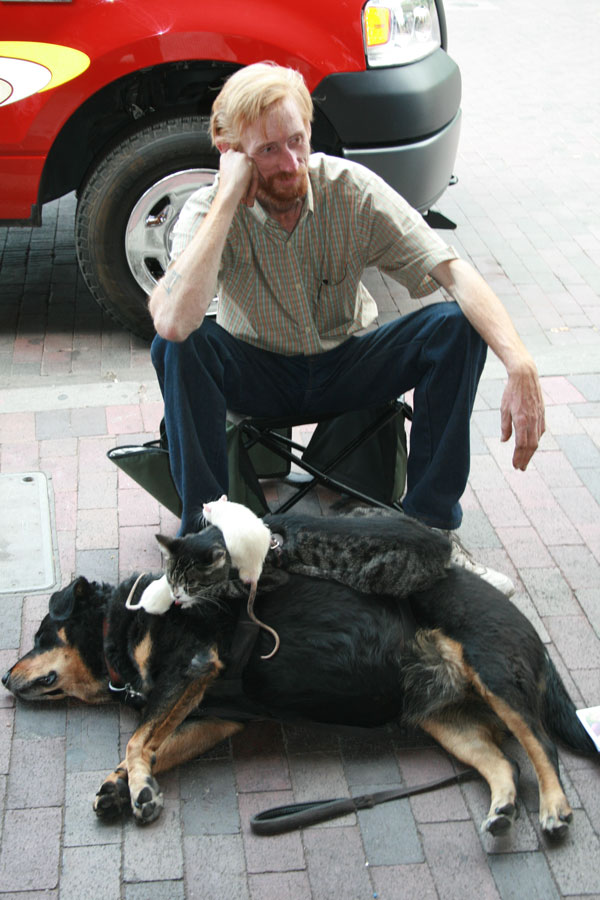 Bill had to stop for his afternoon Starbucks fix and a last look at The Plaza.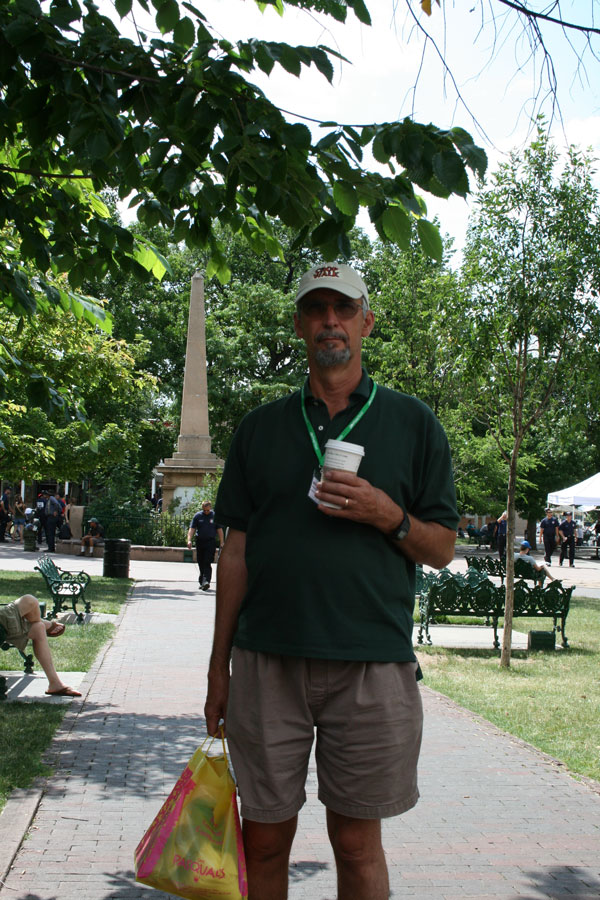 Nancy wanted to see what the Rainbow Man had to offer in his courtyard store.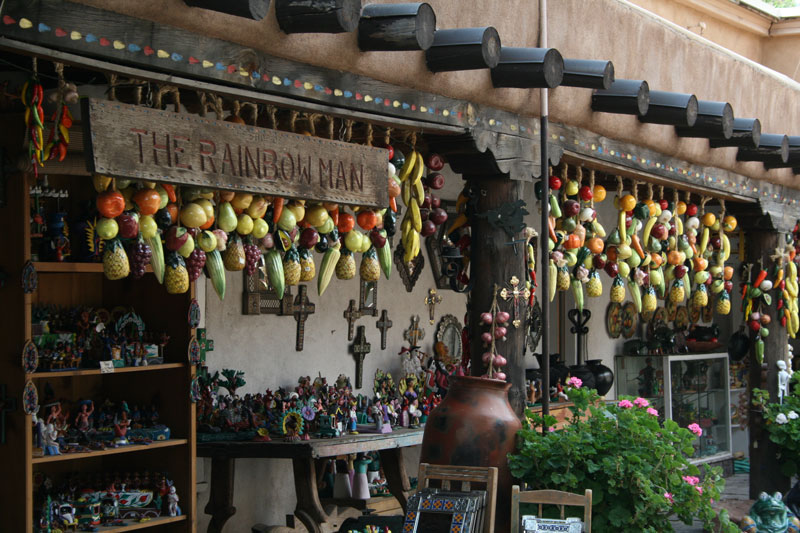 We headed toward the grounds of the Cathedral Basilica of St. Francis of Assisi - very old.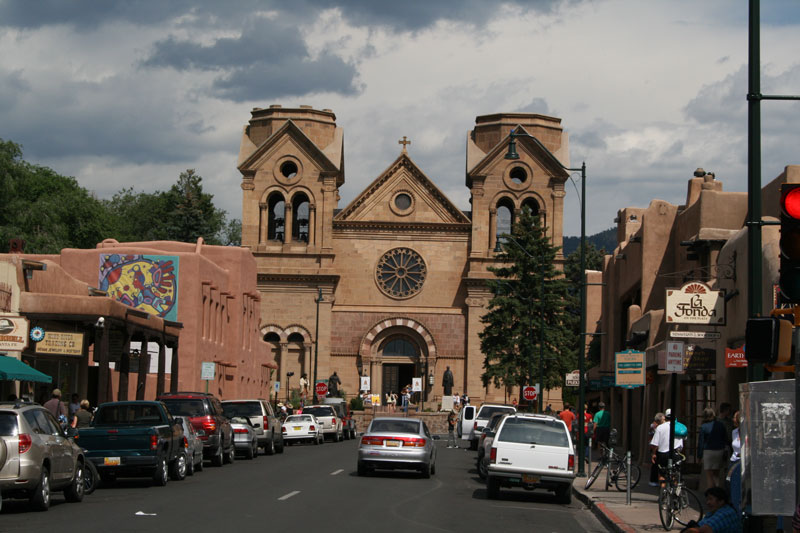 Getting closer.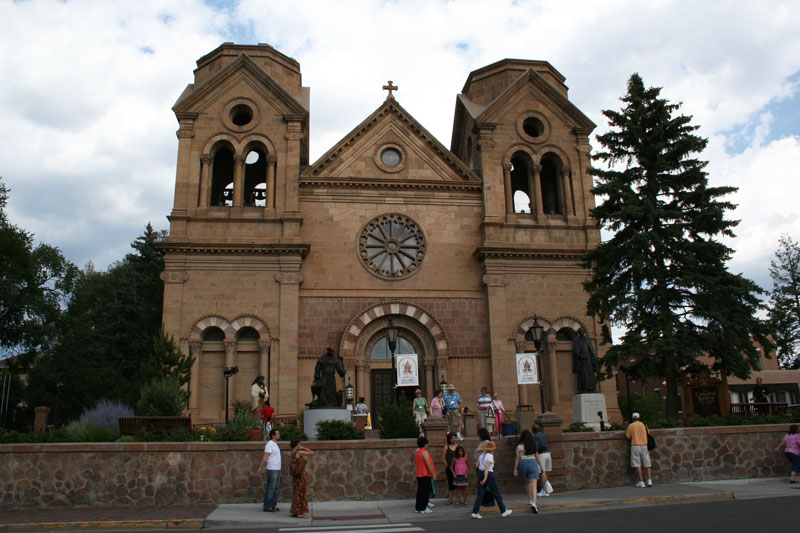 In front of the Cathedral is a statue of Kateri Tekakwitha (1656-1680), the first Indian of North America to be promoted a saint.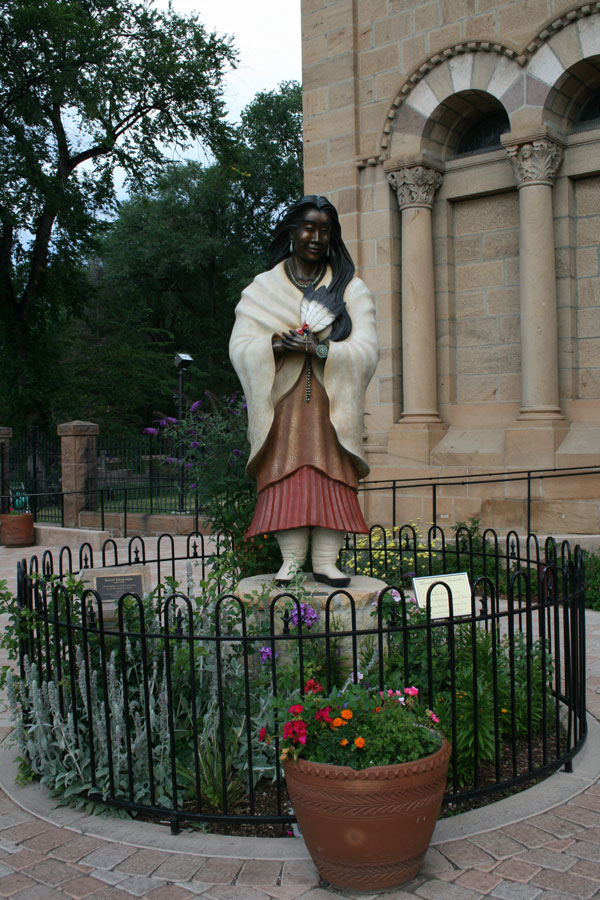 Inside the Cathedral.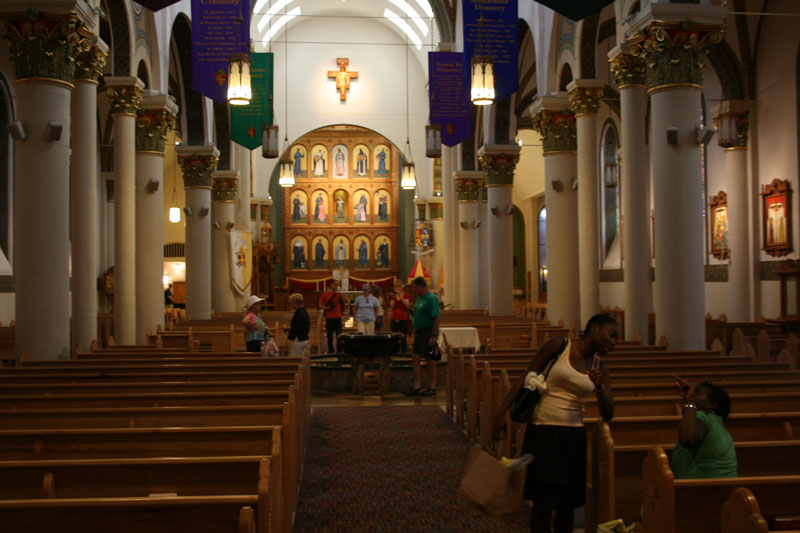 Outside the Cathedral stands this statue of a happy angelic monk.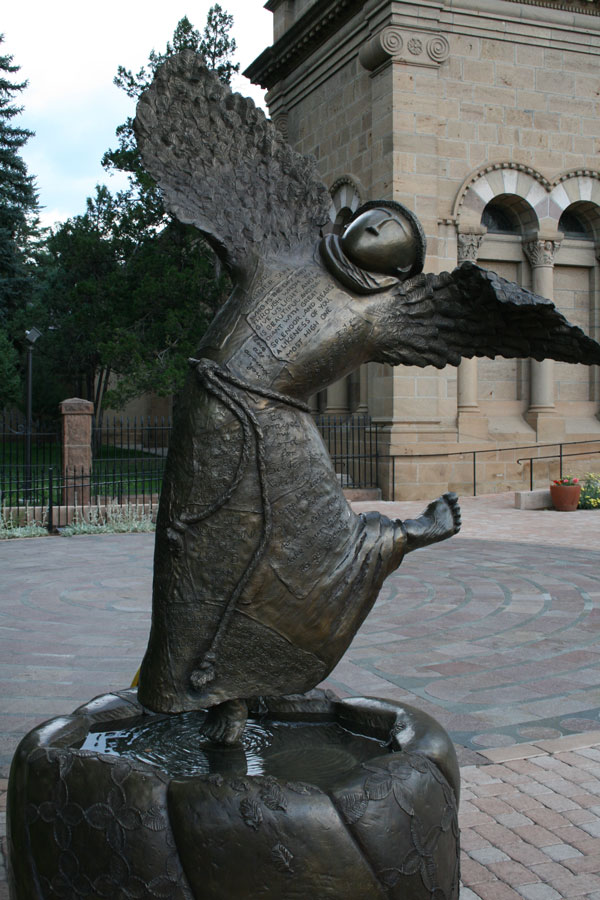 There's also a labyrinth. Nancy has enjoyed walking labyrinths before and did a walking meditation on this one.
About this labyrinth.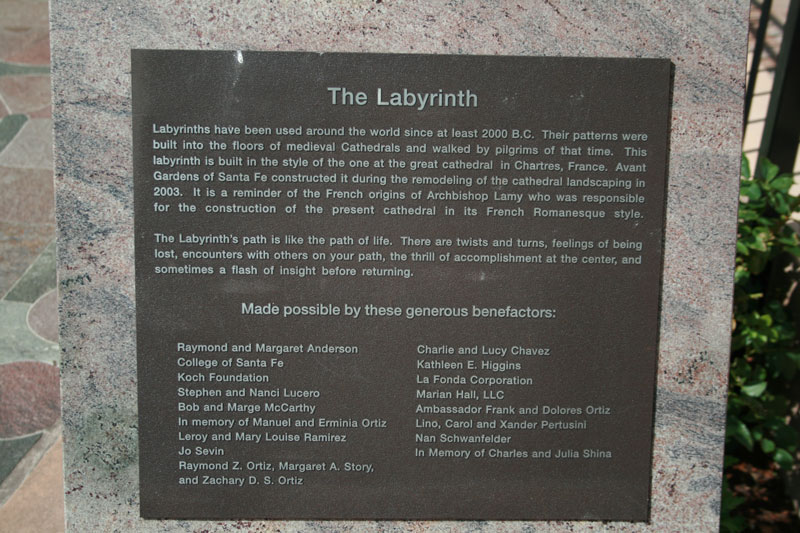 A fountain near the Cathedral.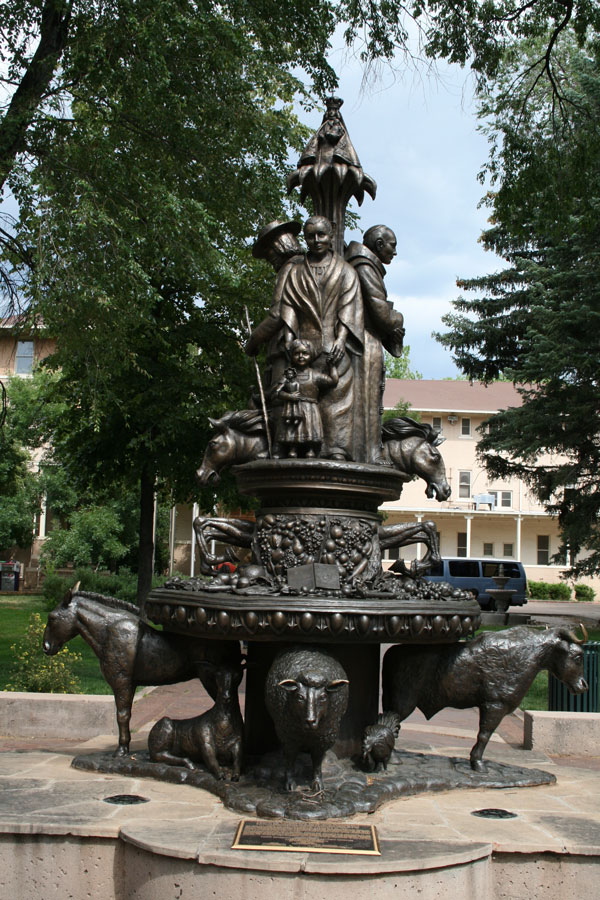 Nancy in front of a metal sculpture she liked.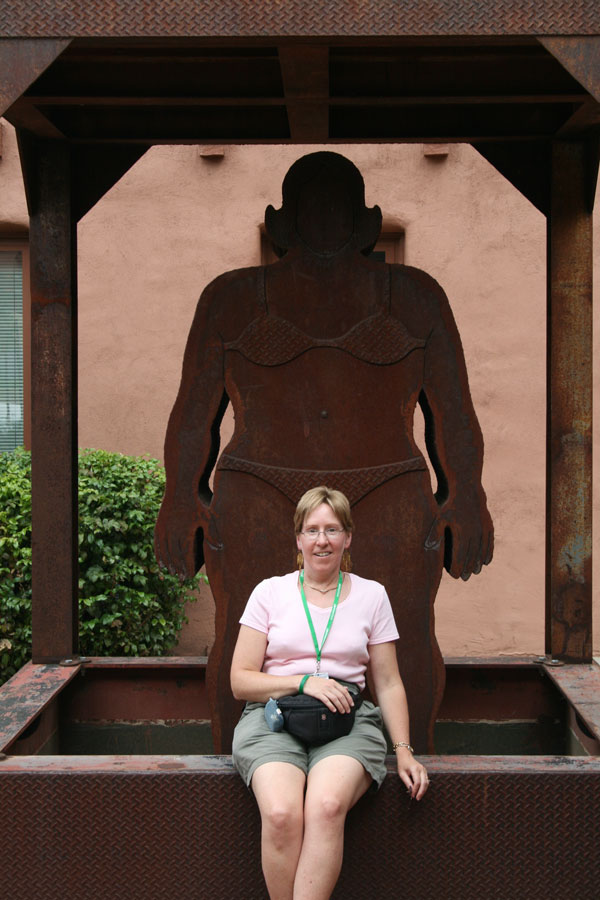 We returned to our hotel to hit the hot tub and pool. Tomorrow we head for Mesa Verde on Day 3.