Day 3 - Santa Fe to Durango to Mesa Verde
Day 3 began with breakfast, then on the bus at 7:30. Everyone was in good spirits from a leisurely day in Santa Fe.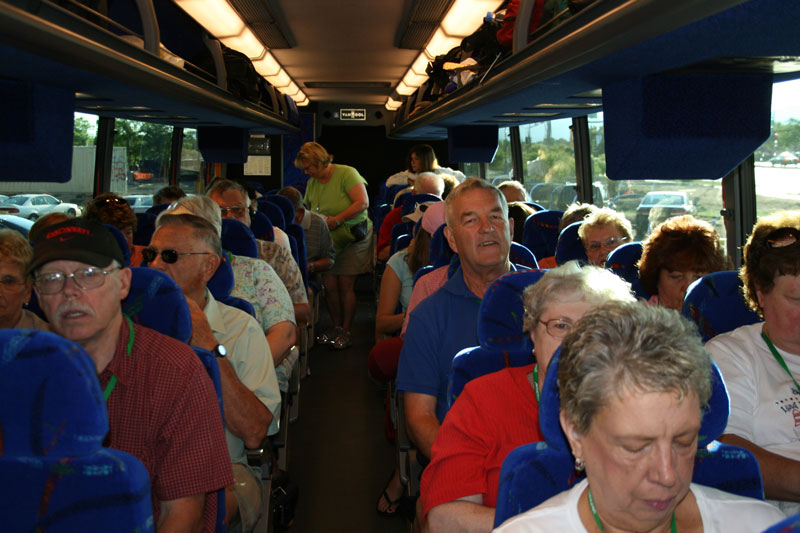 Phil told us about the upcoming day - a ride up north to Durango, Colorado where we'd stop for lunch, then on to Mesa Verde National Park where we'd spend the night. [That's Russ in the 2 mirrors to either side of Phil.]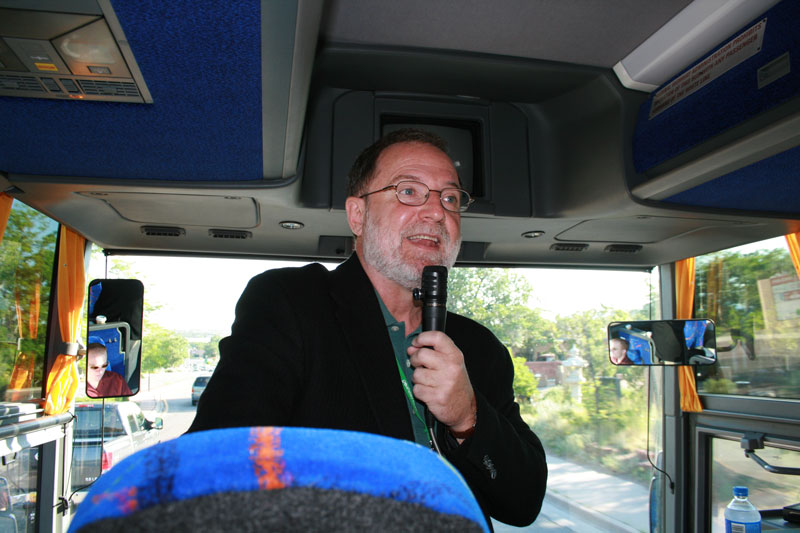 We passed a lot of interesting scenery along the way. Here's some exposed strata along the highway.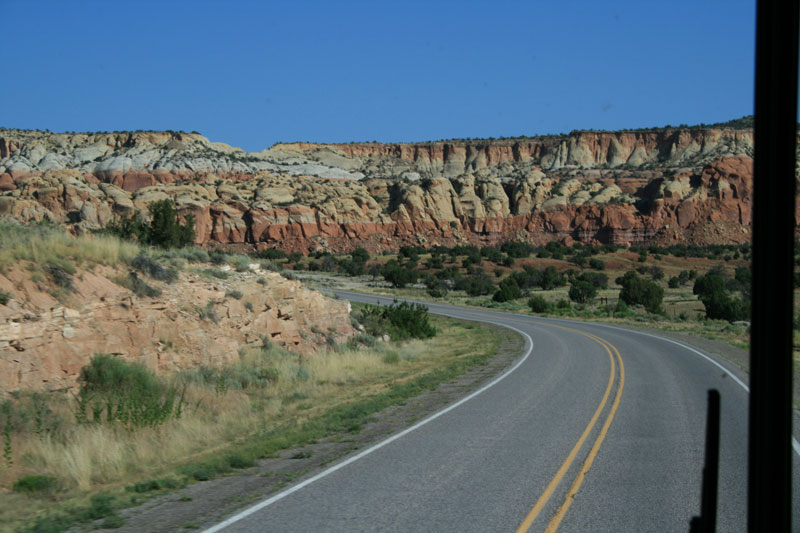 Another formation.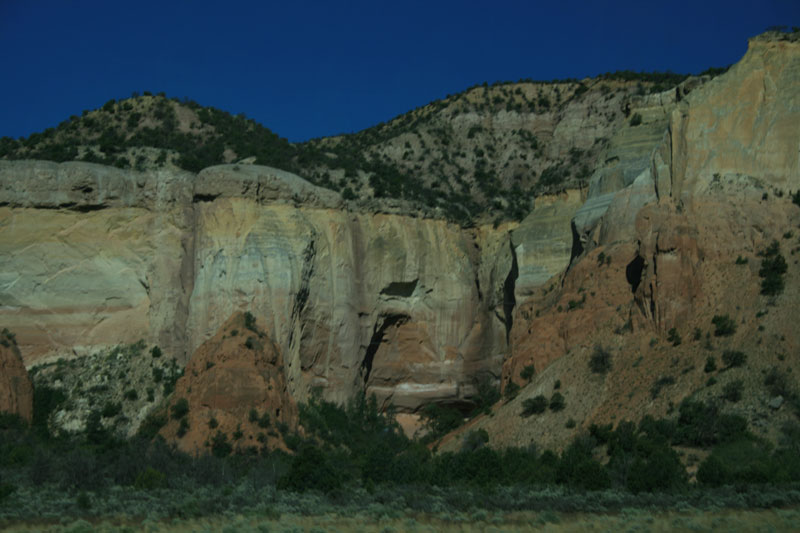 And another.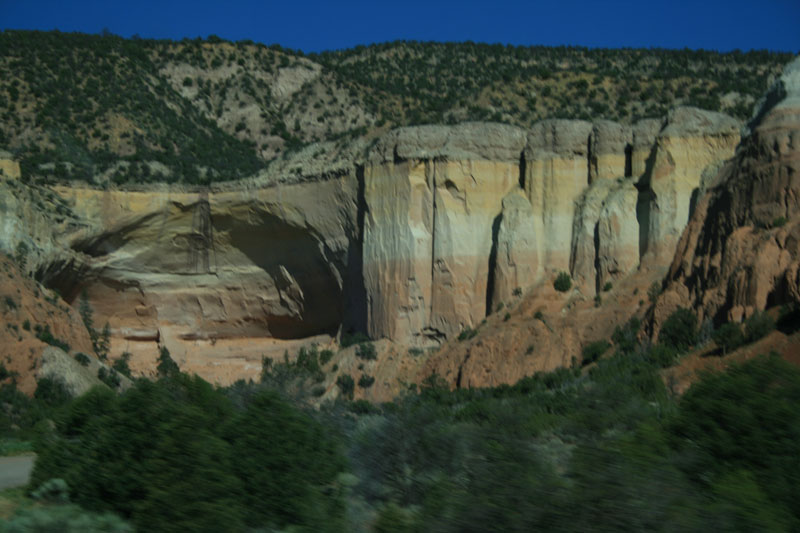 We passed Ghost Ranch, where Georgia O'Keefe lived. Later, we made a pit stop at Chuma, New Mexico. Here's Nancy by a historic marker for the Old Spanish Trail.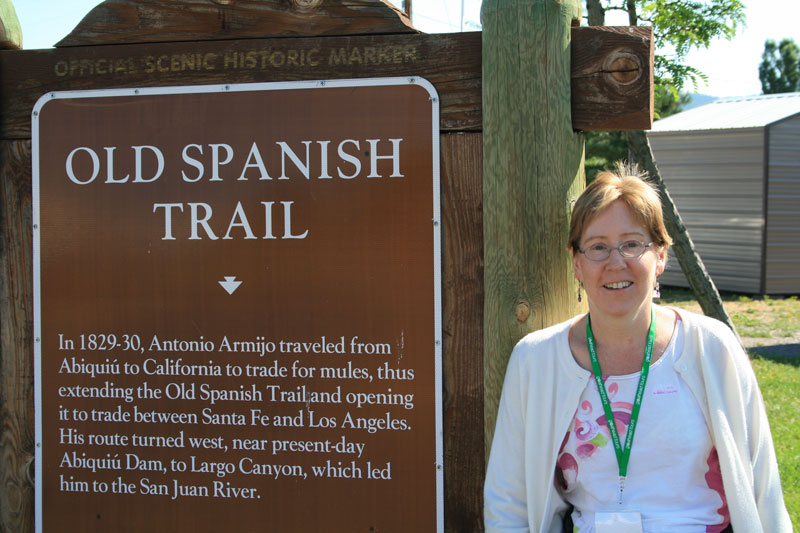 Phil and Russ help people back on the bus.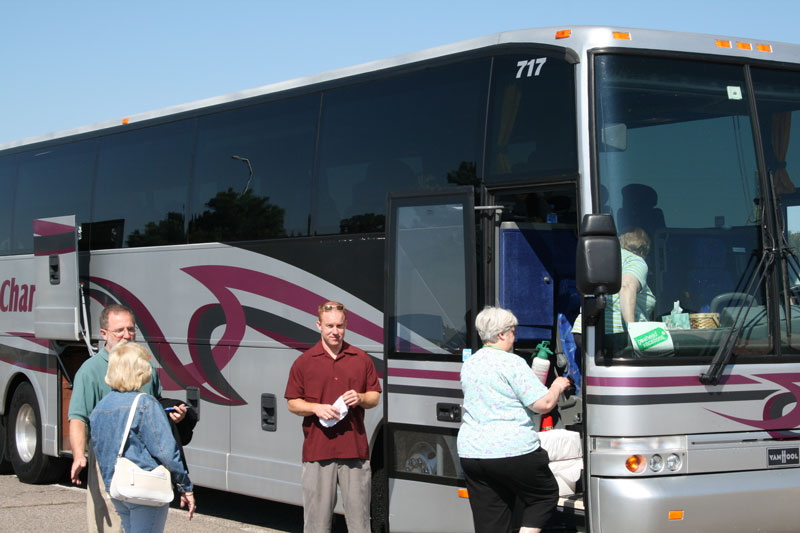 We arrived in Durango, Colorado, and stopped for lunch. Nancy and I ate at Lady Falconburgh's Pub, locally known as the "Cheers" of Durango. The had an interesting brick wall.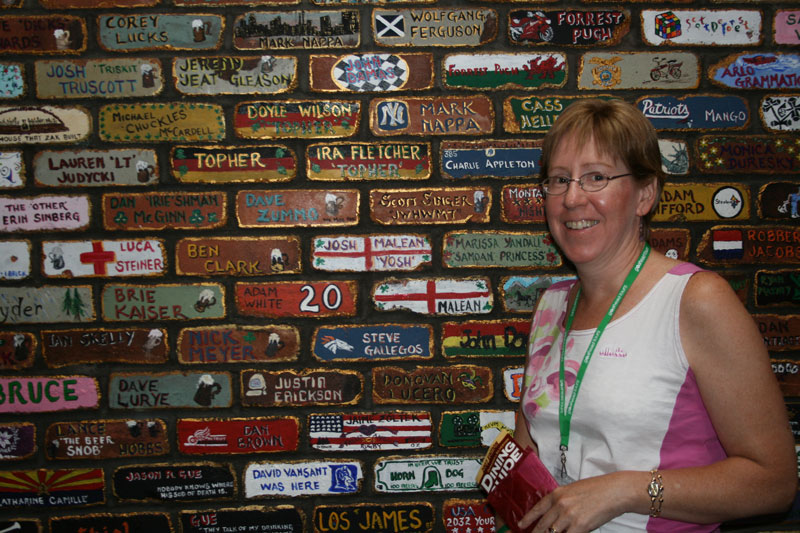 Durango is an old silver mining town. Here's the historic Strater Hotel, surviving from bygone days.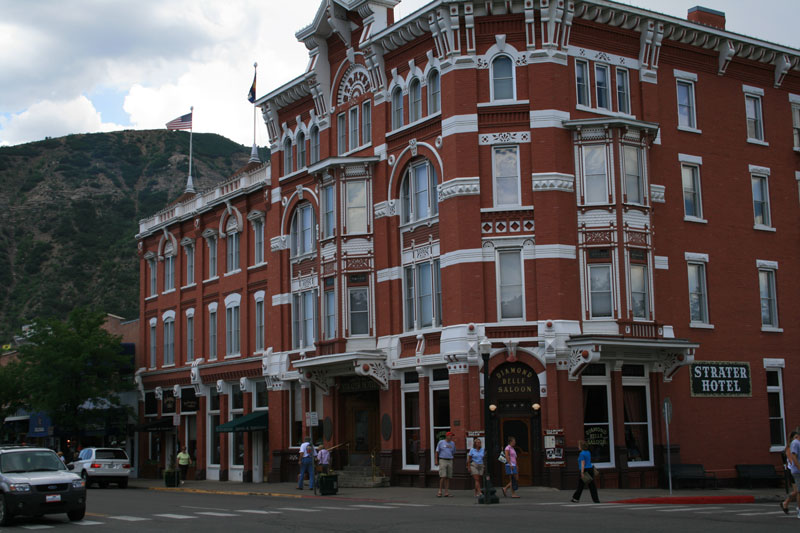 Durango is also the terminus for the Durango & Silverton Narrow Gauge Railroad, which is celebrating its 125th year of operation.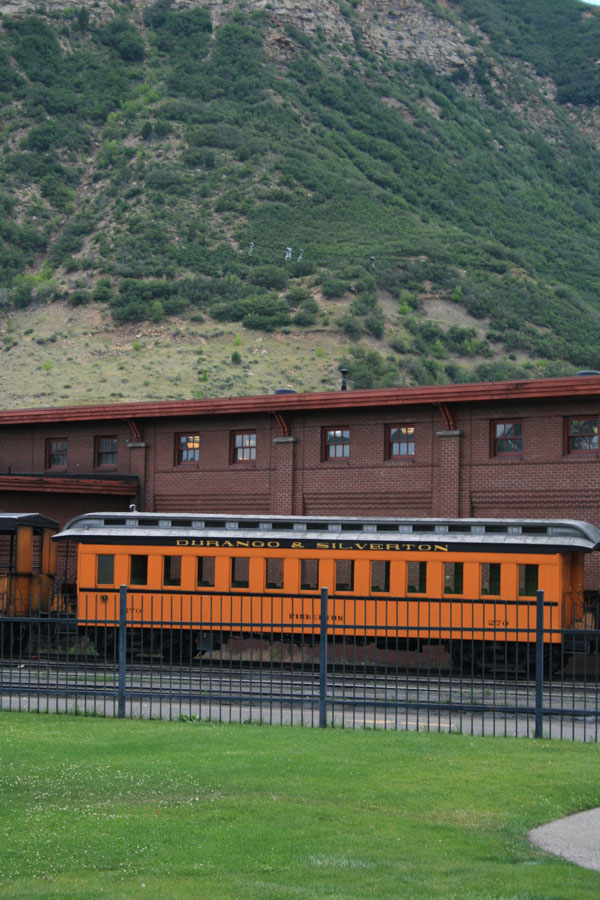 We reboarded the bus and headed toward Mesa Verde, Spanish for "Green Table," the largest archeological preserve in North America - designated a National Park in 1906. We approach the Mesa.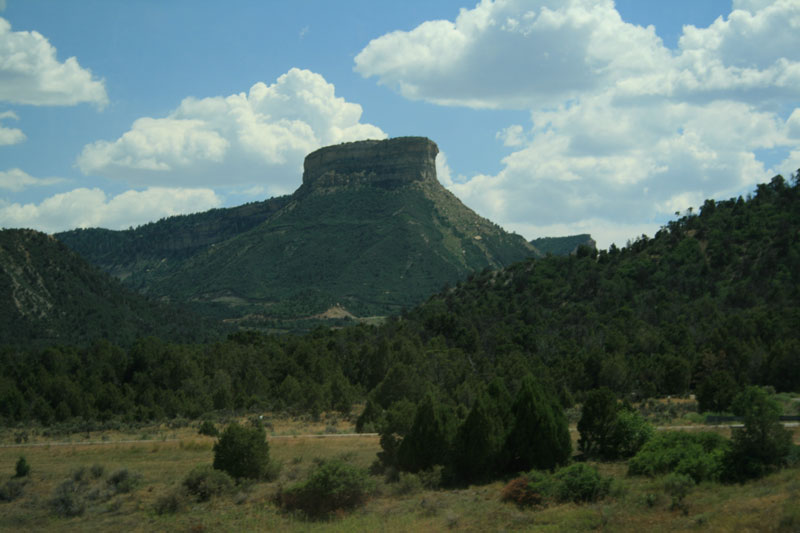 I took this picture holding the camera with my feet. (just kidding)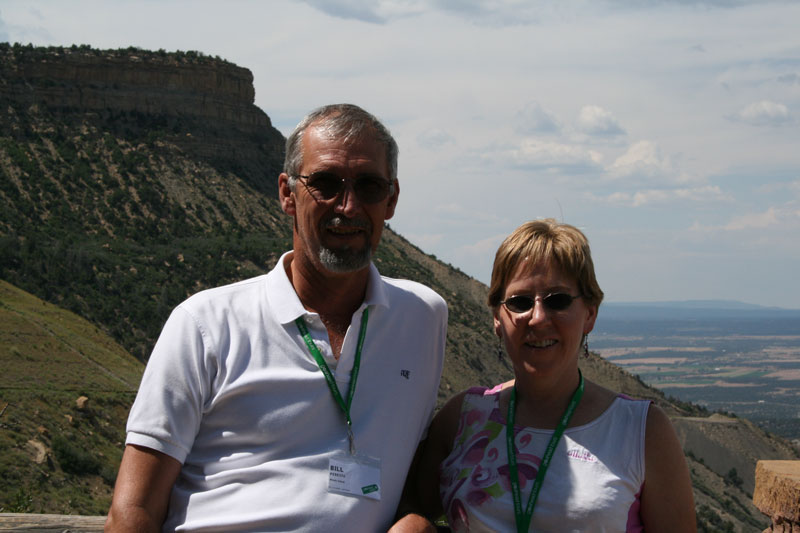 Overlooking the Mancos Valley from the Mesa.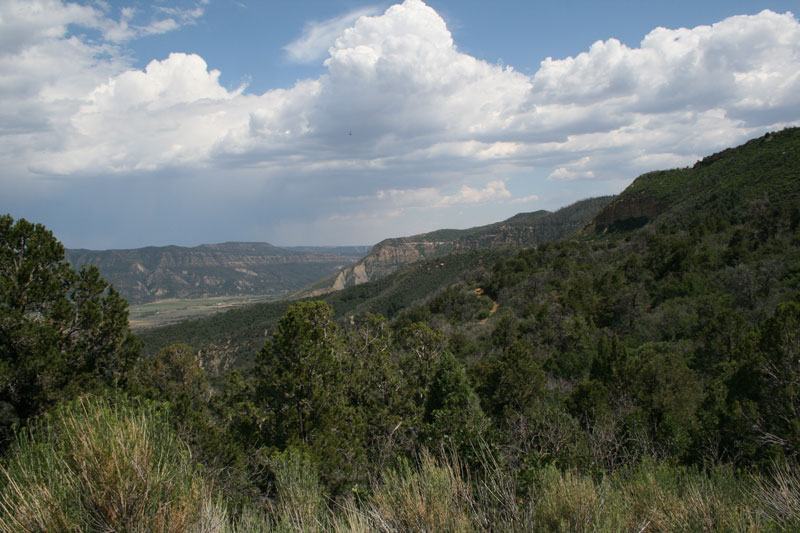 A view of the point of the Mesa from the lookout.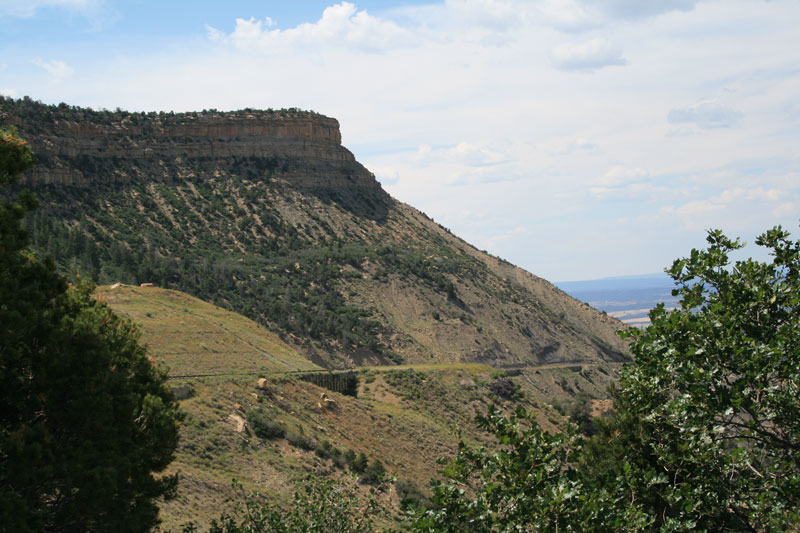 A view of Montezuma Valley from the Mesa.
Knife Edge Road used to run up the side of the Mesa, but was abandoned when it became too dangerous. You can see it behind where Nancy is standing.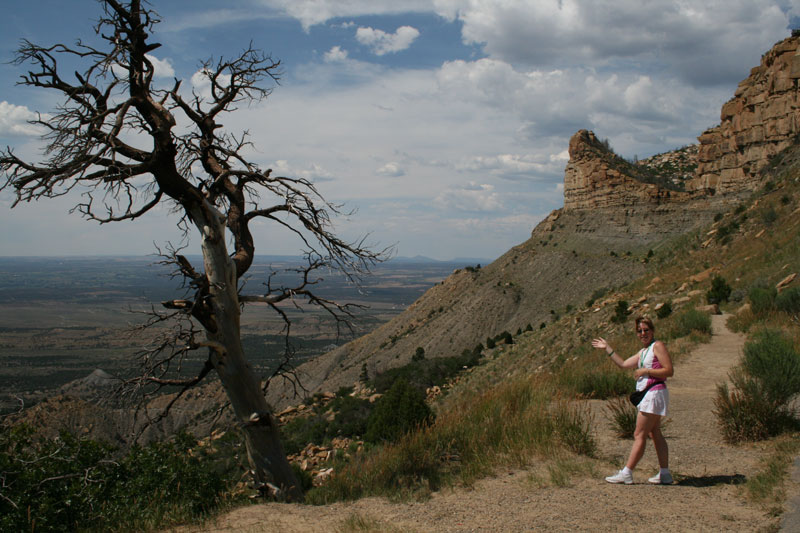 We arrived at our lodgings for the night, the Far View Lodge, right on top of the Mesa. Here's Nancy at the Reception Lounge, overlooking the wind eroded valley below.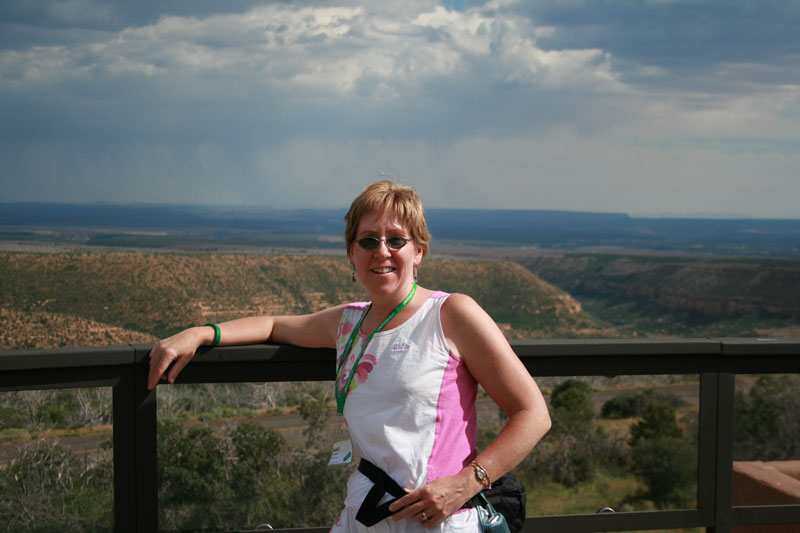 Tomorrow we go down to see the cliff dwellings of Mesa Verde on Day 4.