Day 7 - Helsinki - Harbor - Sibelius Monument - Church in the Rock - Esplanade
We started our day in Helsinki with a quick bus ride to our ferry boat, which would take us from the cruise terminal to the downtown docks.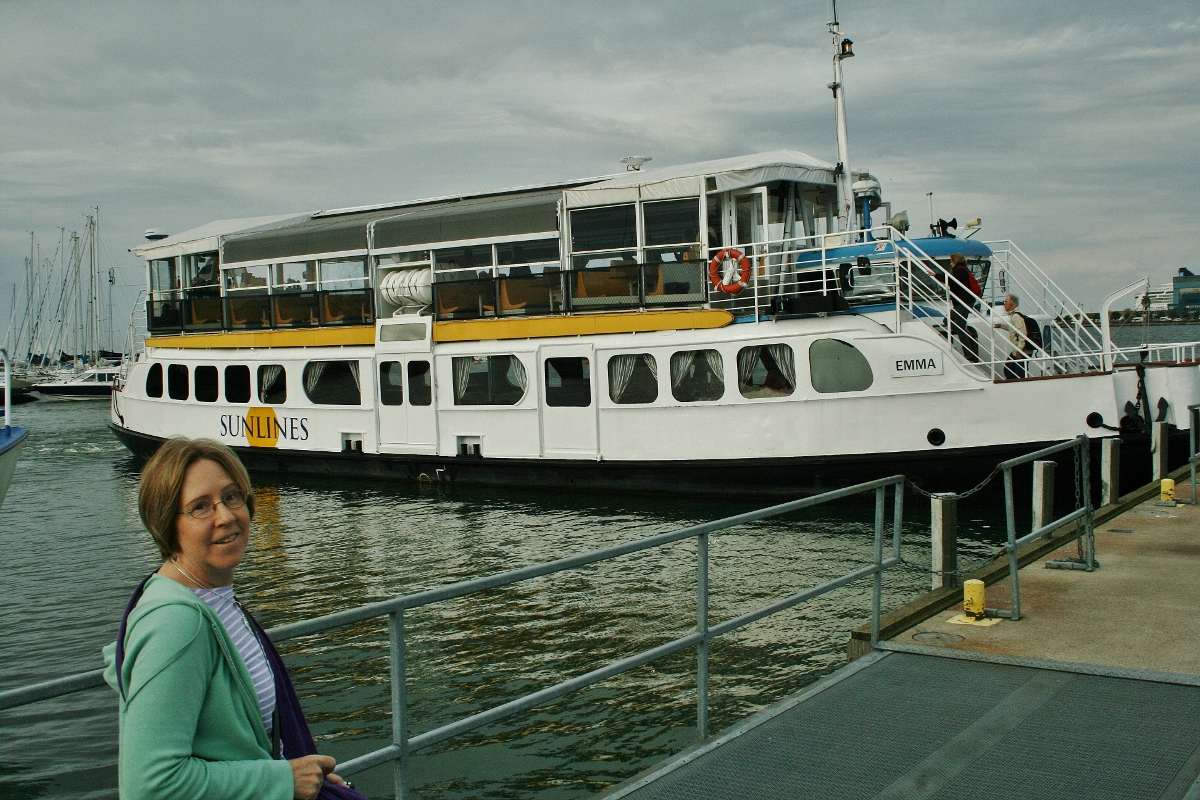 The coastline was rugged and rocky.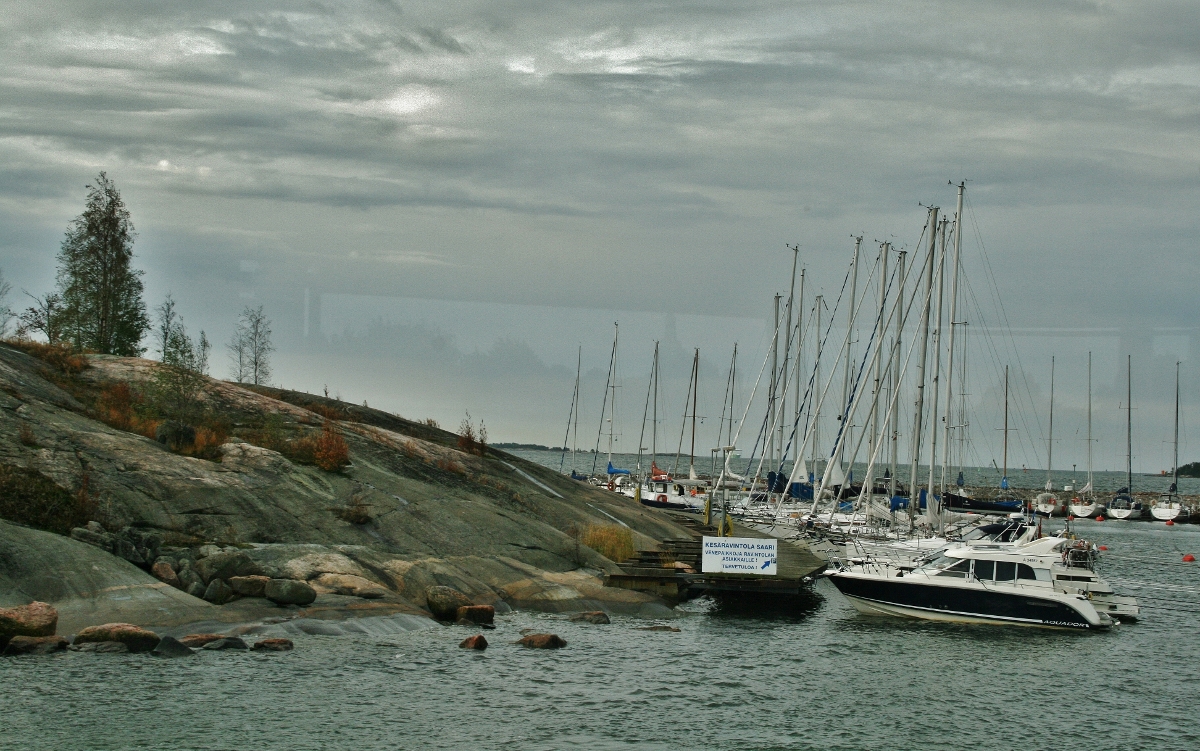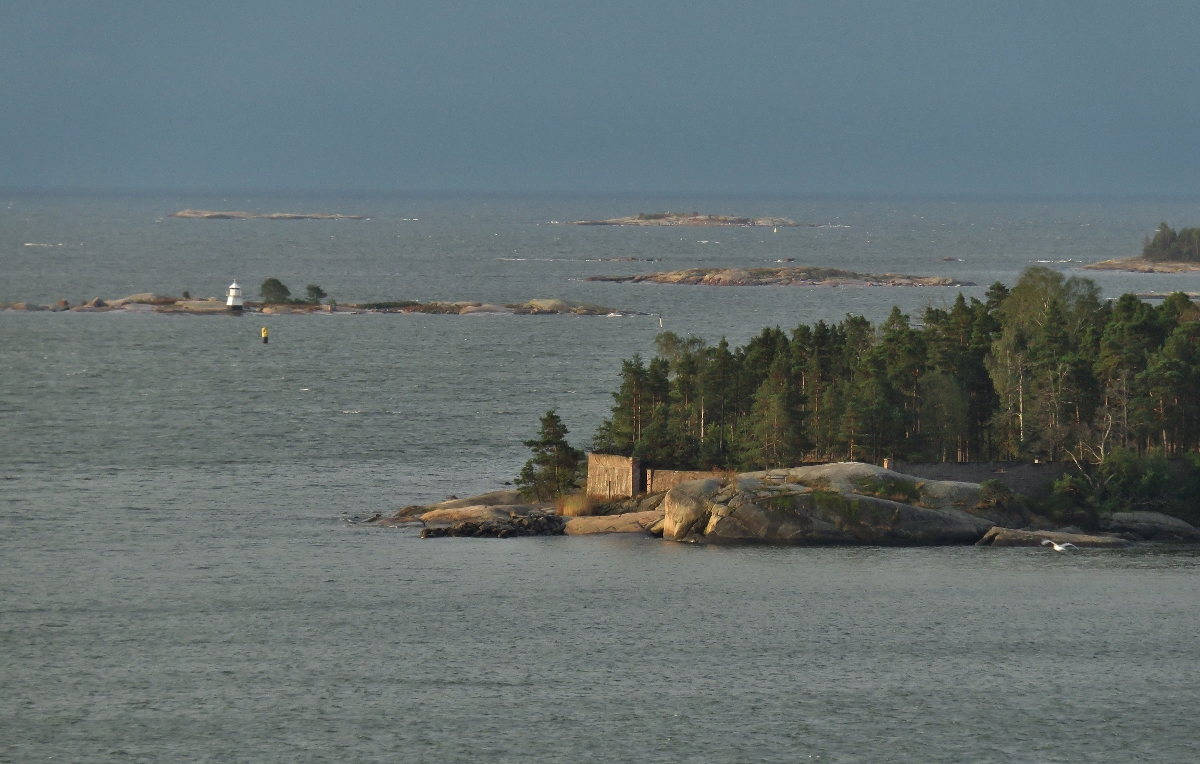 We had to wait momentarily for another cruise liner to come through the narrow sea passage,
Passengers were out for a look.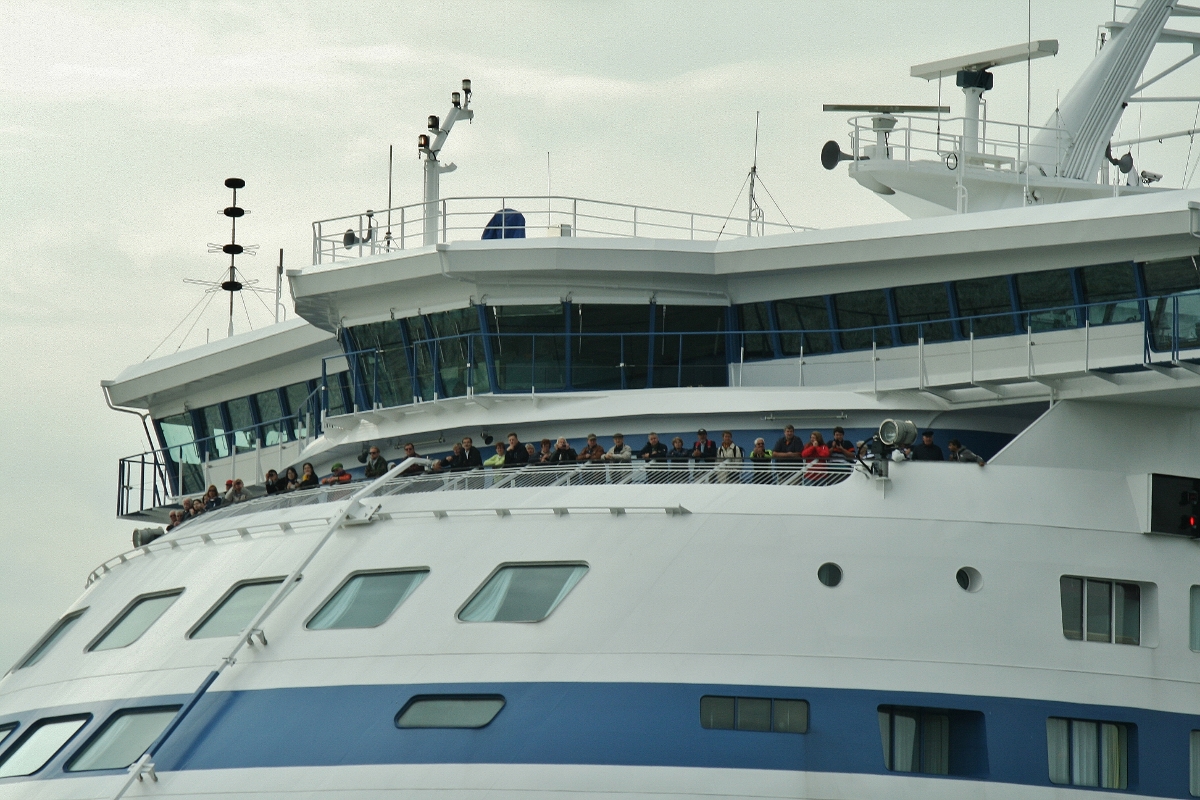 We passed old fortresses from days gone by.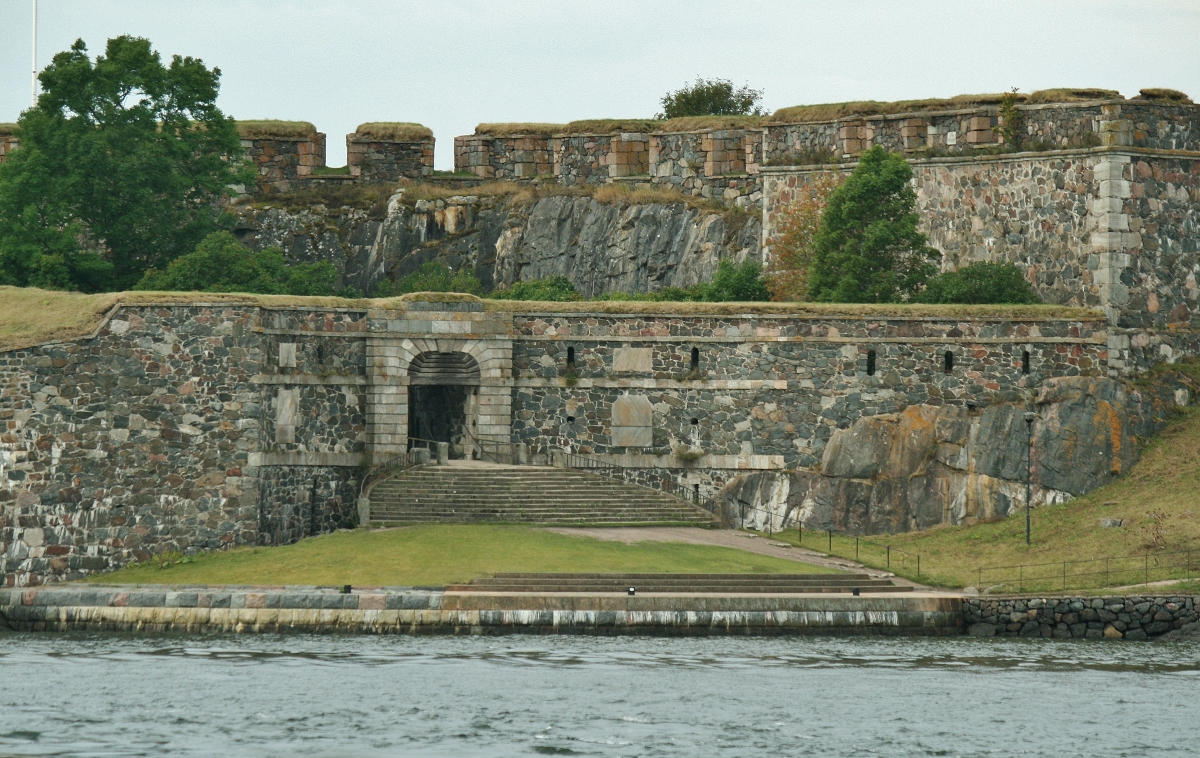 As we neared downtown, more modern structures appeared.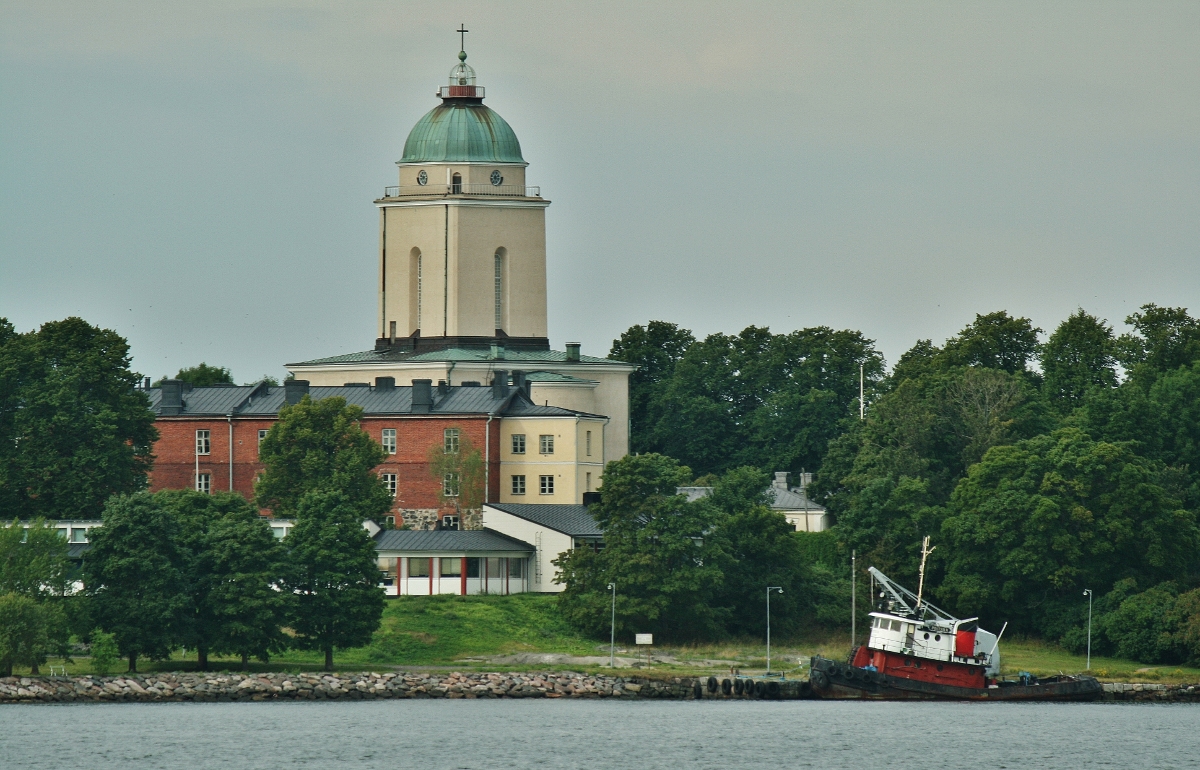 We passed a Finnish ice-breaker.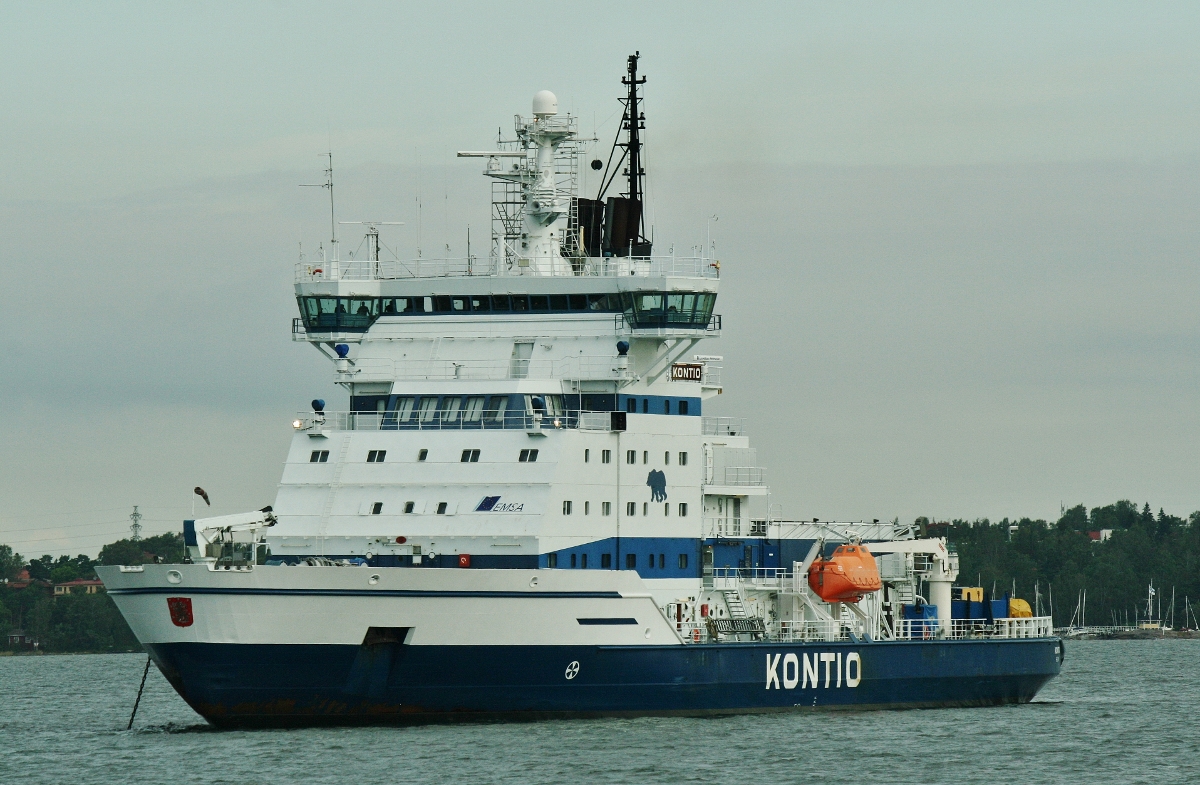 Helskinki is definitely a port city.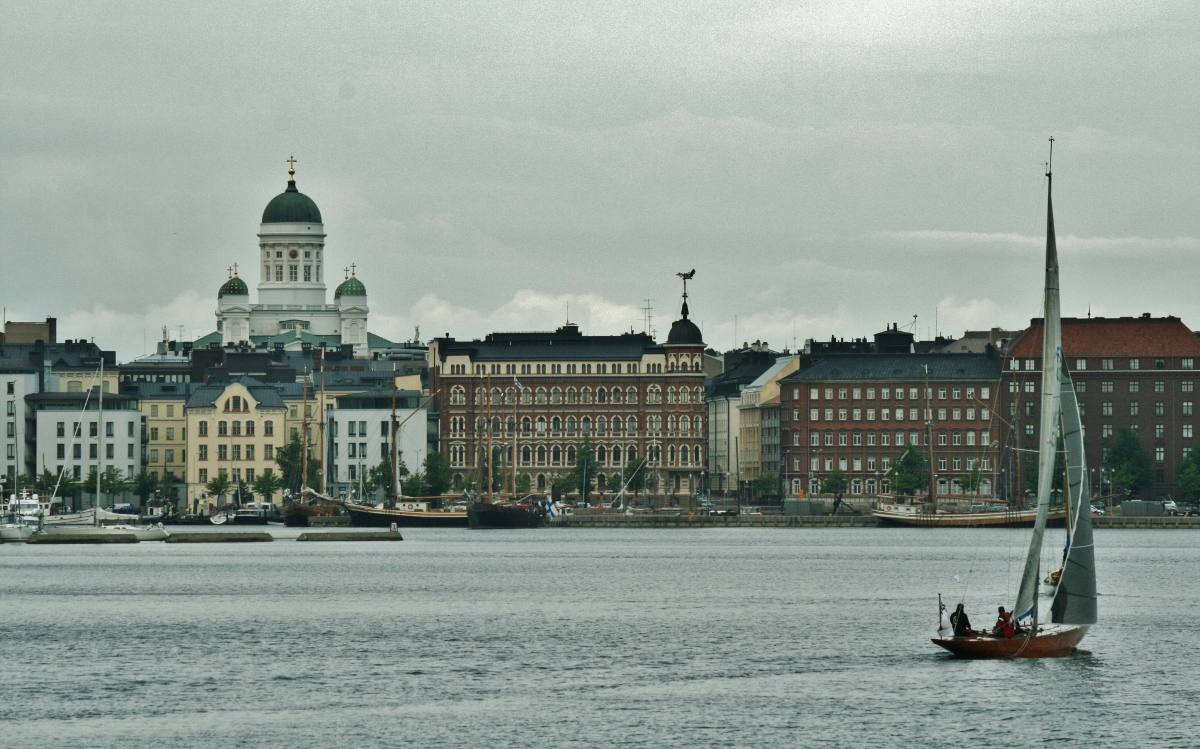 Its architecture is often clean and straight.
Some of the older churches are ornate, but still maintain symmetry and a no-nonsense style.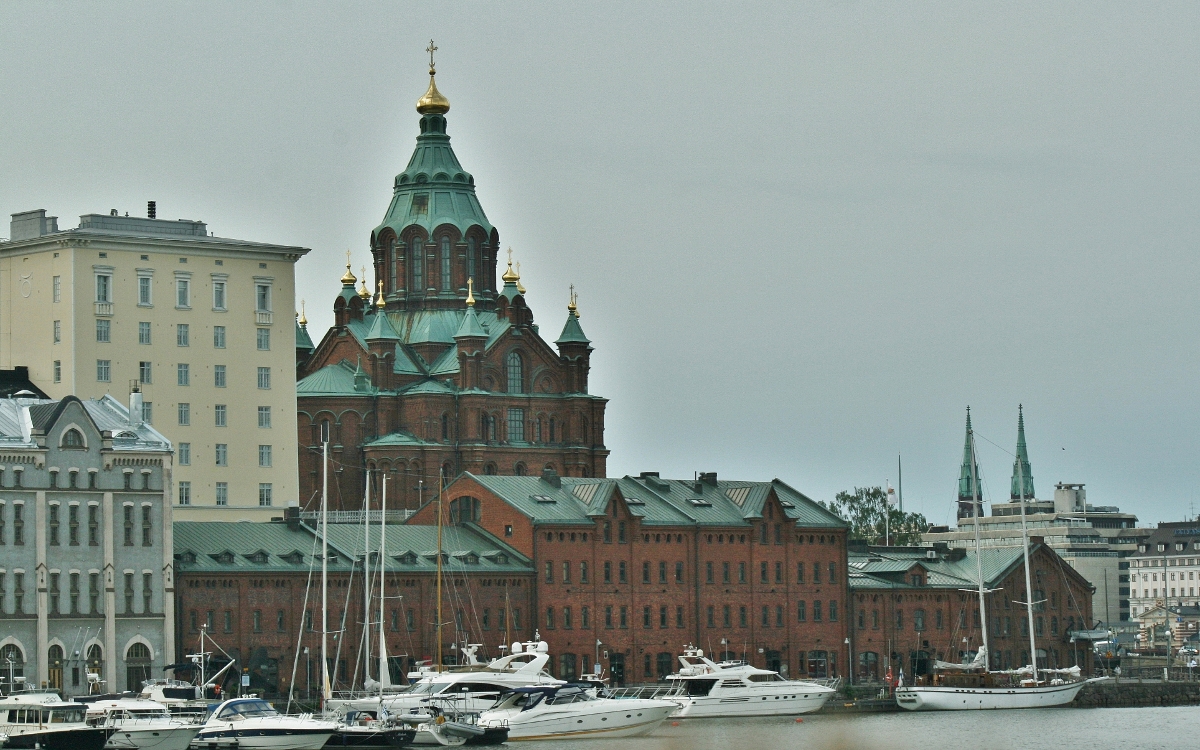 The Uspenski Orthodox Cathedral, built in 1868 for the Russian military back when Finland belonged to Russia.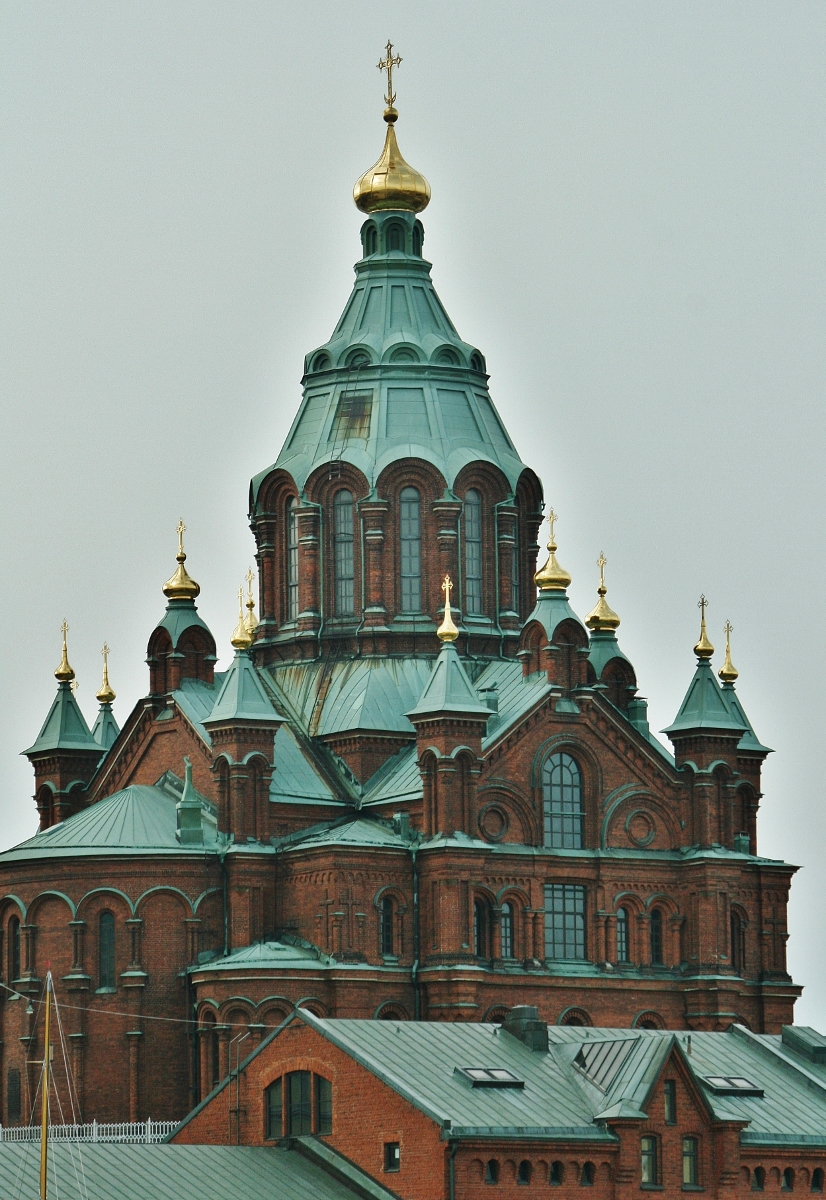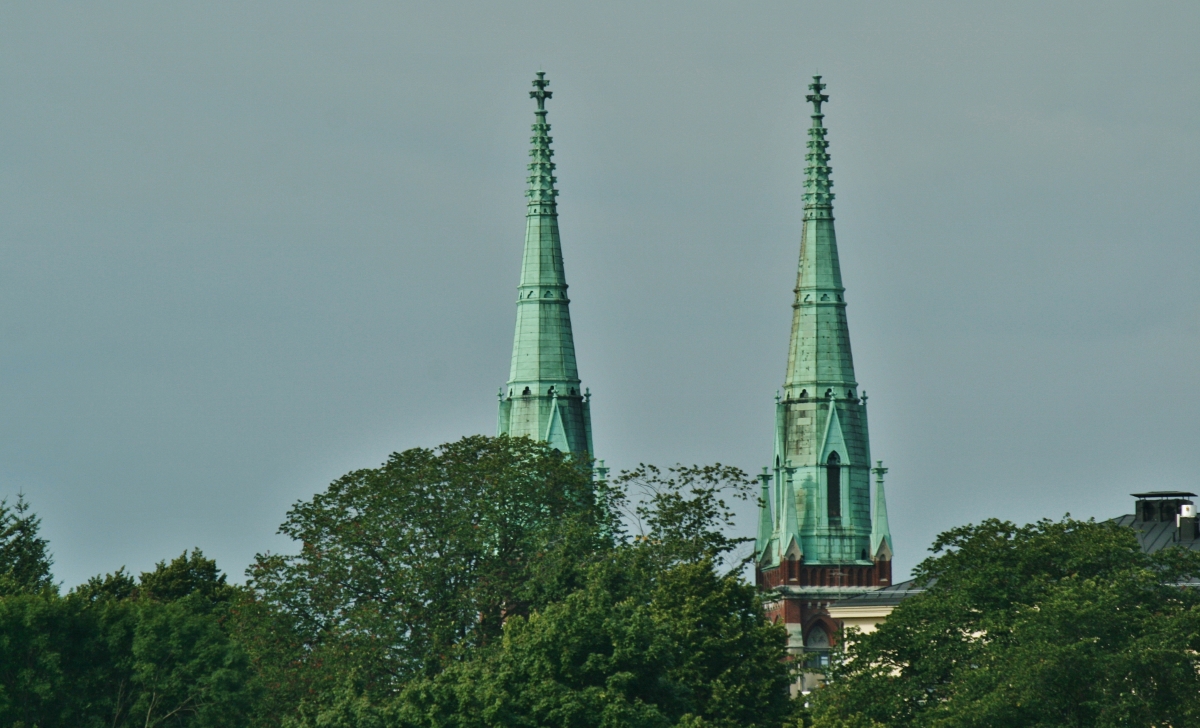 Apartments display the Russian influence of efficiency in form.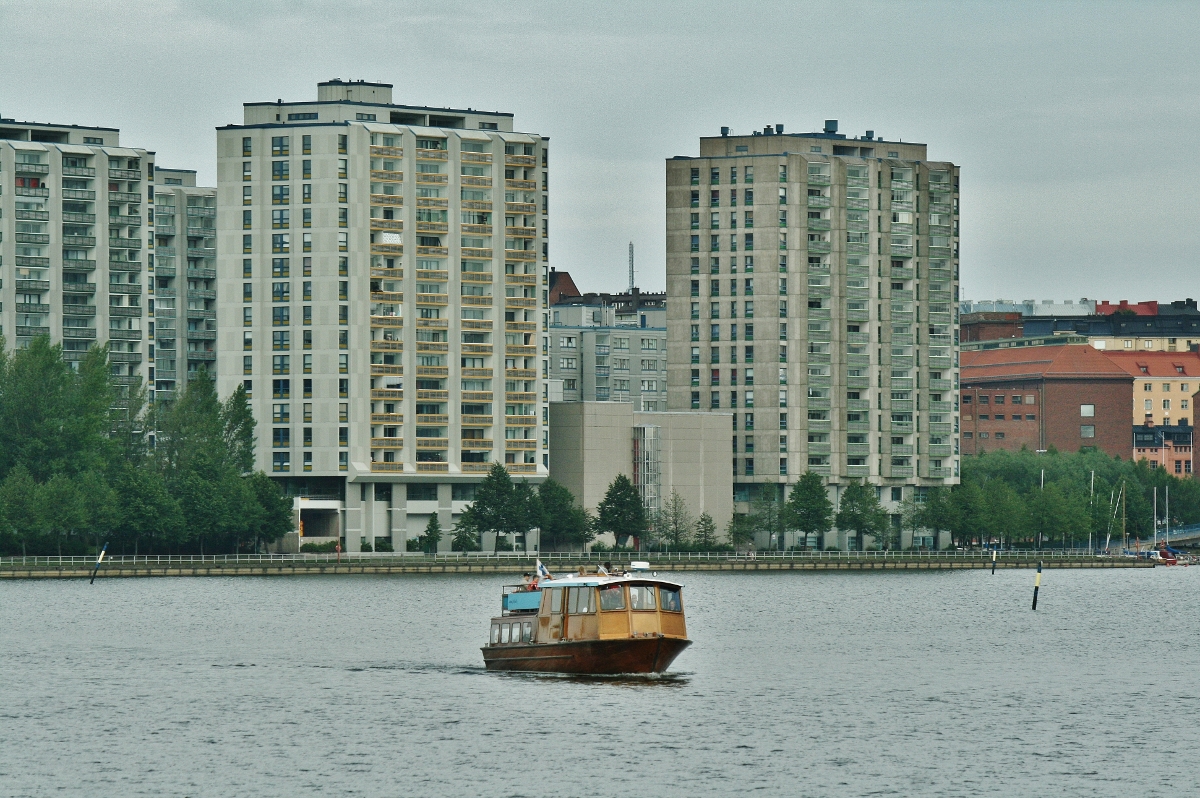 We neared the downtown commuter docks.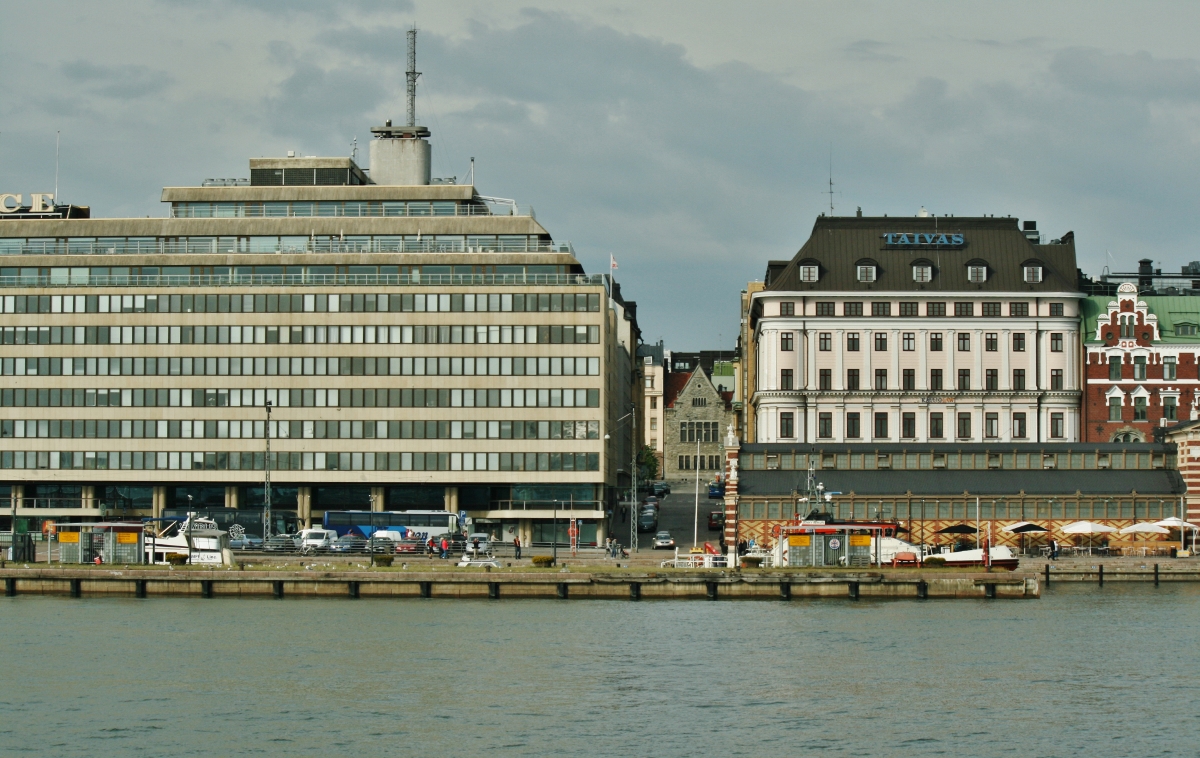 A little Finnish humor to great tourists - "Bad bad boy" by Tommi Toija, 2013.
Bill wonders if it might rain.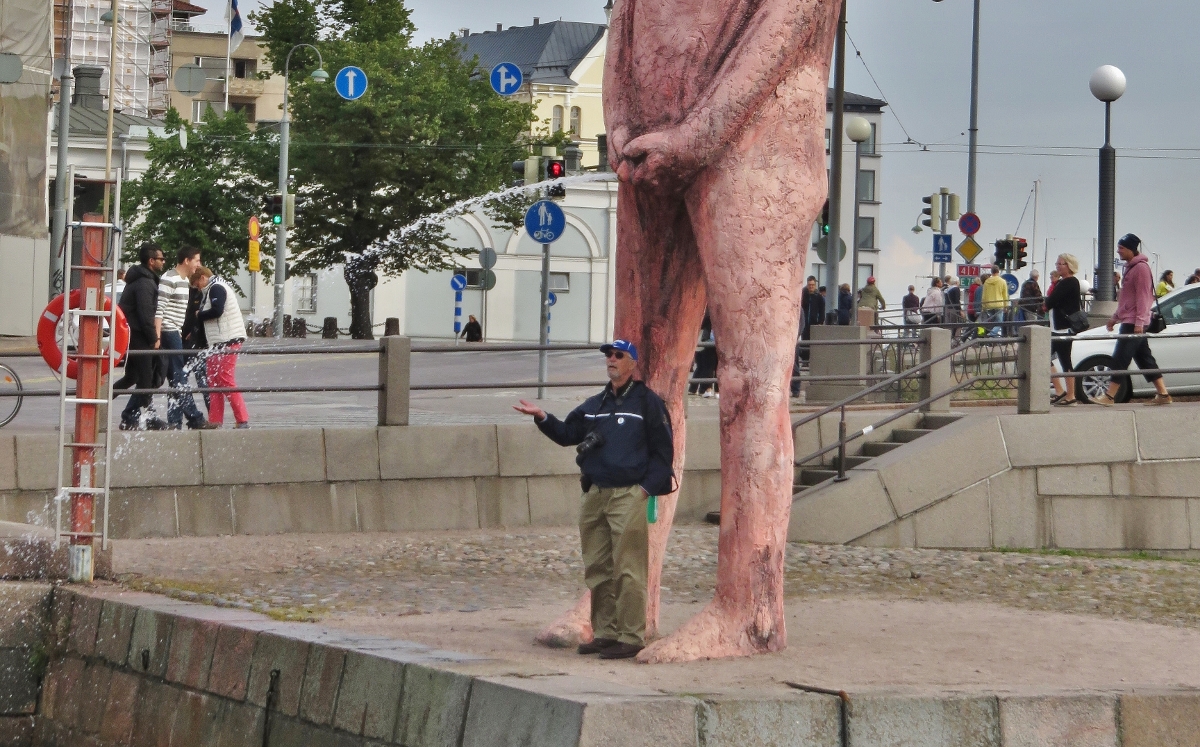 Meanwhile, Nancy is checking out the nearby points of interest as we wait for our tour guide and bus to arrive.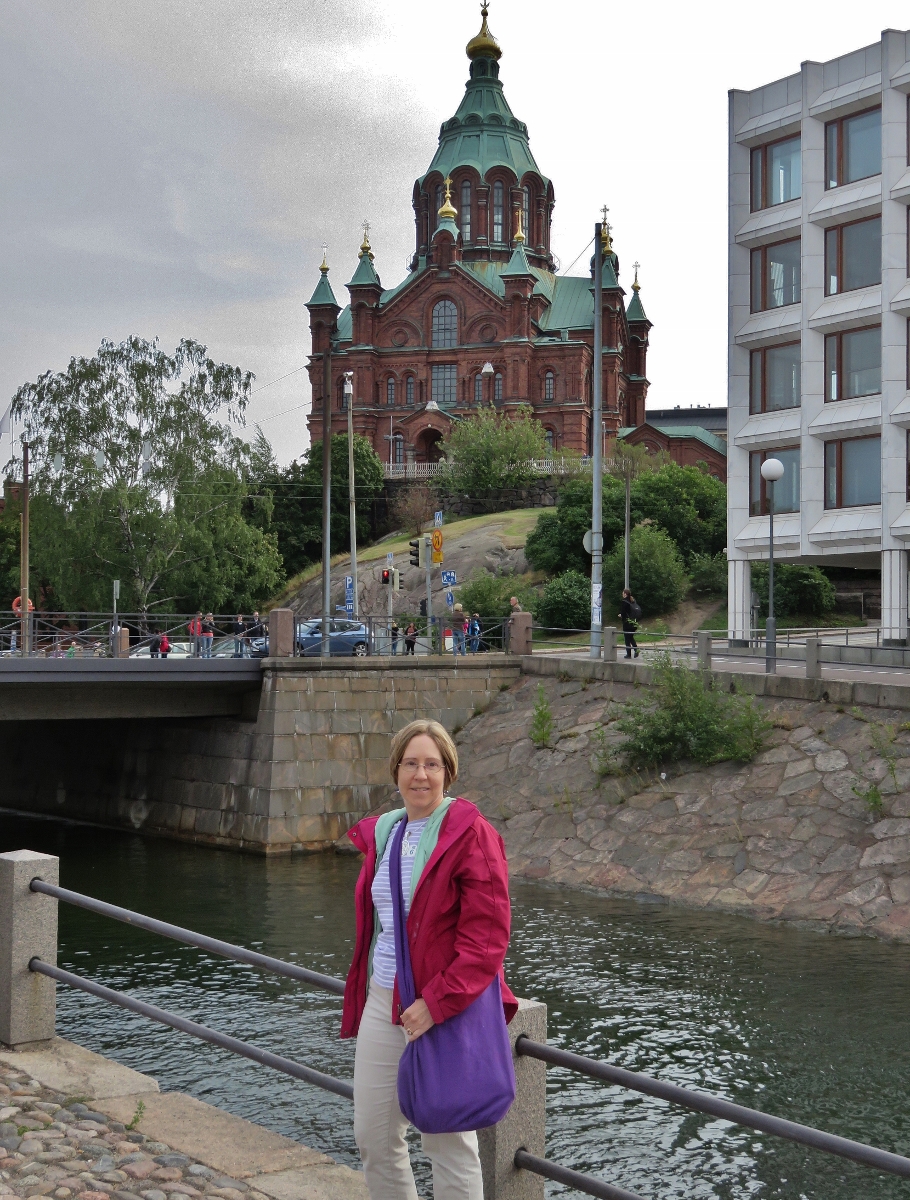 On our tour bus, we begin traversing the streets of Helsinki.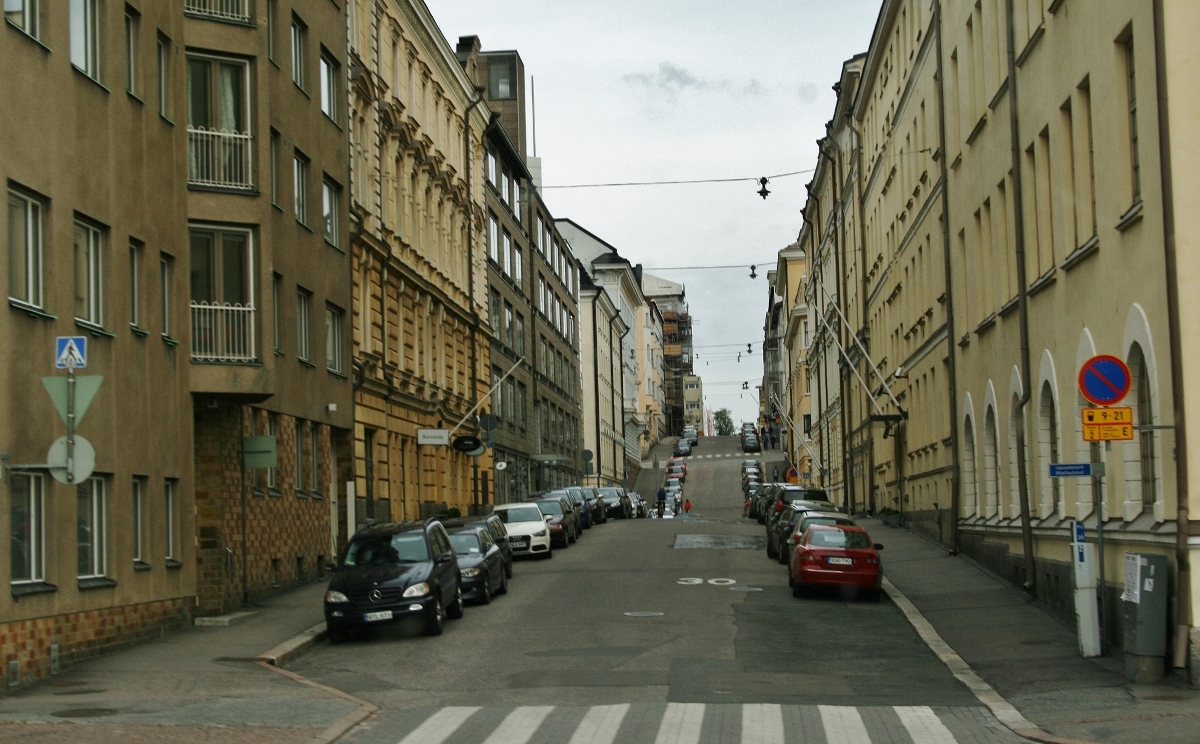 The Lutheran Cathedral with its prominent green dome, gleaming white facade, and 12 apostles overlooking the city, is Carl Ludvig Engel's masterpiece.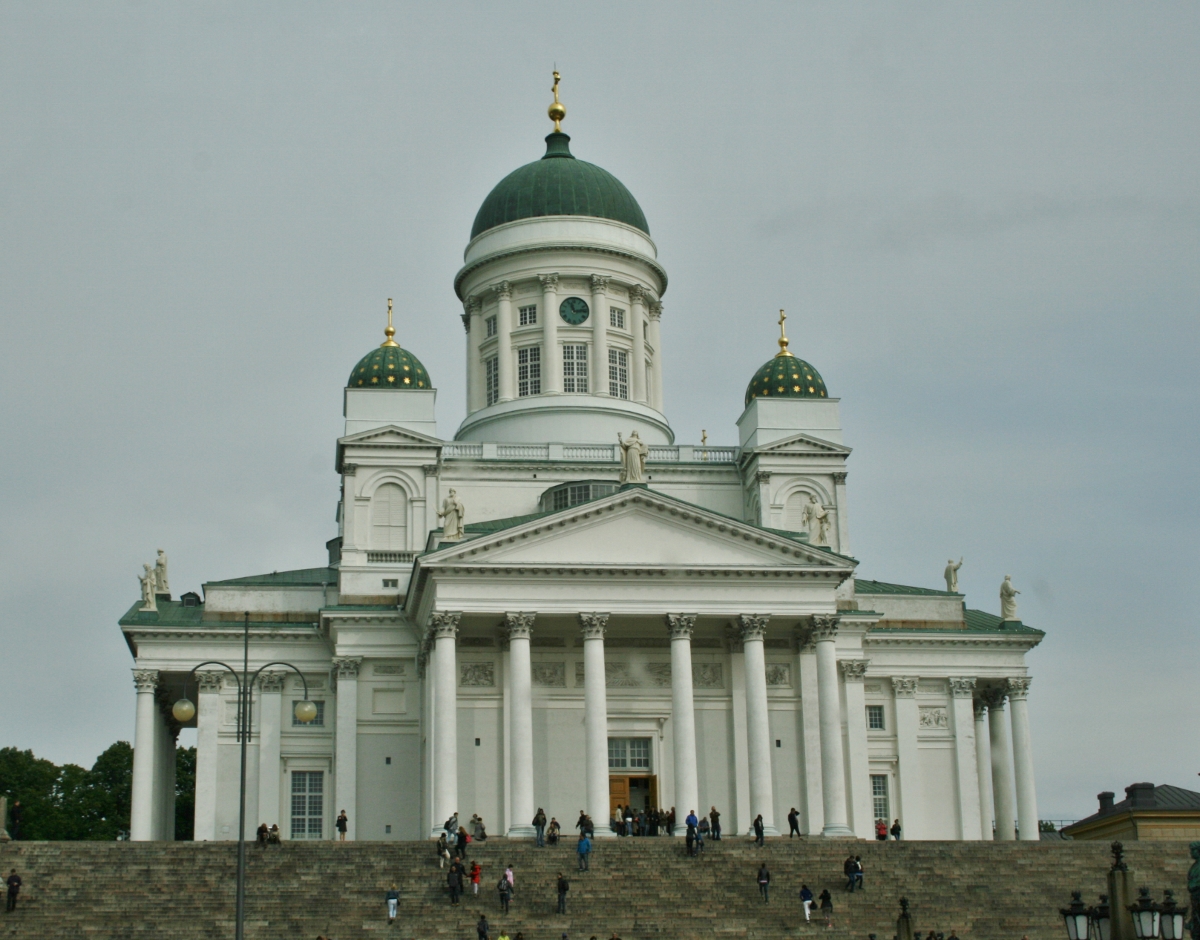 The Cathedral has become a popular gathering place for special events, and tourists.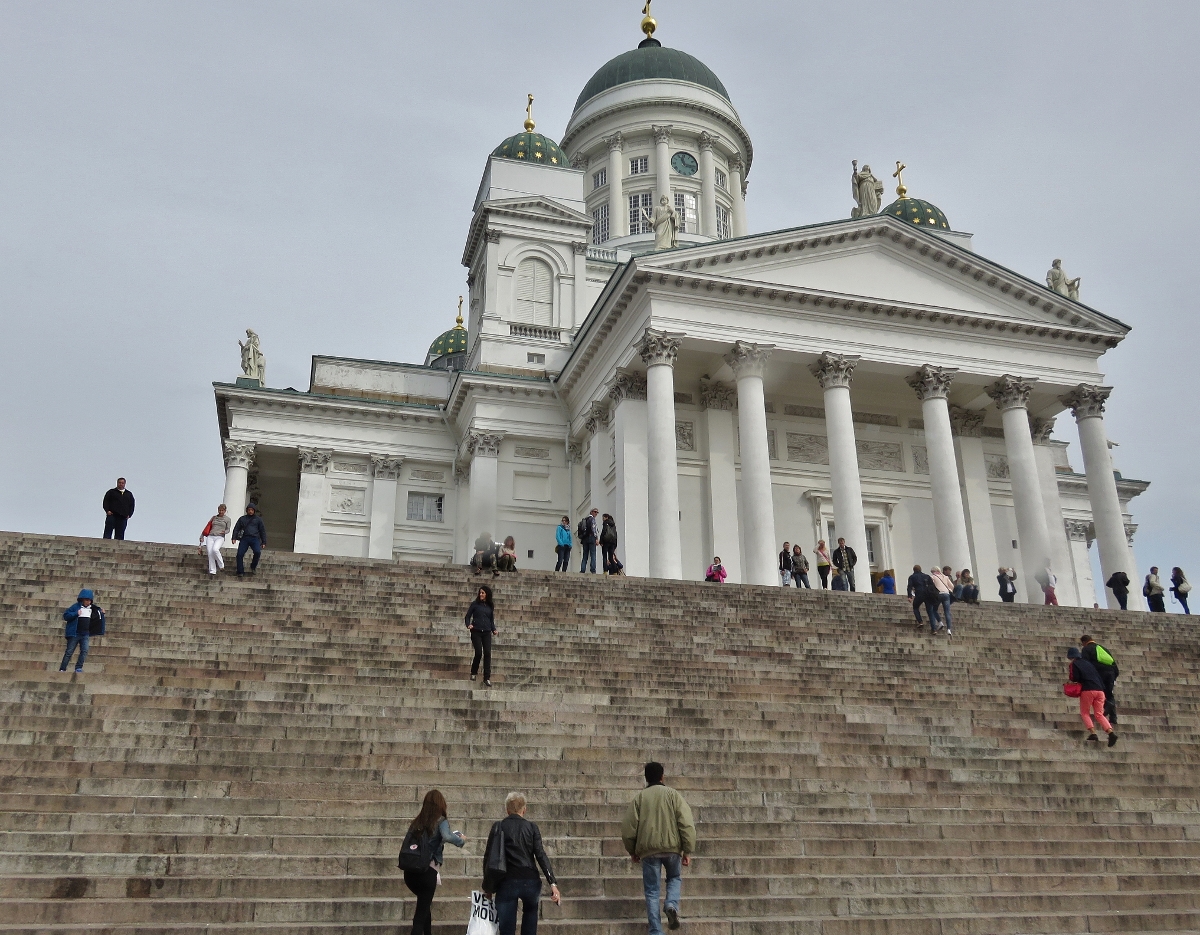 Our first stop is the Sibelius Monument. Six hundred stainless steel pipes form Eila Hiltunen's work, "Love of Music" and stand on solid rock, like much of Finland, honoring Finland's greatest composer, Jean Sibelius.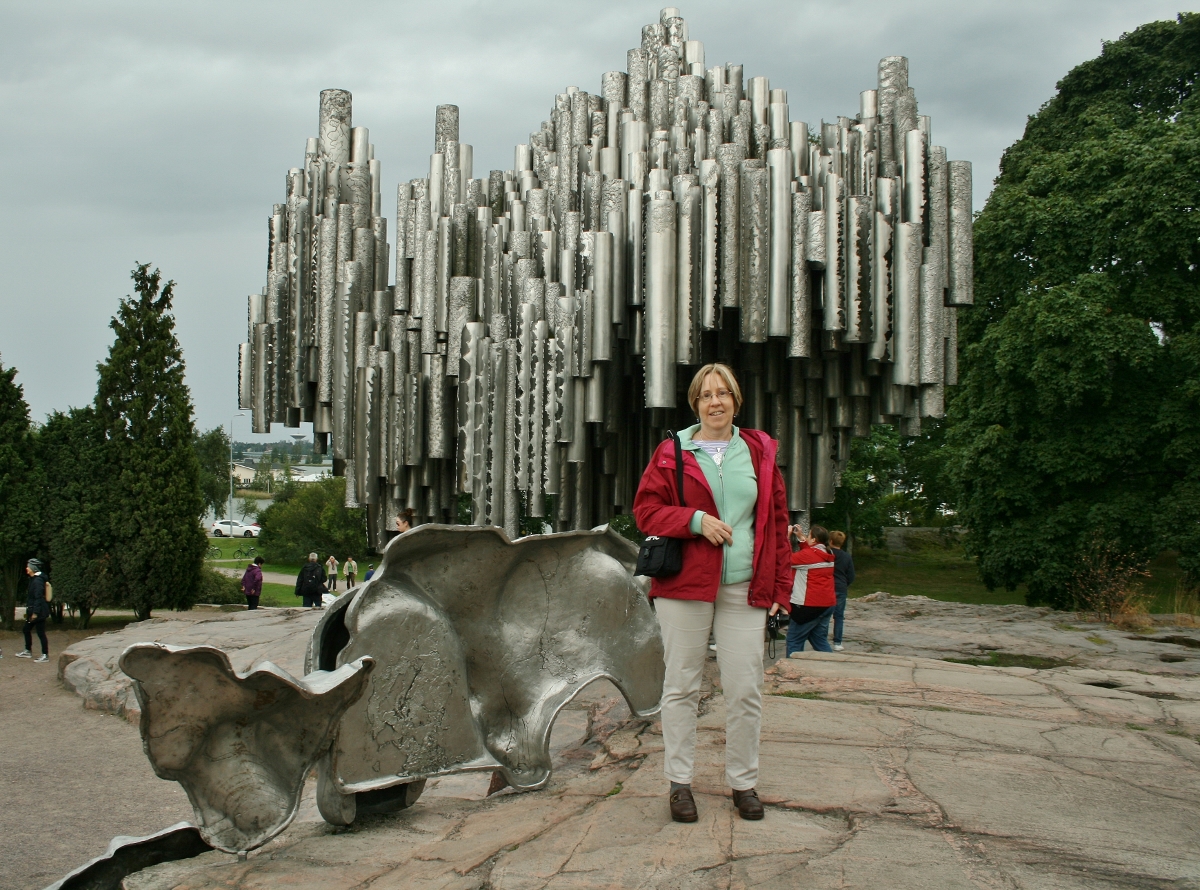 The abstract pipes were controversial when first erected, so to silence her critic the artist added a bust of the composer.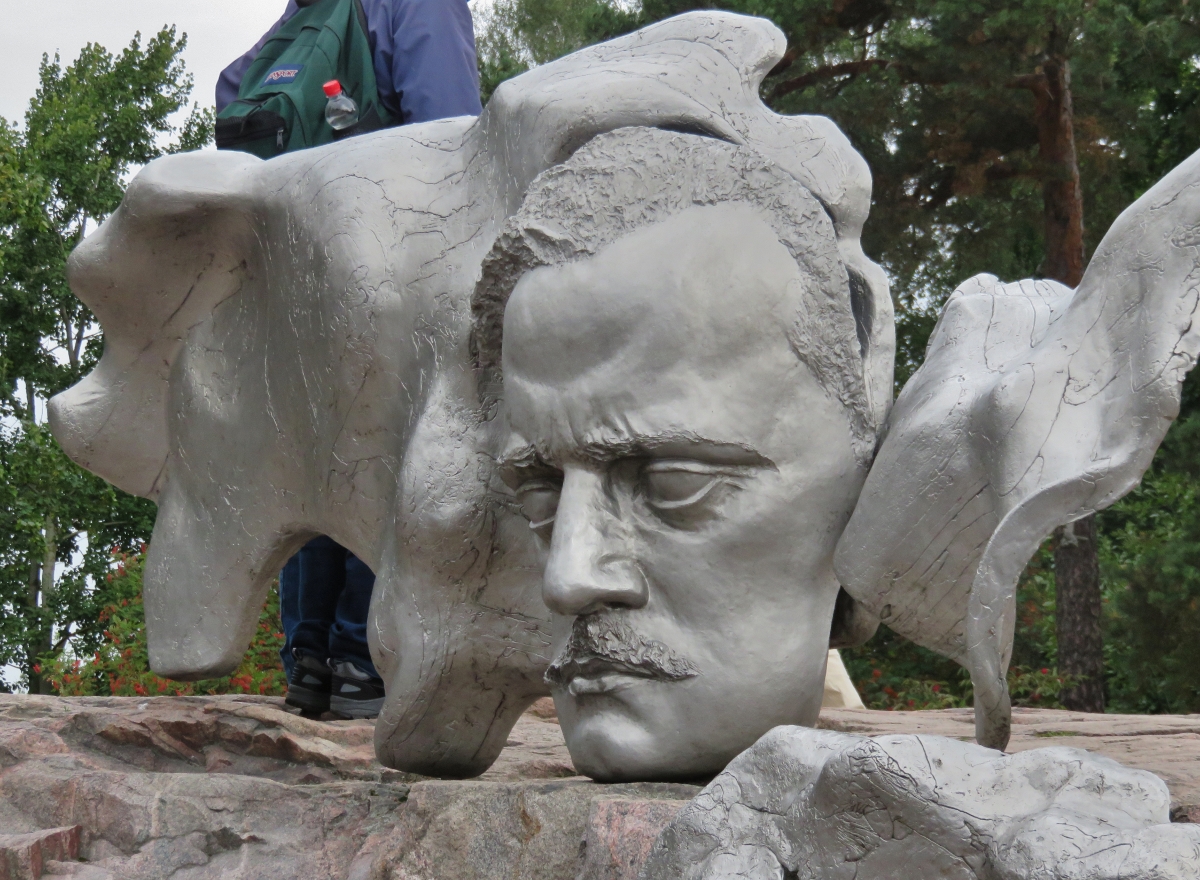 On a windy day, which it often is, the pipes fittinly produce musical sounds.
Our next stop was the Temppeliaukio Church, commonly called the Church in the Rock, which was blasted out of solid granite.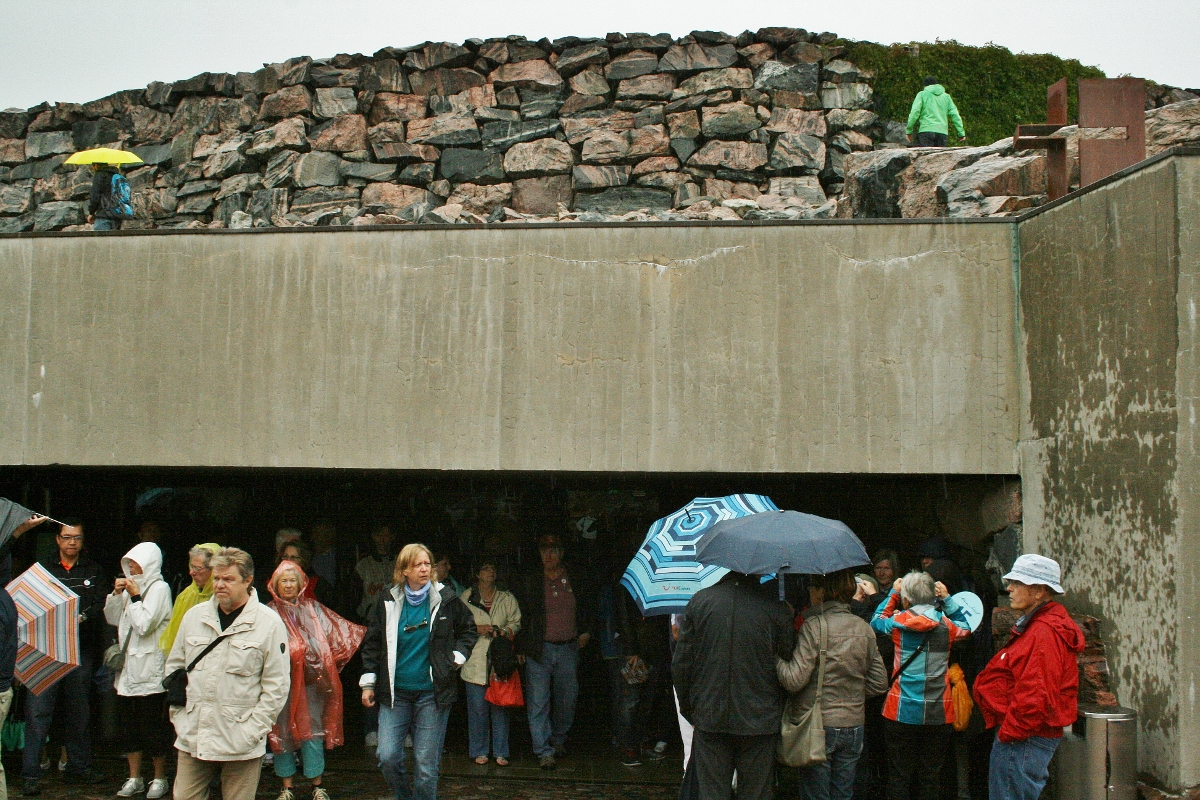 Barren of decor except for a few simple crosses, the church was designed by brothers Timo and Tuomo Suomalainen and built in one year's time in 1969.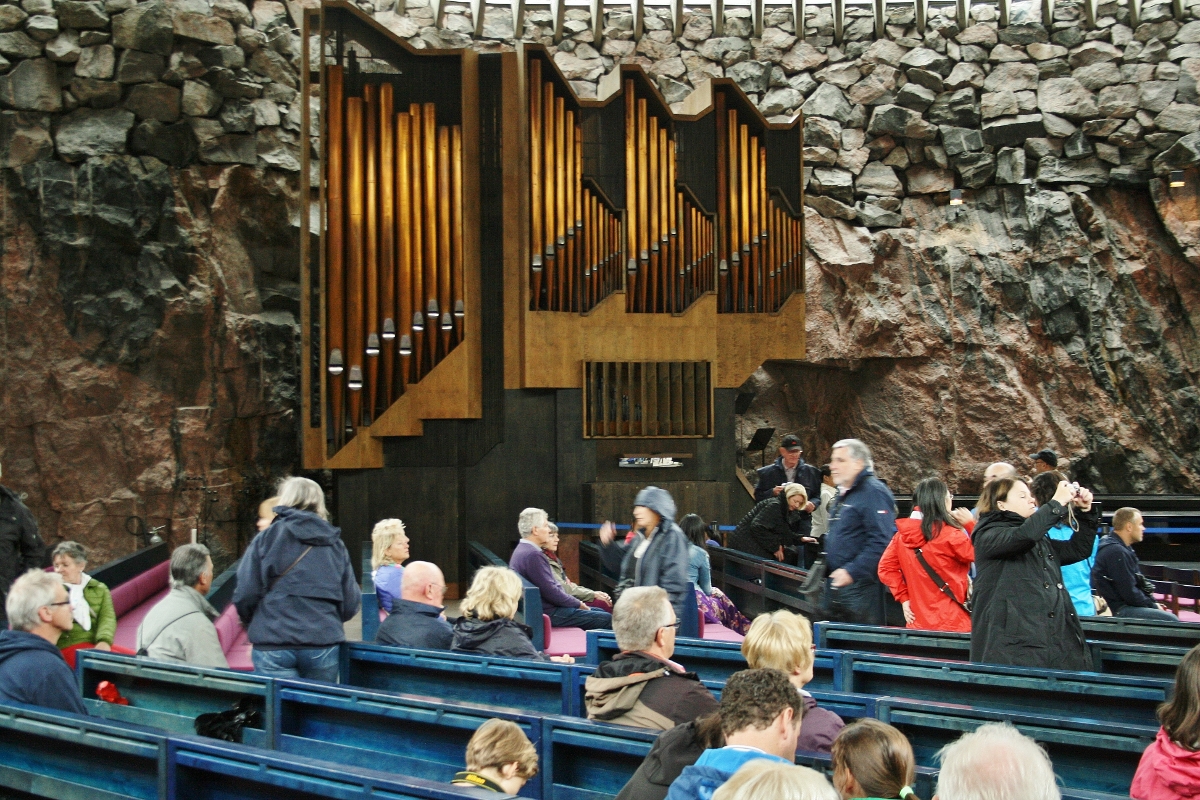 The church is capped with a copper-and-skylight dome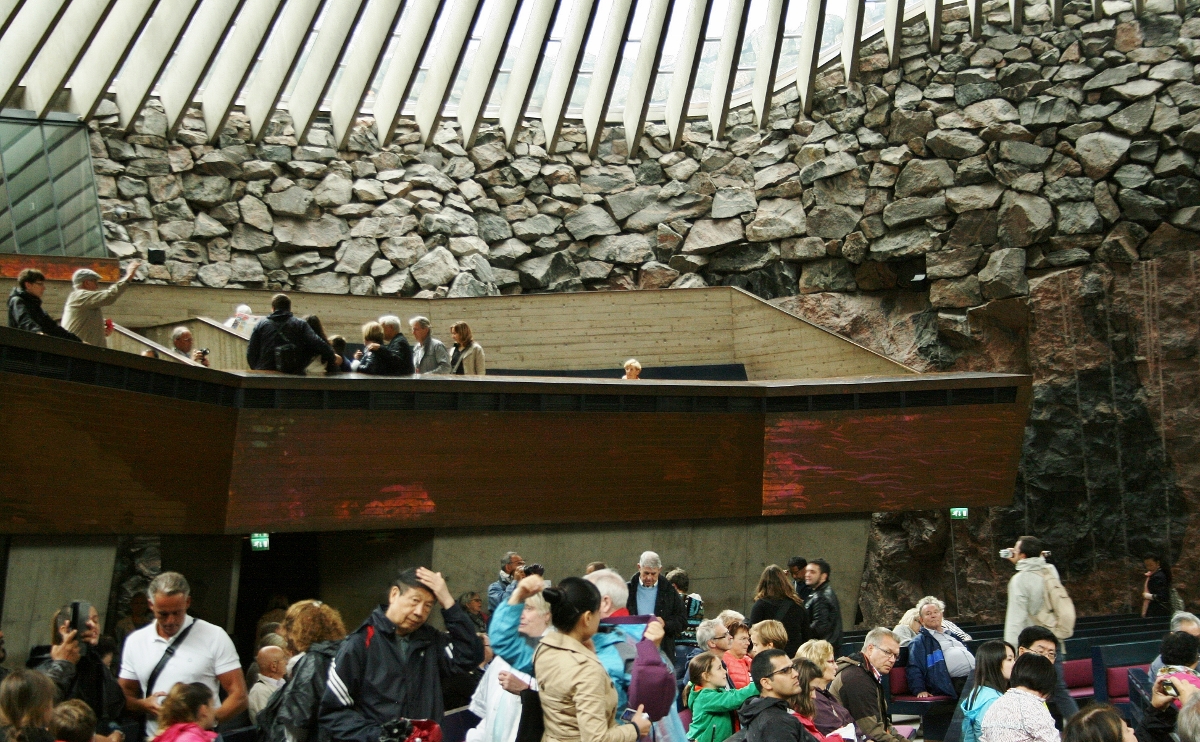 The simple alter.
After leaving the Church in the Rock, we got off the tour bus in downtown Helsinki to visit the grand pedestrian boulevard, the Esplanade. But first we stopped for a Starbucks coffee (and picked up Bill's 5th mug of the trip to add to our collection).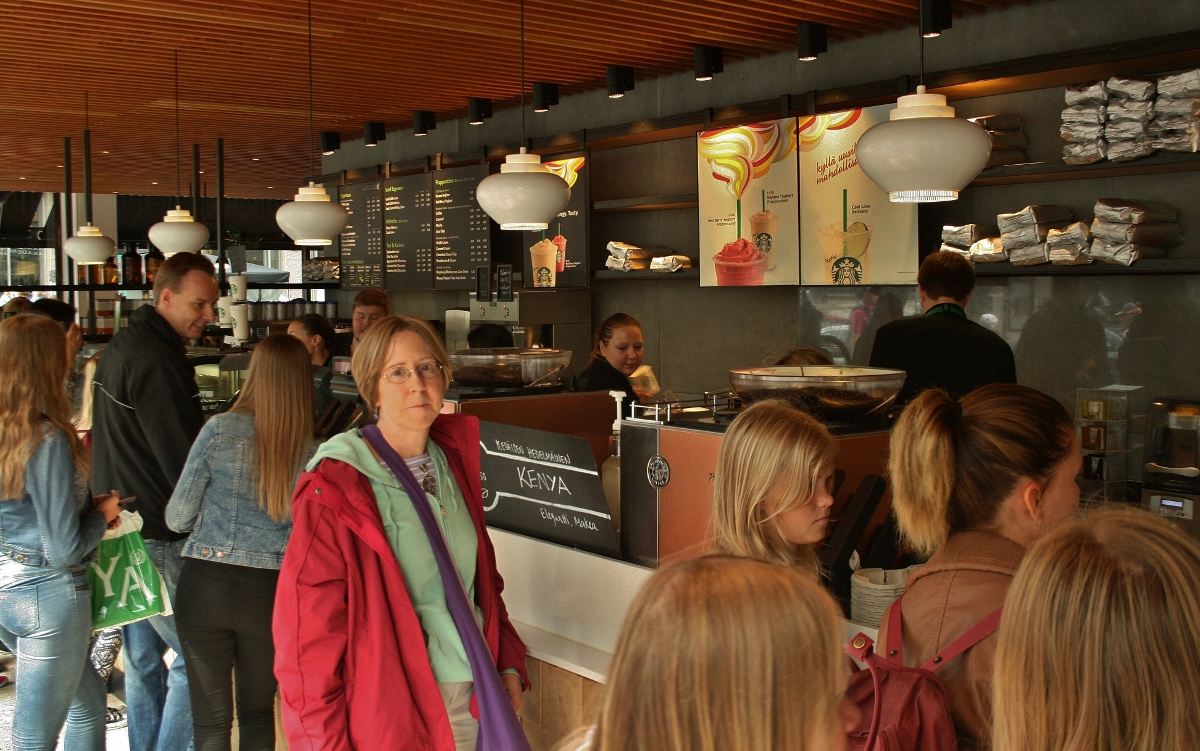 After coffee, we strolled down the beautiful Esplanade. We saw this piece, bronze statues of two naked women, a tribute to Zacharias Topelius, as a Swedish-speaking Finnish author, journalist, historian, and rector of the University of Helsinki who wrote novels related to Finnish history in Swedish.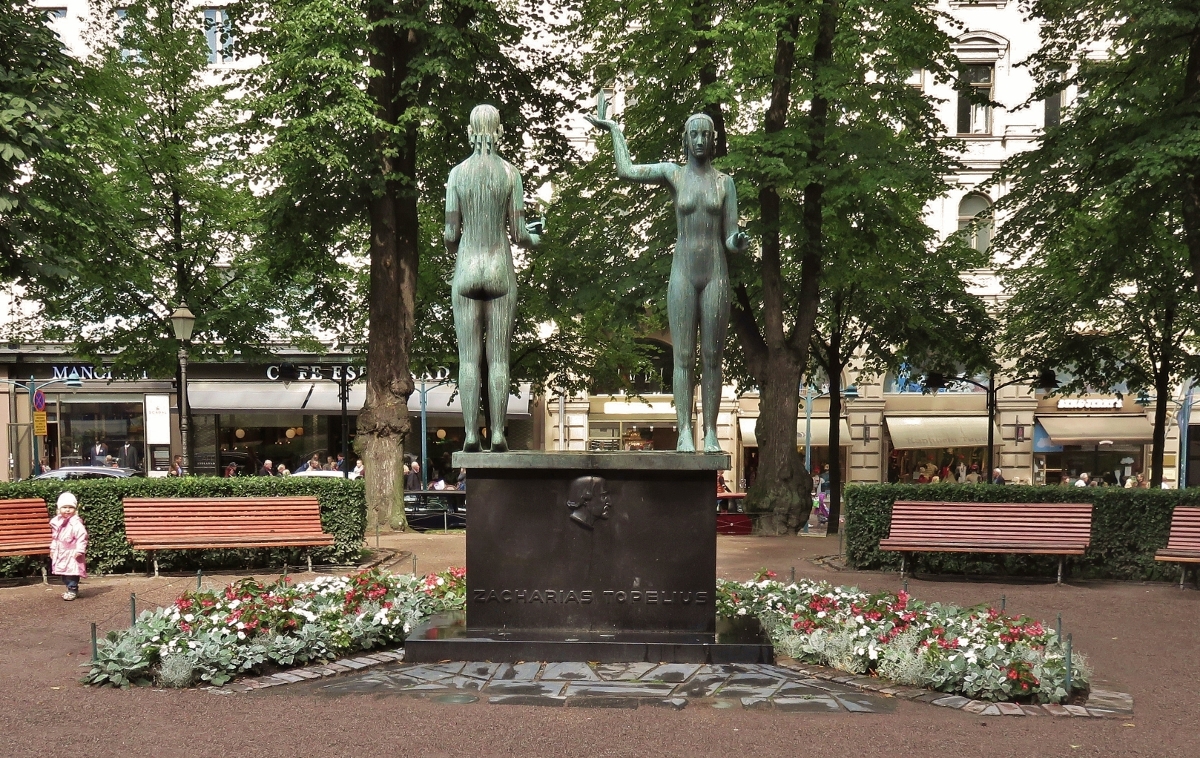 Nearby was another statue, this one honoring Eino Leino, a Finnish poet and journalist, and considered one of the pioneers of Finnish poetry.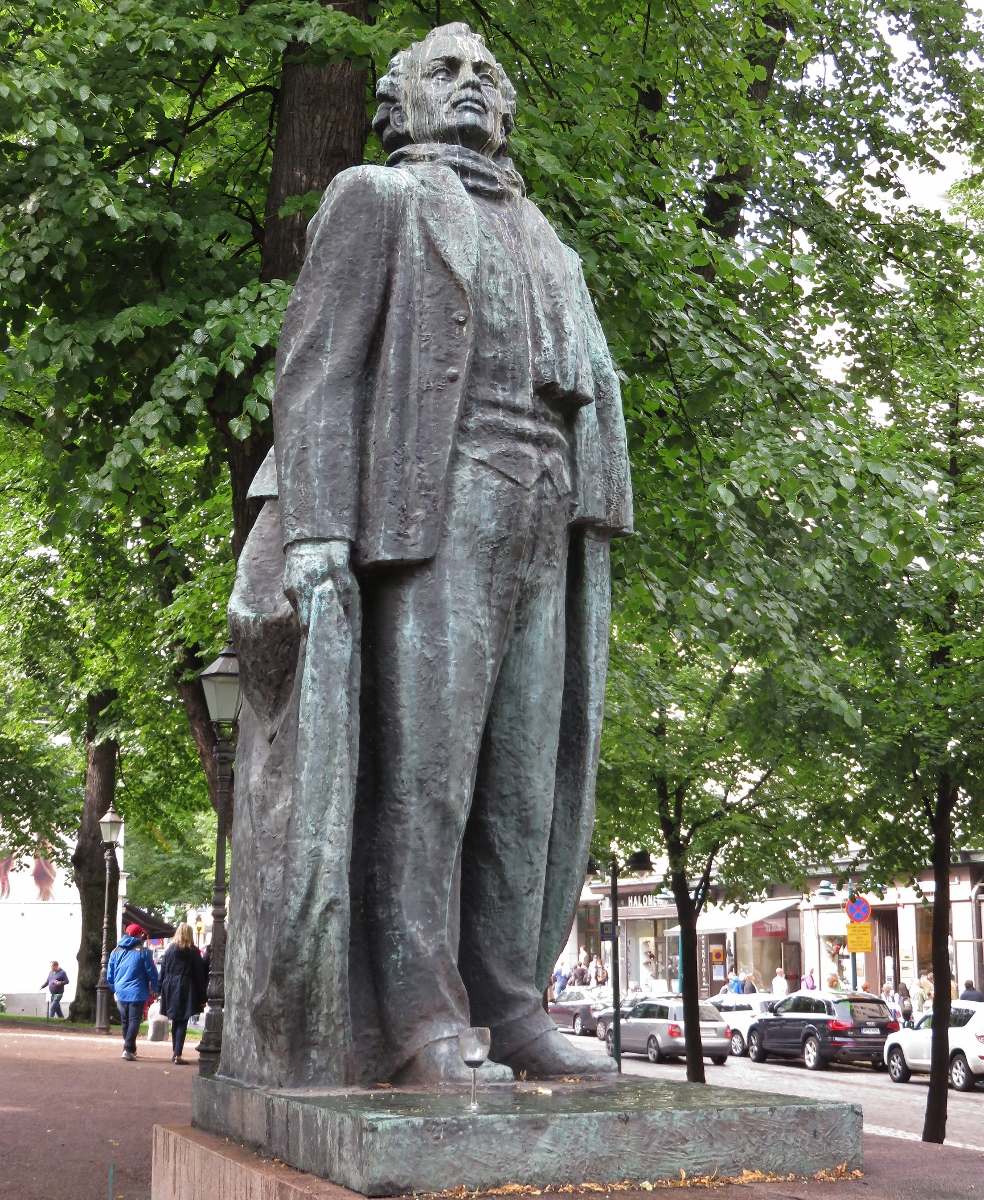 We continued our stroll through this beautiful spot in the center of Helsinki.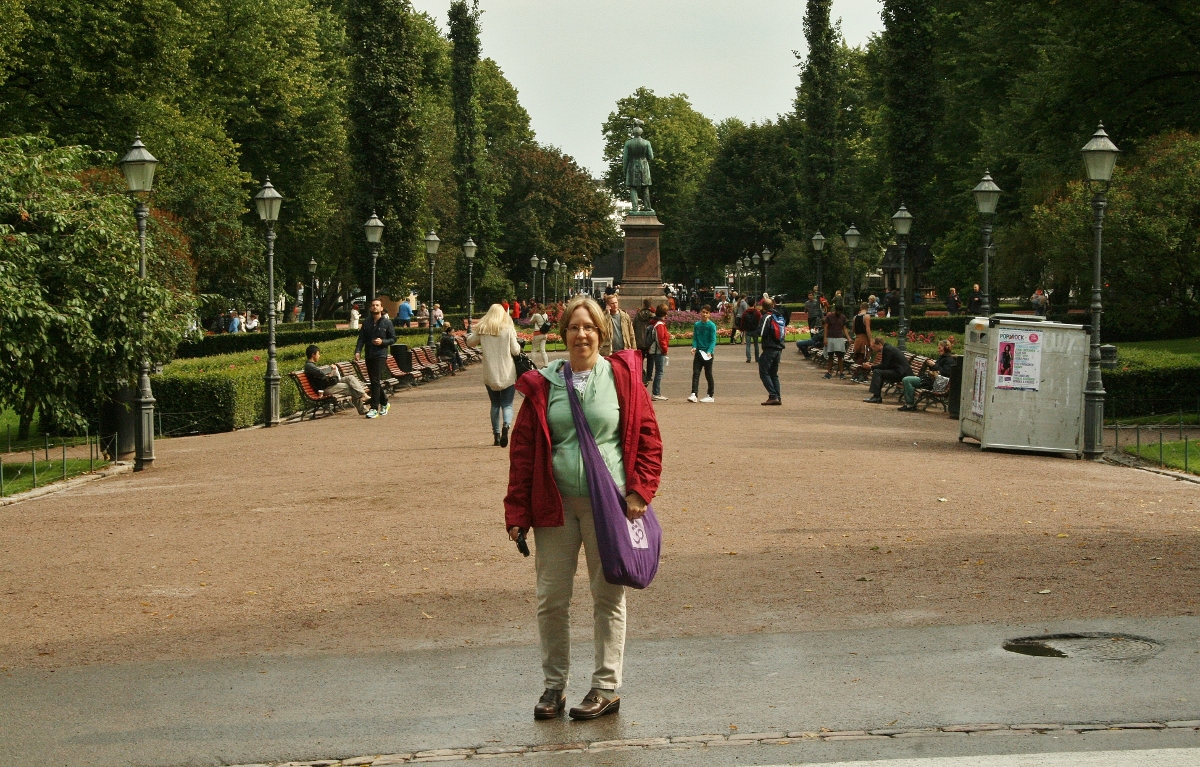 We passed some street theater unfolding. Here, two guys in clothing filled with air were engaged in a wrestling match on a mat place on the ground.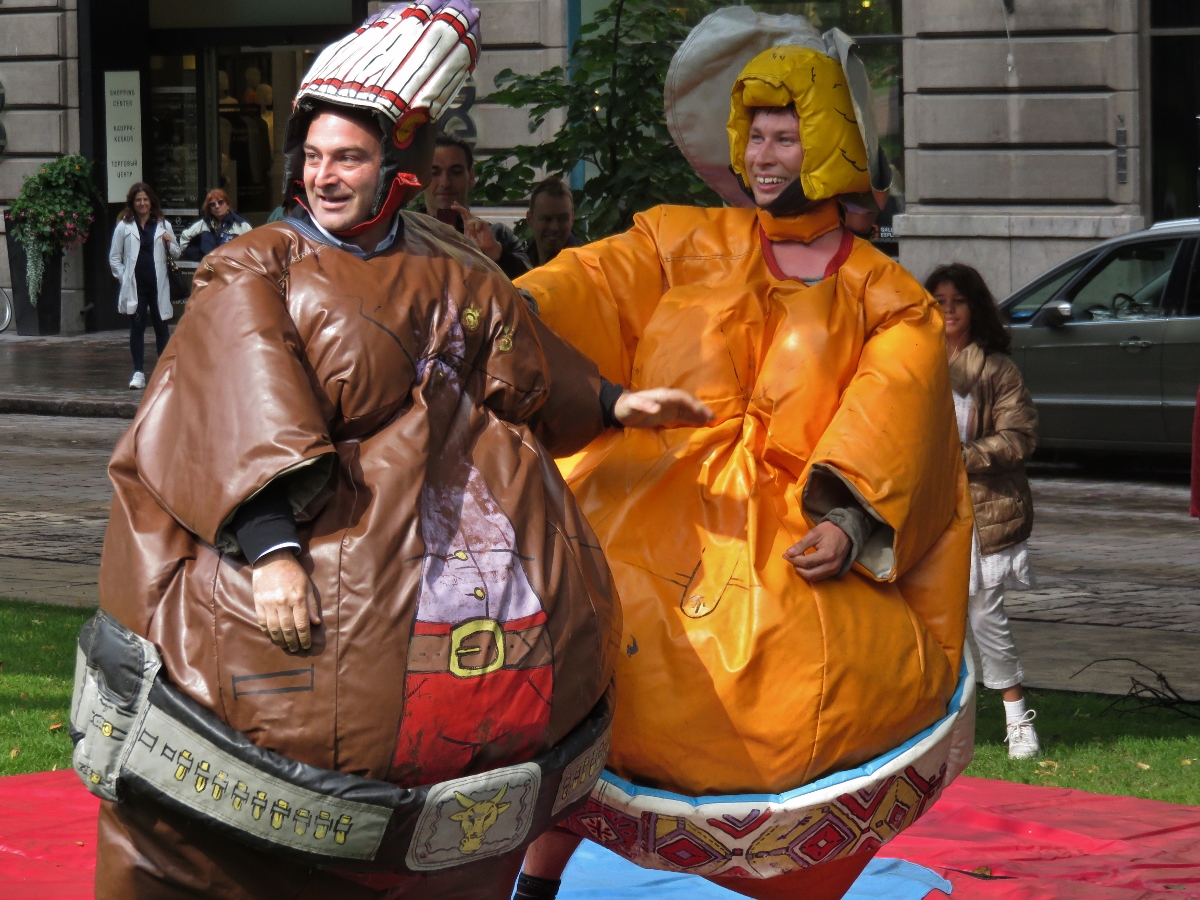 This blacksmith mime stood perfectly still until an unsuspecting child would walk up to him.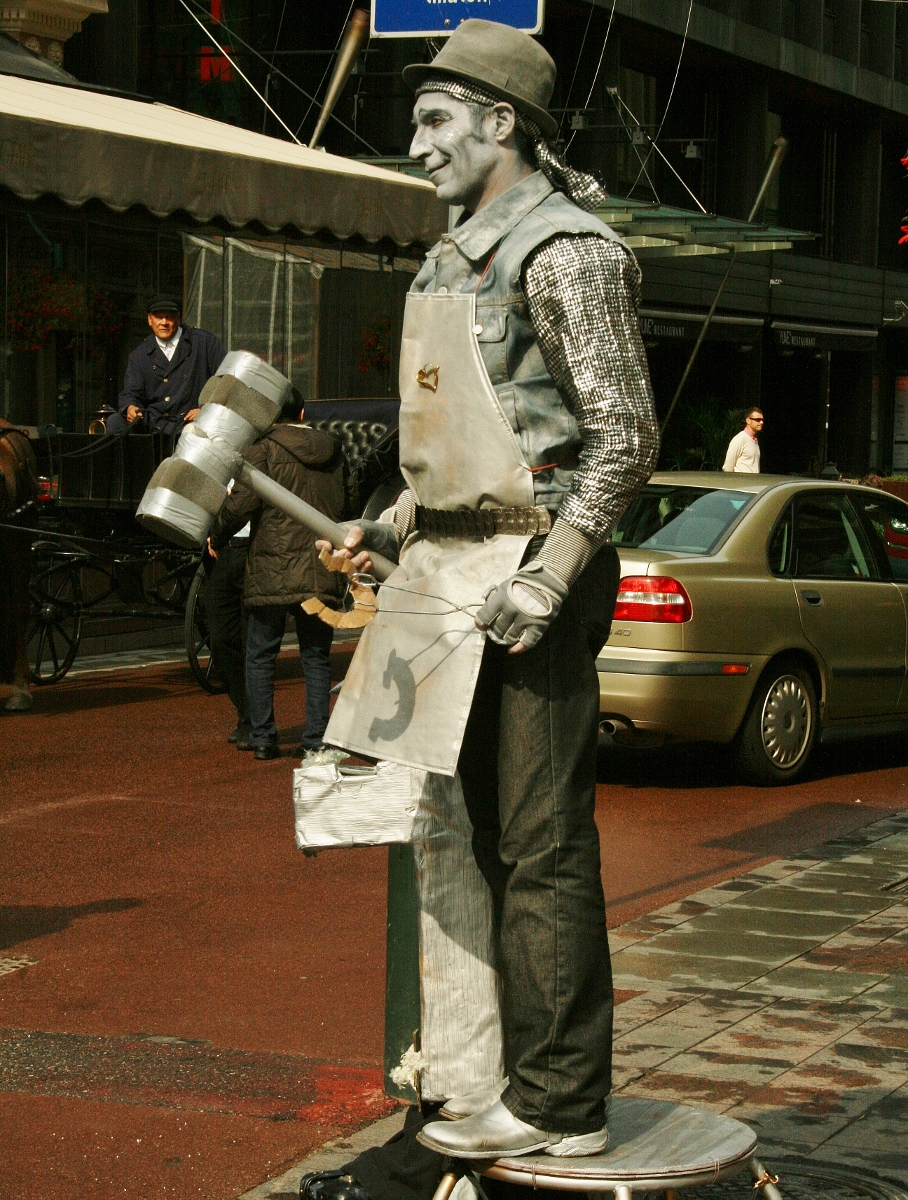 We caught a cab back to our ship. It was late afternoon, so we headed to the spa, where we found our traveling companions and we all waited to watch the boat's sail-off. The view of nearby ships, from the spa, was impressive.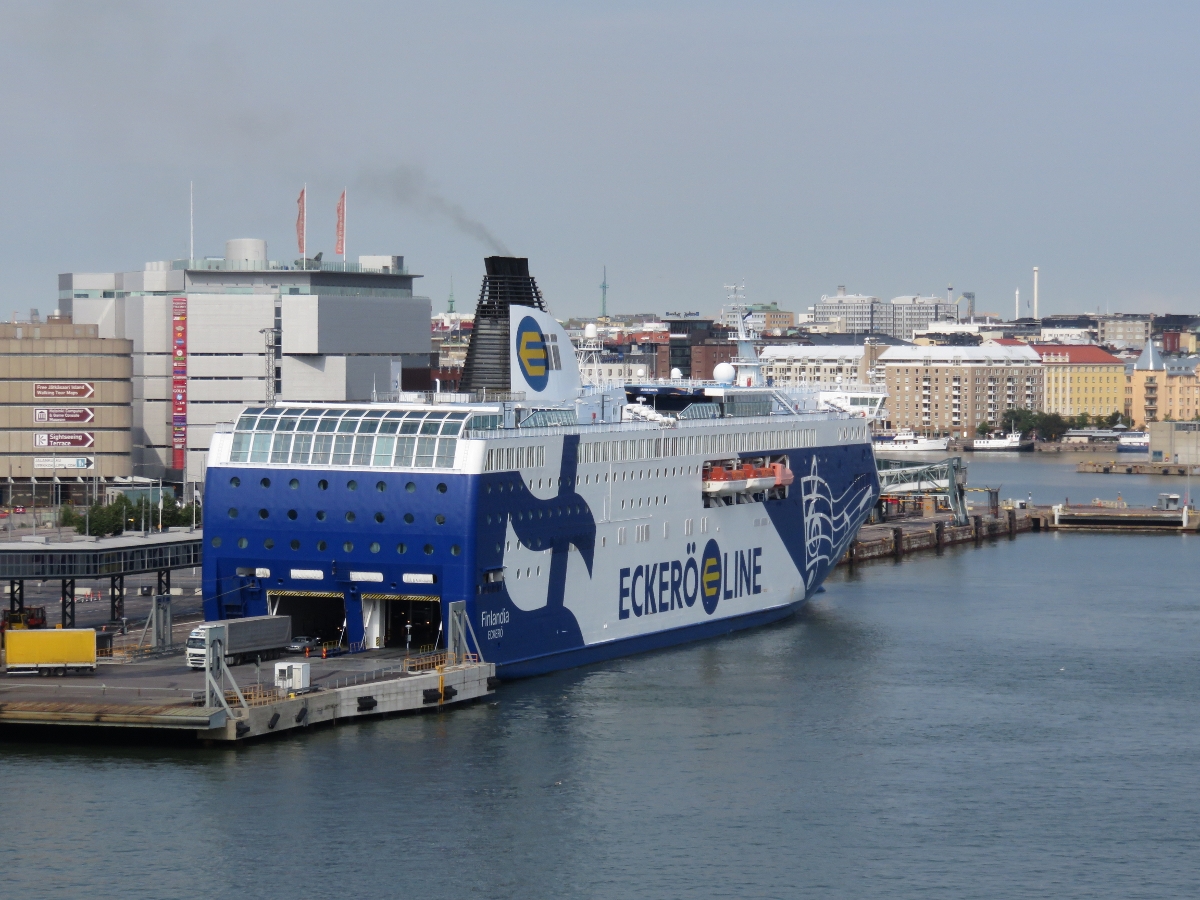 Yes, touring is hard work, but someone has to do it! Thanks to Lou Ann, the opthamologist from Iowa, for taking this picture.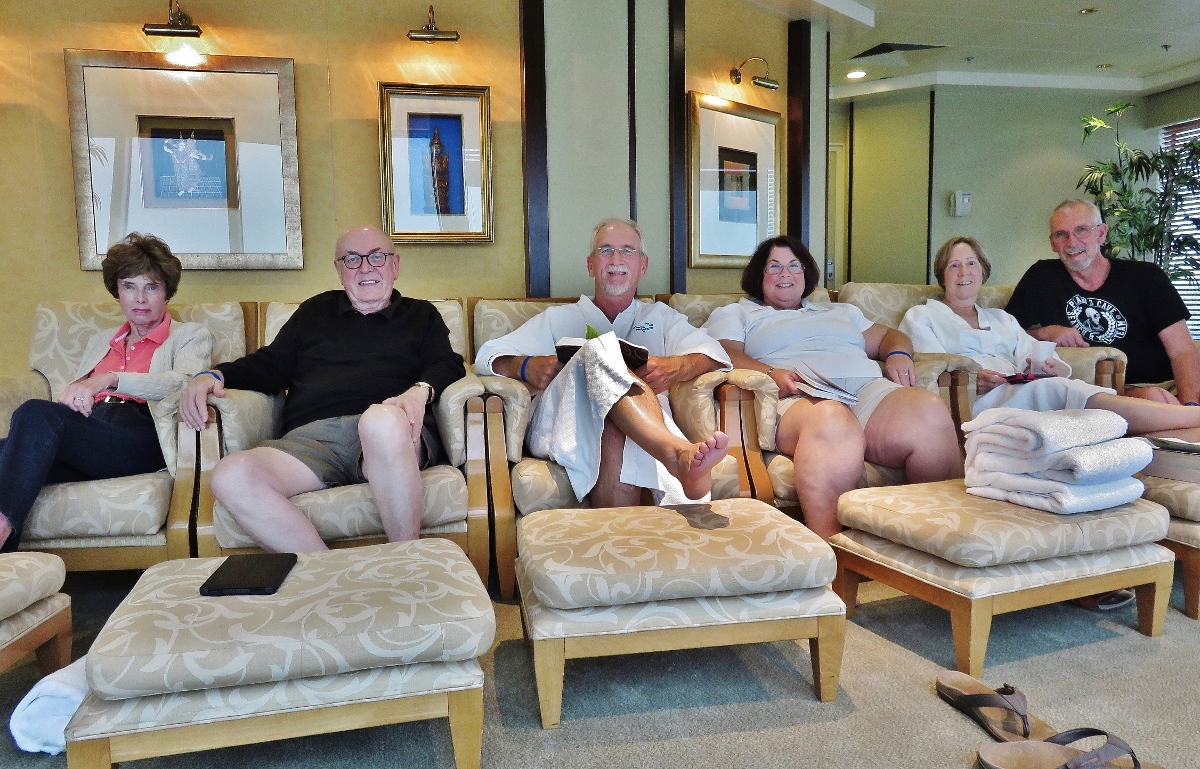 We decide to eat in the fancy restaurant on the boat that evening. It's called Versailles.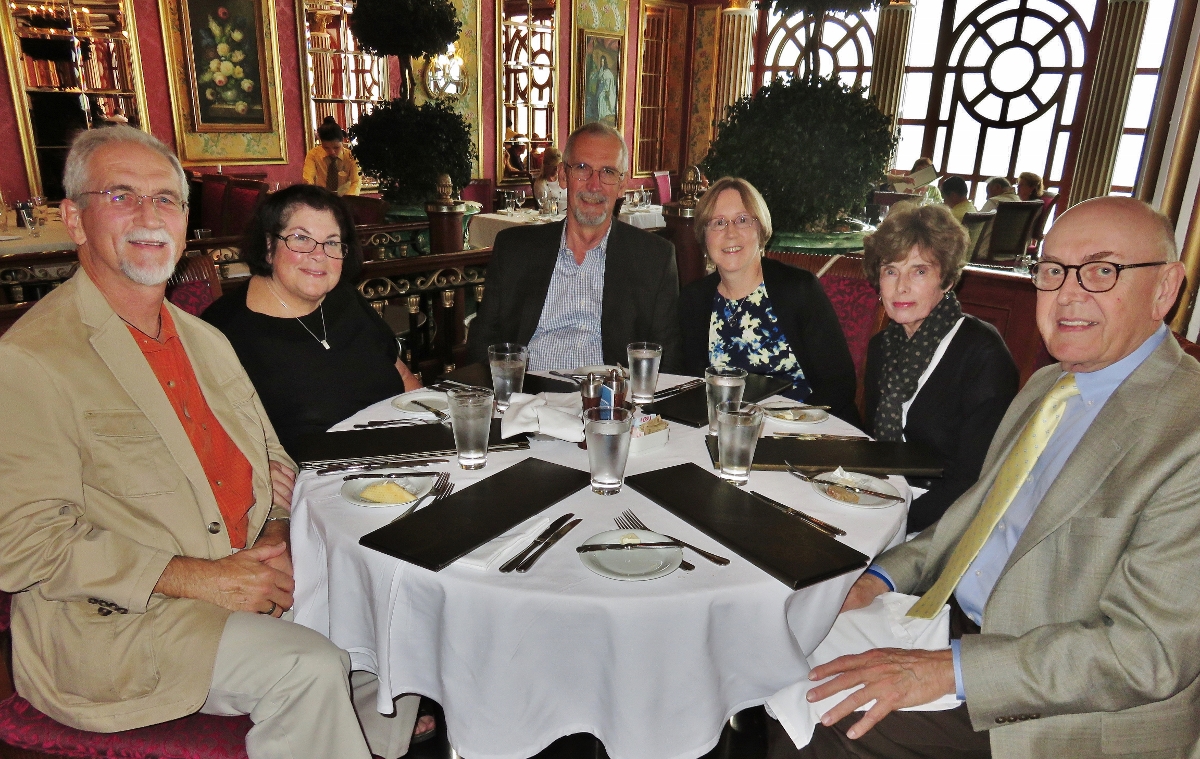 And of course the day wouldn't be complete withour our - this time washcloth - animal on our bed to wish us good night.
See day 8 in Stockholm. Or return to the Main Menu to see something else.