Day 4 - Takakkaw Falls - Natural Bridge - Emerald Lake - Lake Louise - Moraine Lake
We left Banff. The weather was threatening with showers interspersed with a few minutes of sun. We passed Castle Mountain where the mist (or clouds) was still clearing off.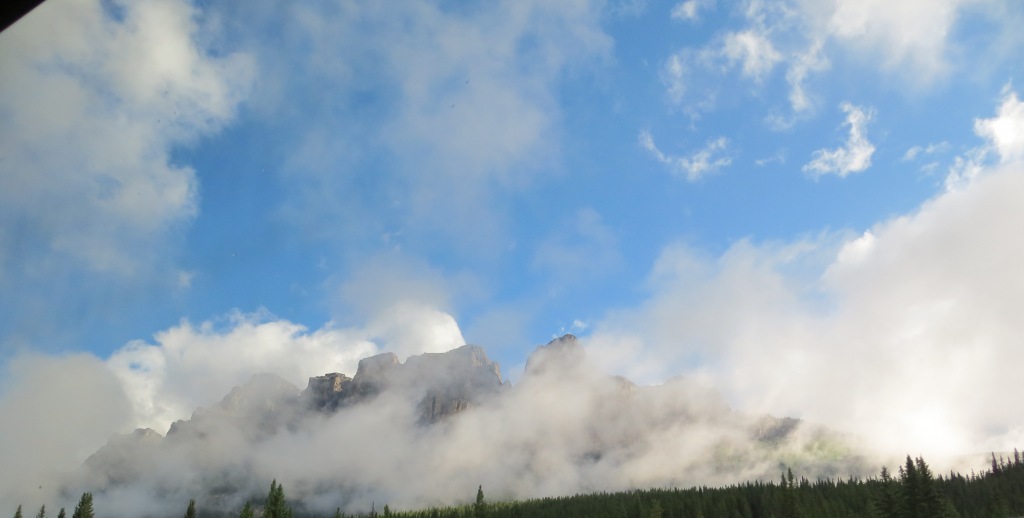 Nearing Takakkaw Falls, blue skies and clouds competed for control.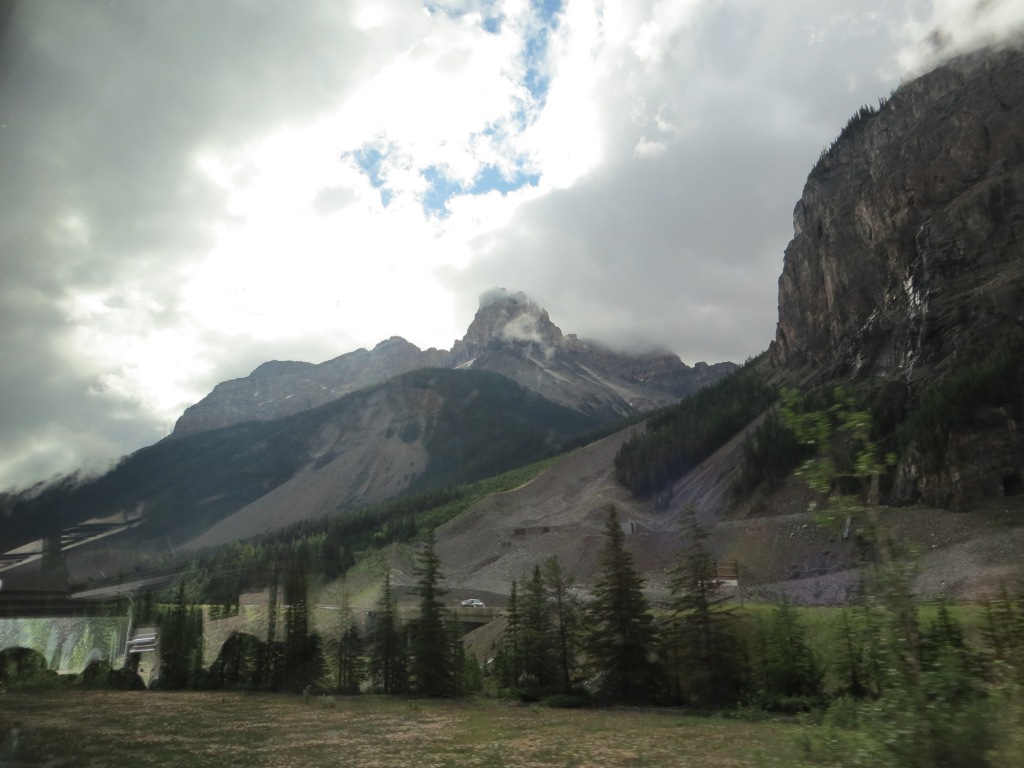 Takakkaw Falls means "It is magnificent" in the Cree (Indian) language. At 835 feet, it is the second tallest waterfall in Canada.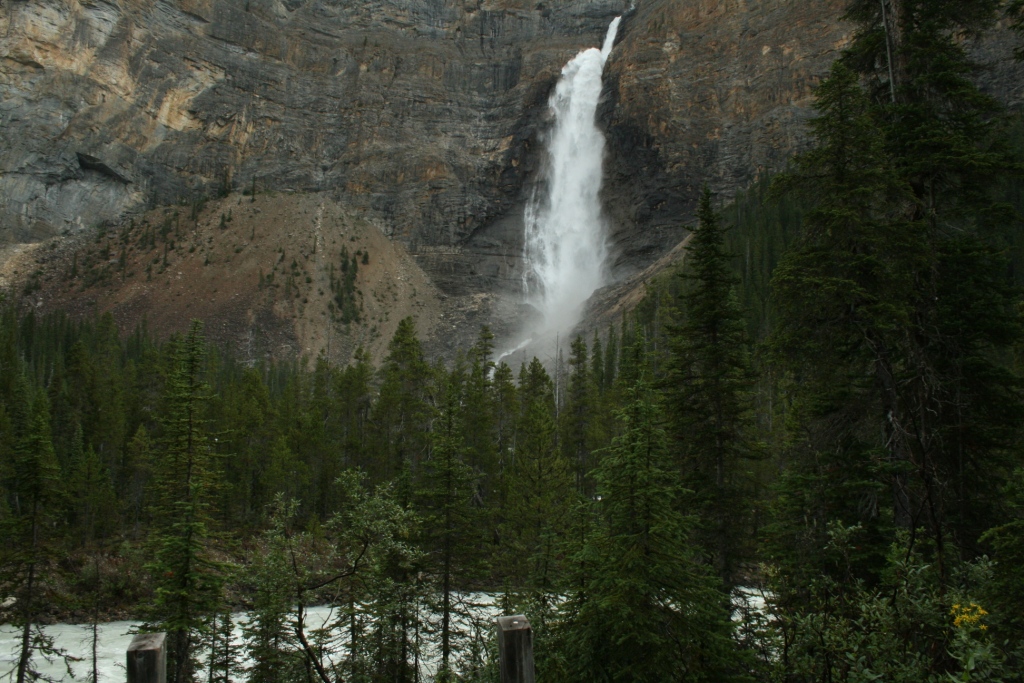 The roar from the falls was deafening in the river valley below.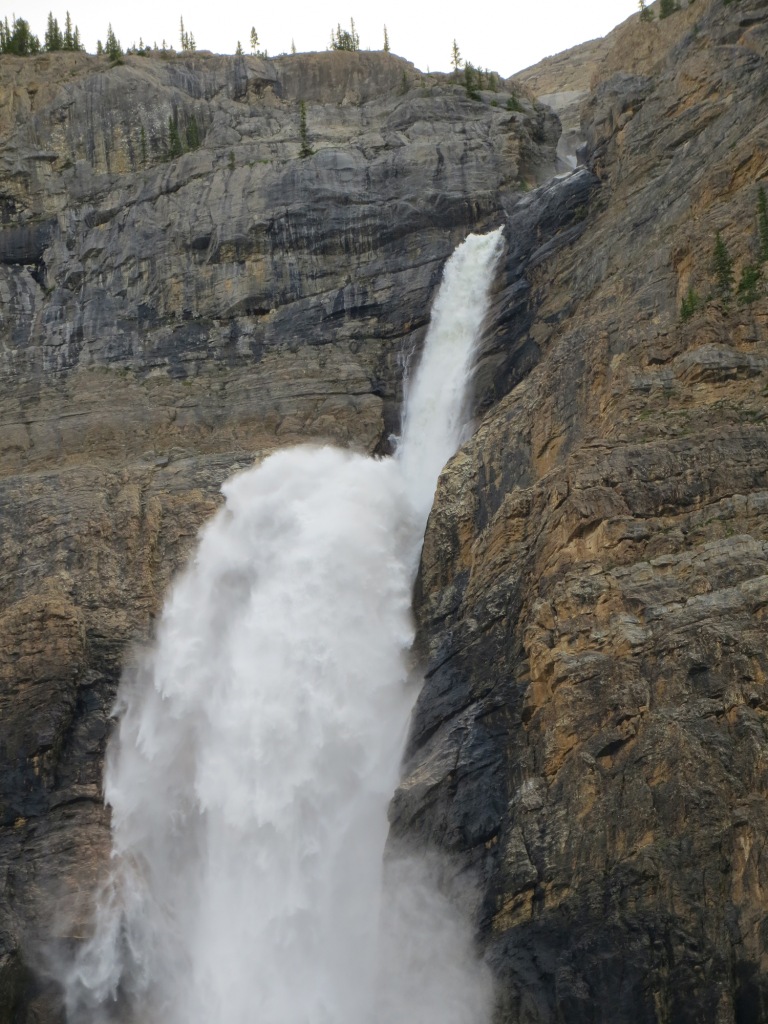 Next stop was Natural Bridge, where the Kicking Horse River is carving a canyon into the bedrock.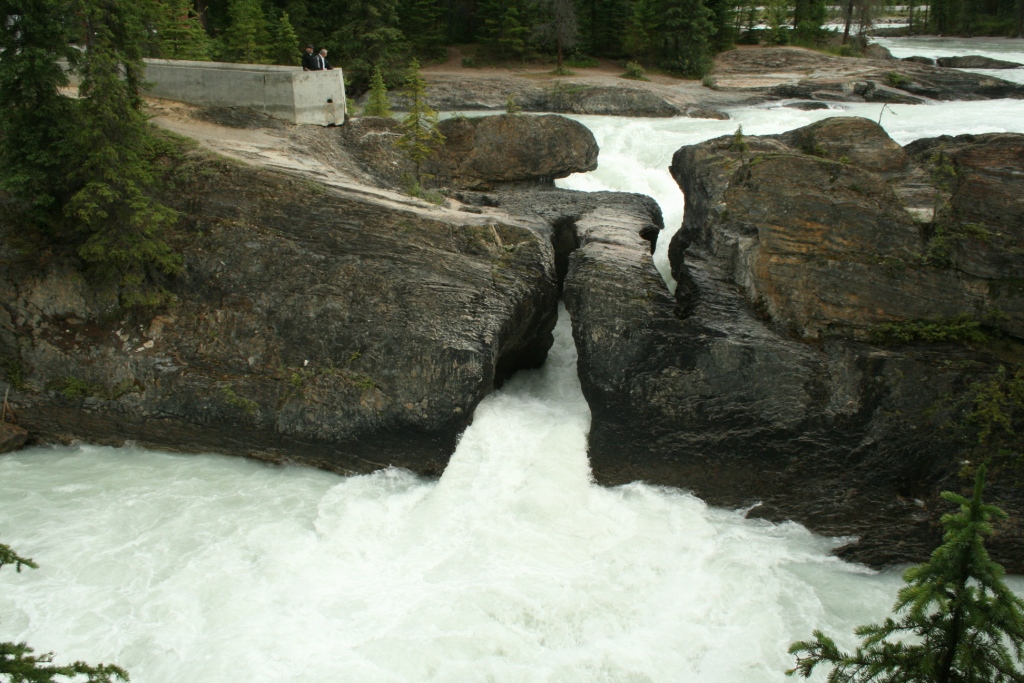 From Natural Bridge we drove to Emerald Lake, a serene, emerald green work of art in the mist.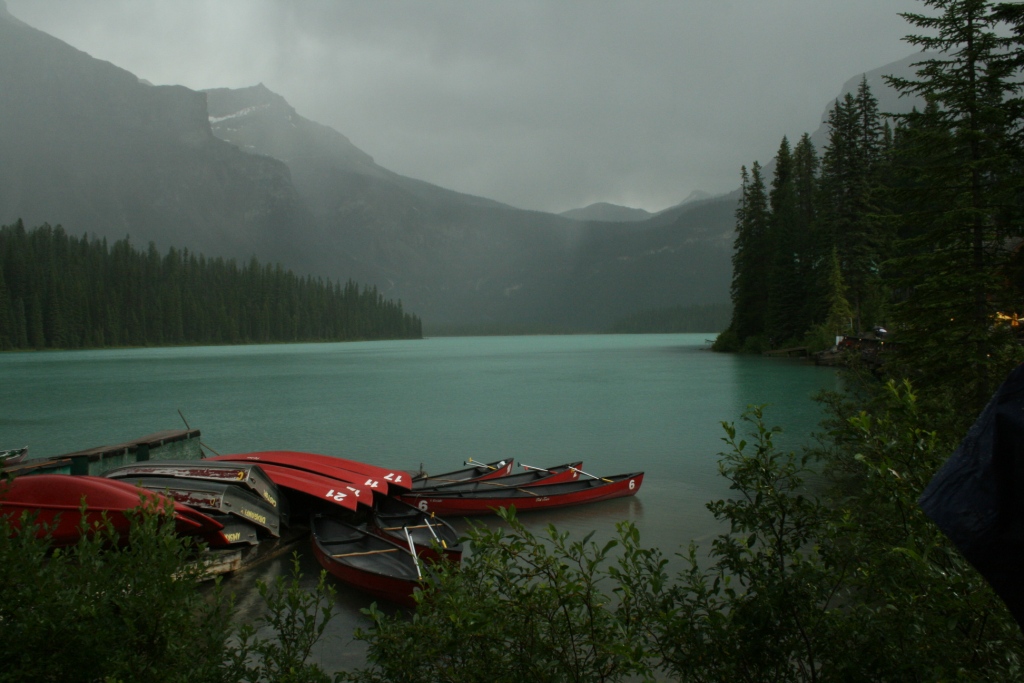 As the rain let up people ventured out in canoes.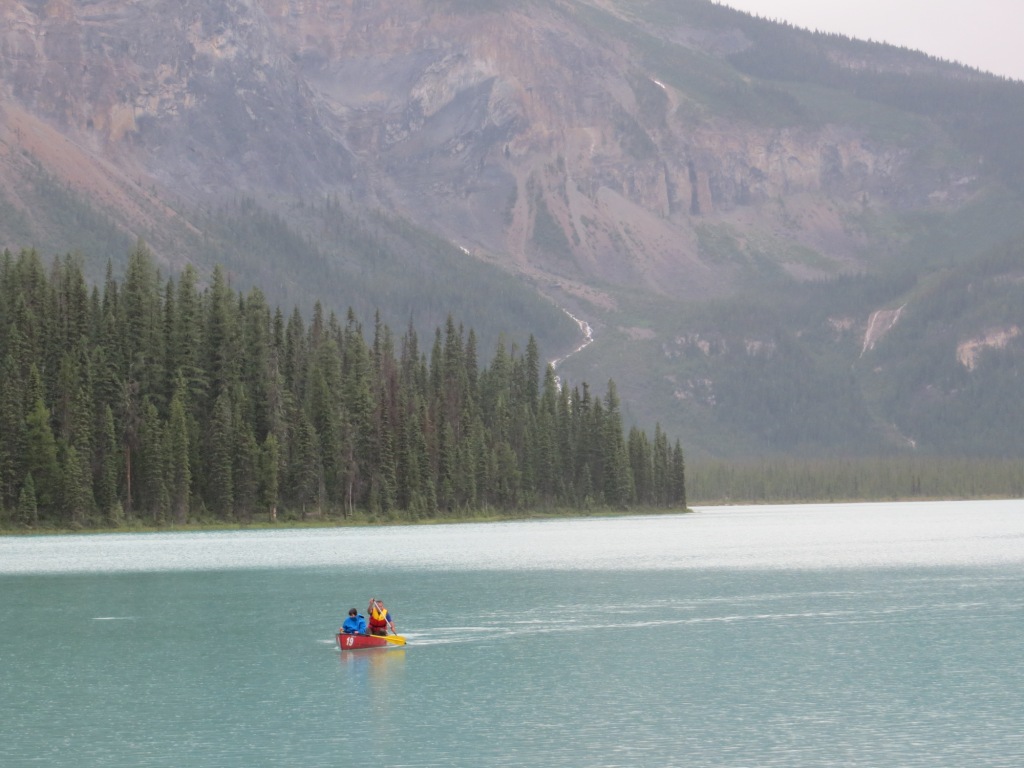 As we were driving away from Emerald Lake we stopped to look at a Canadian engineering feat, Spiral Tunnels, which allowed trains to travel a lower grade by going through "spiral tunnels" in the mountains. In places you can see the back end of a train still going into a mountain tunnel while the front end comes out another tunnel below.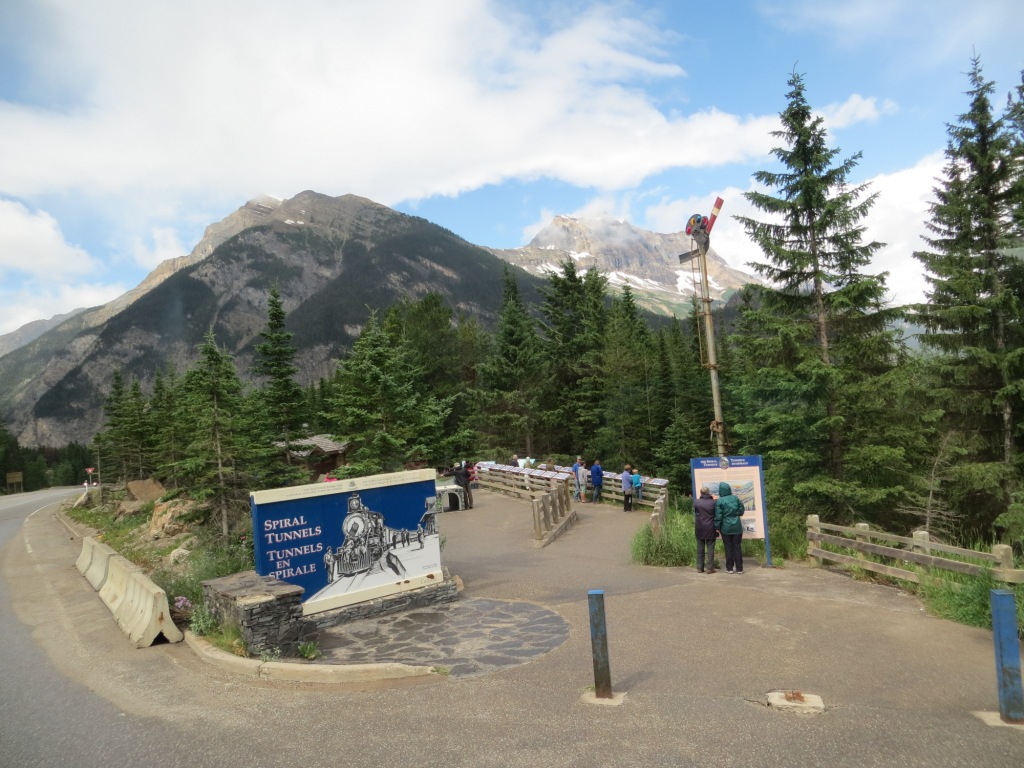 We arrived at our lunch destination, Chateau Lake Louise, also known as the Fairmont Hotel. It's a pretty lah-dee-dah place.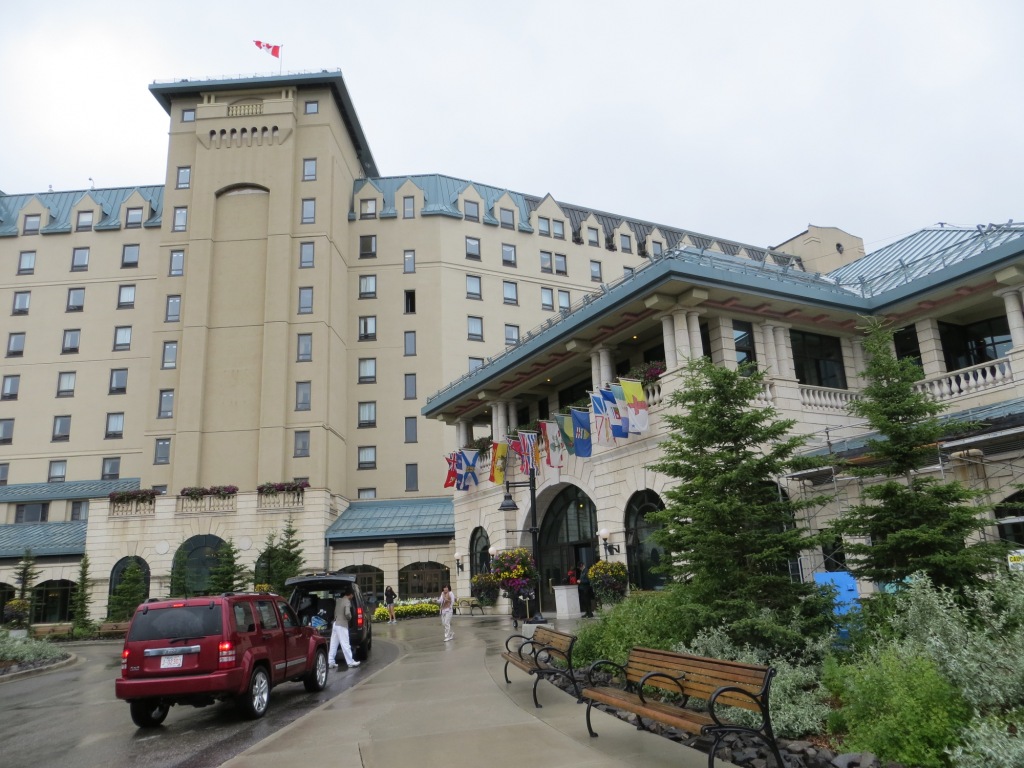 Check out just one of the many chandeliers in the main lobby area.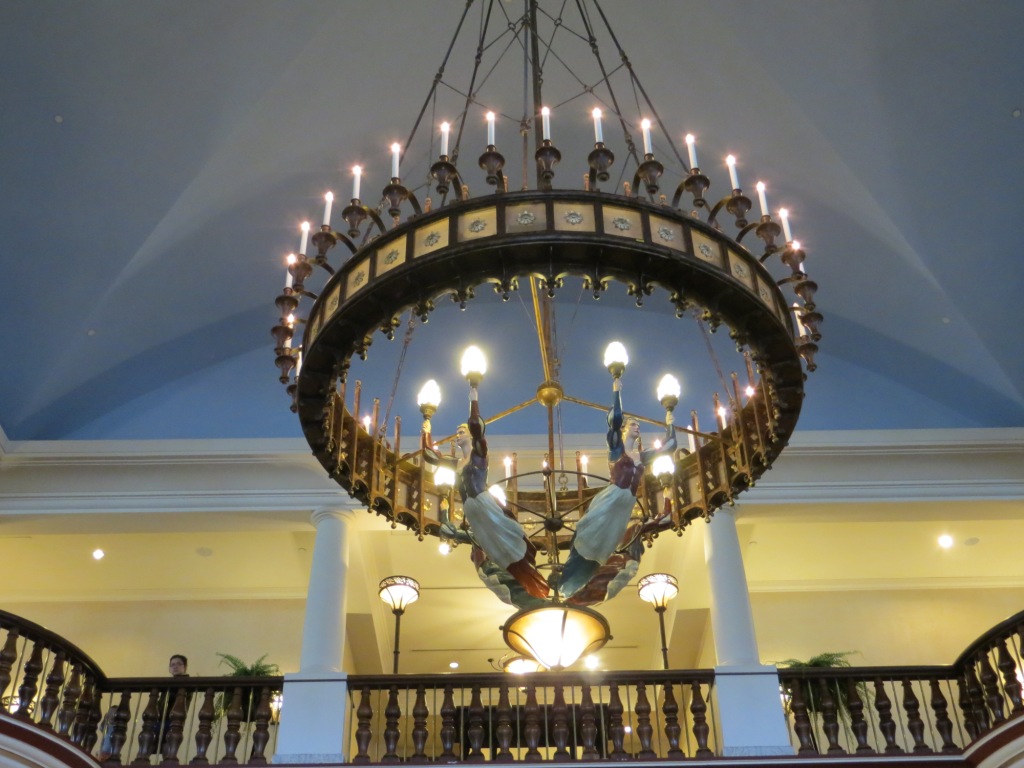 Here we are having lunch in the Lakeview Lounge - Sharon, Charlie, George, Helen, Nancy, Bill.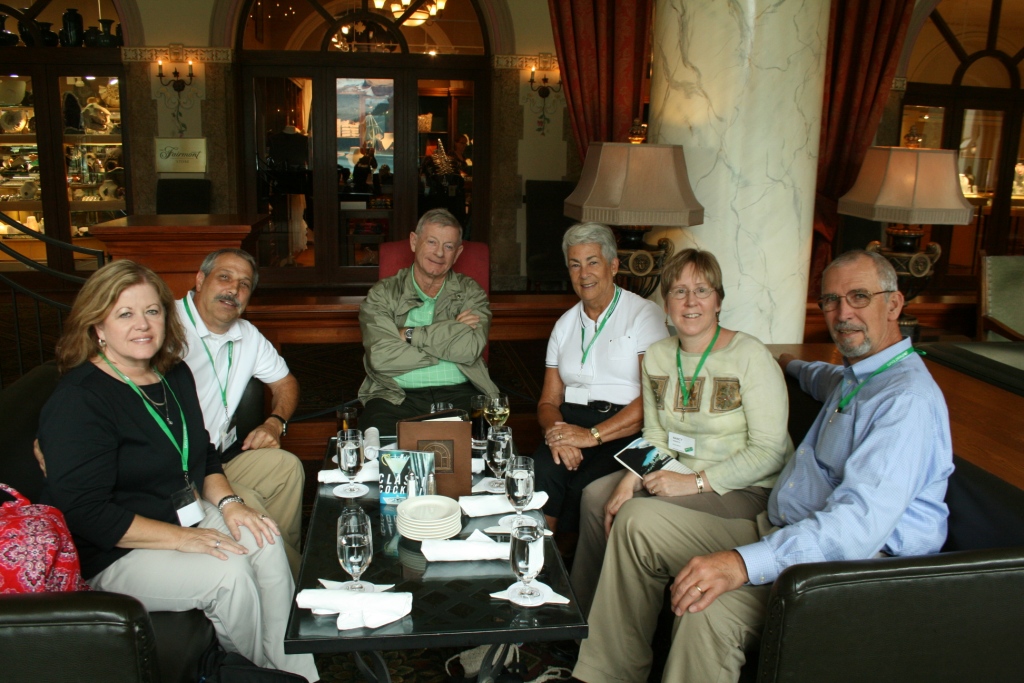 Dinner music was provided by a harpist. Like I said, very lah-dee-dah place.
At the next table over from us were four more of our travel buddies.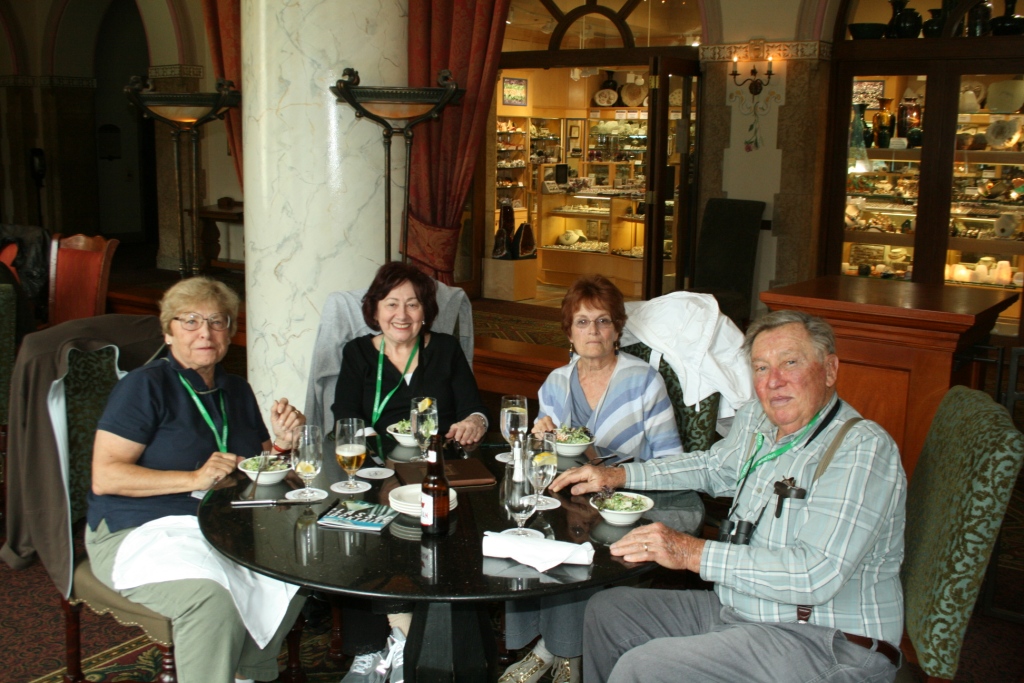 The view from the Lakeview Lounge - beautiful Lake Louise with the glacier that feeds it in the background, and mountains all around.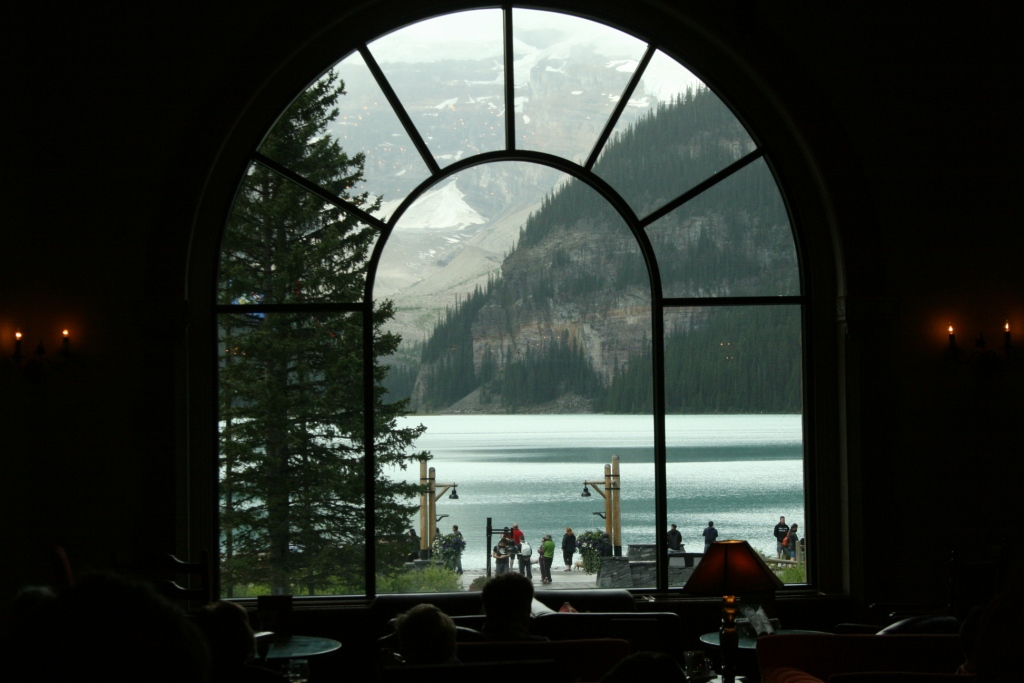 Outside everyone enjoyed the lake and the glacier from the hotel grounds.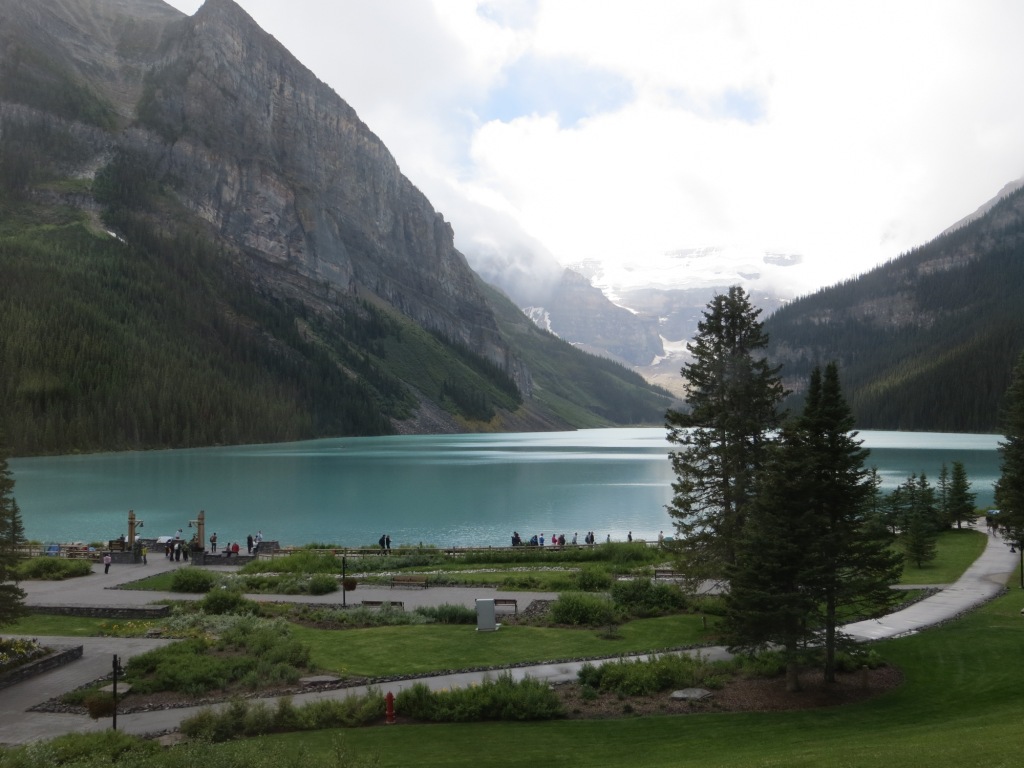 After lunch we visited Moraine Lake. The best view of the lake requires climbing a big pile of rocks which resulted from a massive rock slide, blocking the river and creating the lake. Fortunately, rock steps have been placed to make the trek easier.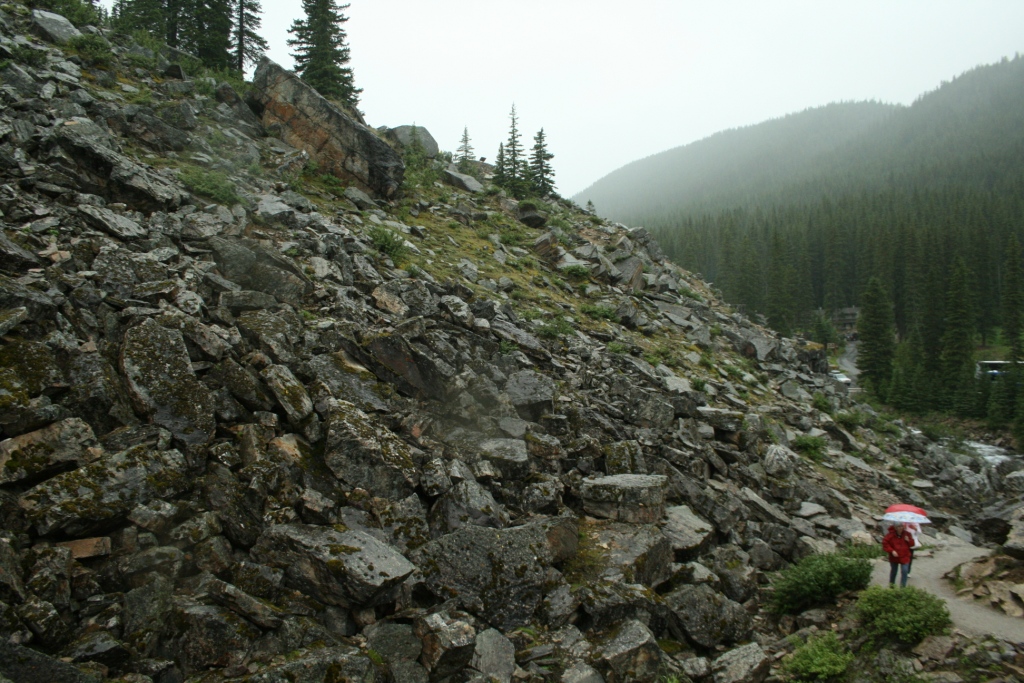 View of Moraine Lake from the top of the rock pile.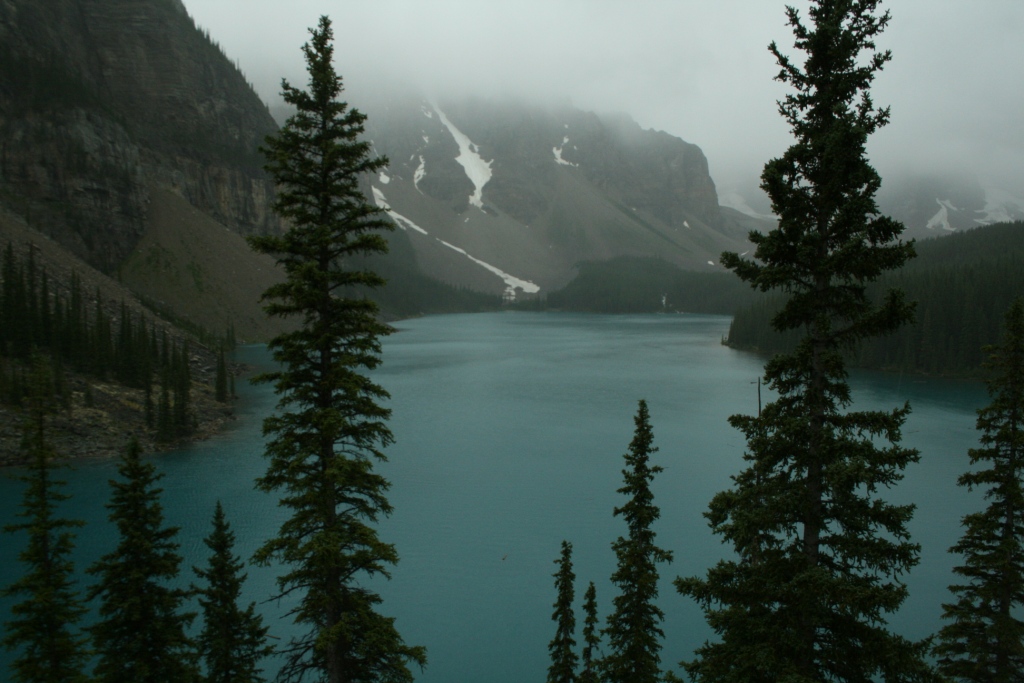 On the other side of the rock pile the lake flows out as a stream. Here, a log jam has occurred.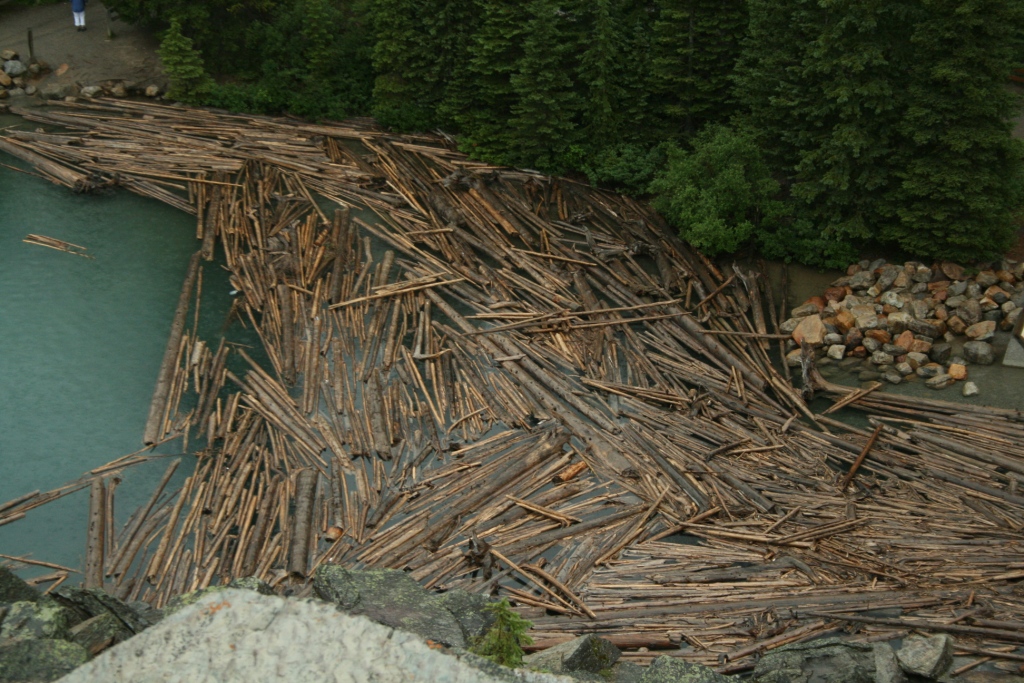 One last parting look at Moraine Lake as the rain comes down again.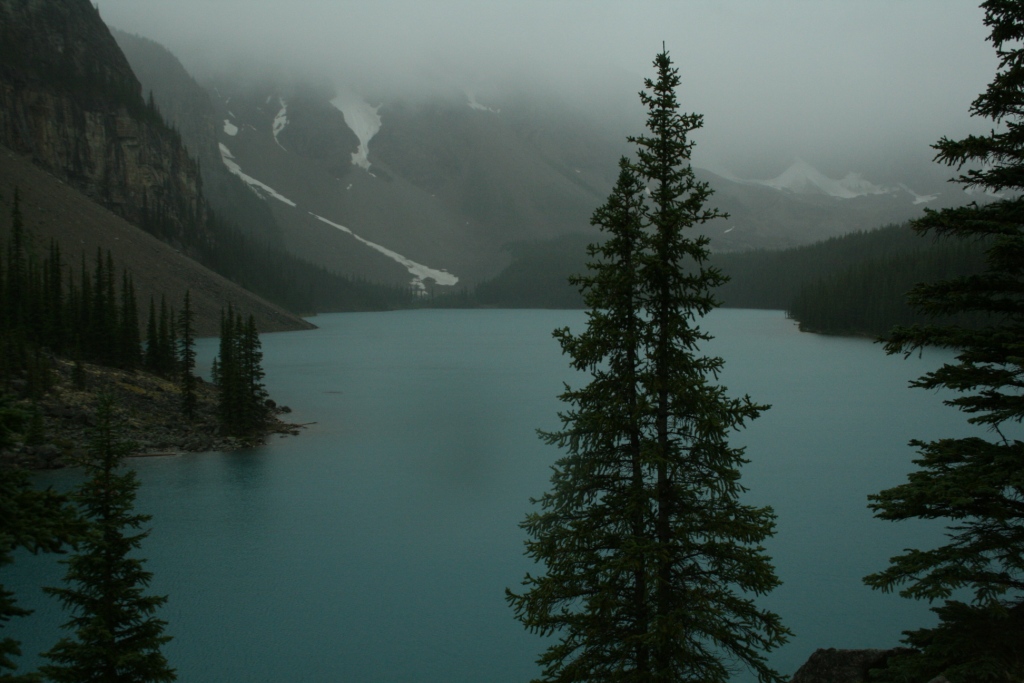 We arrive at the end of the day at our hotel right in Lake Louise village. This is the view from our hotel.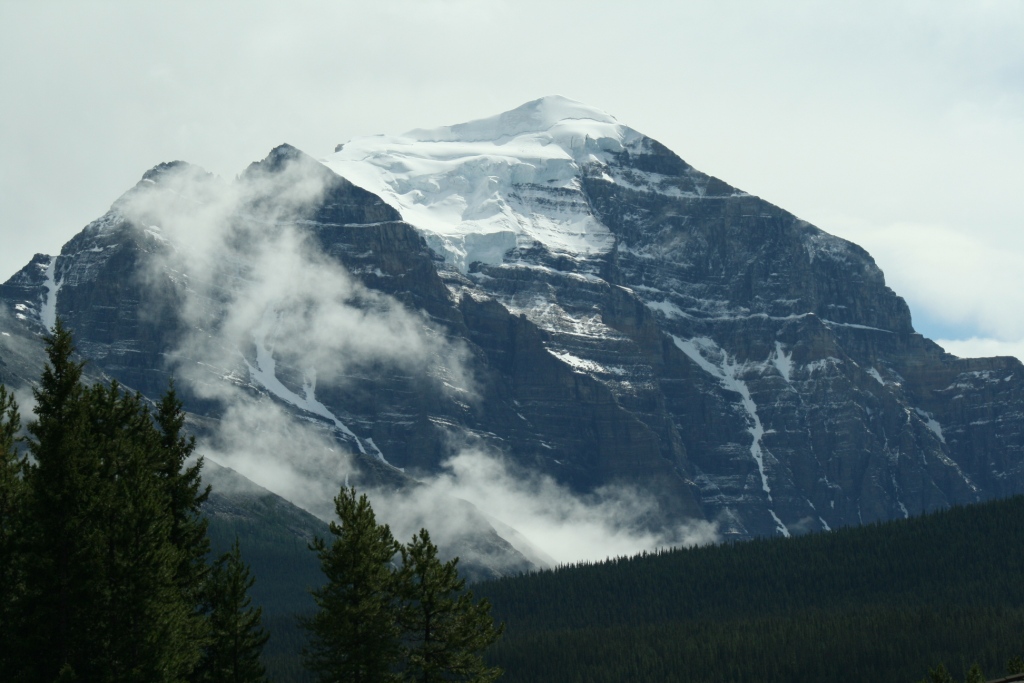 Tomorrow we leave Lake Louise for a trip across the Columbia Ice Fields and a river raft trip on Day 5 . Or return to Main Menu.