Day 5 - St. Petersburg - Lunch - The Church on Spilled Blood
Leaving Peterhof we returned to St. Petersburg for lunch. We passed Isaakievskiy Sobor, or St. Isaac's Cathedral, the largest orthodox basilica and the fourth largest cathedral in the world. It is dedicated to Saint Isaac of Dalmatia, a patron saint of Peter the Great, who had been born on the feast day of that saint.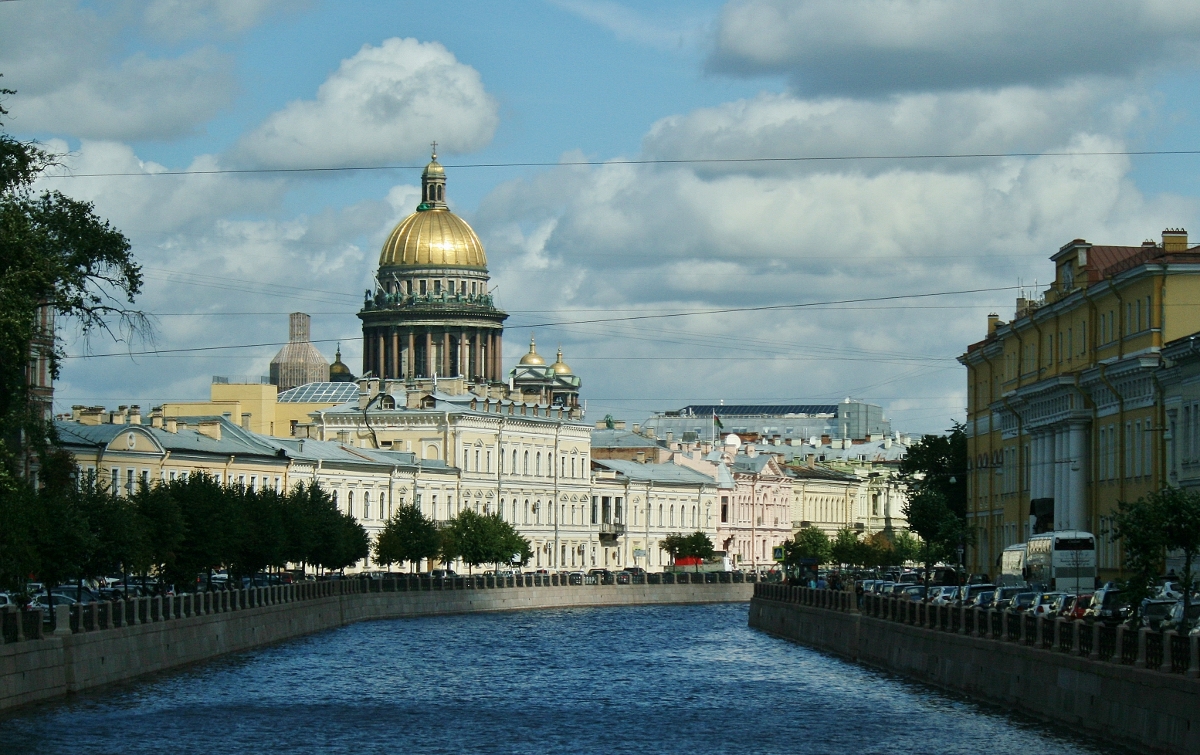 The monument to Nicholas I in front of Saint Isaac's Cathedral. Unveiled on July 7th 1859, the six-meter statue was a technical wonder of its time. It was the first equestrian statue in Europe with only two support points (the rear hooves of the horse), the only precedent being the 1852 equestrian statue of U.S President Andrew Jackson.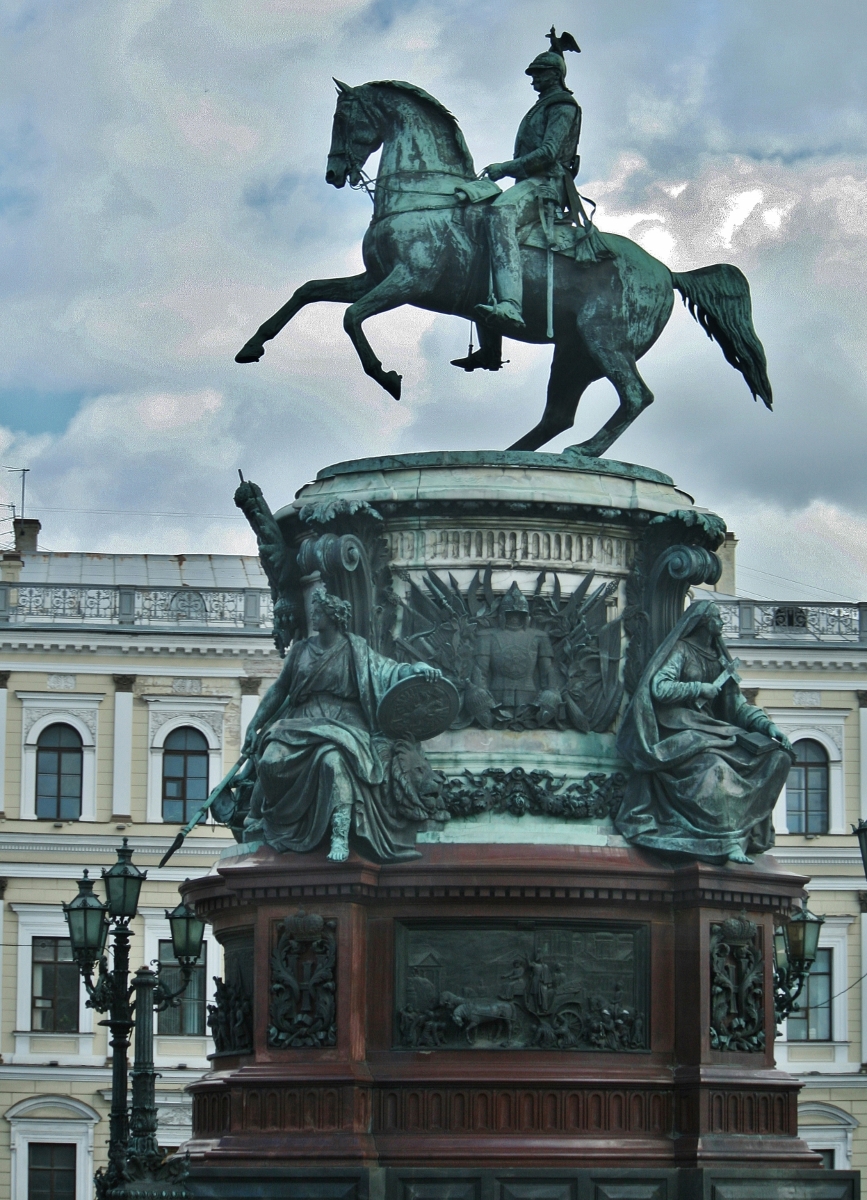 One of the nice parts about having a small touring van for the six of us, was that we could go places that big tourists buses could never go. Such was the case when we were taken to lunch at a small eatery, called Stolle n Nevsky Prospekt,on a not very wide street in St. Petersburg. Alexi, of course, was a master at navigating the city streets.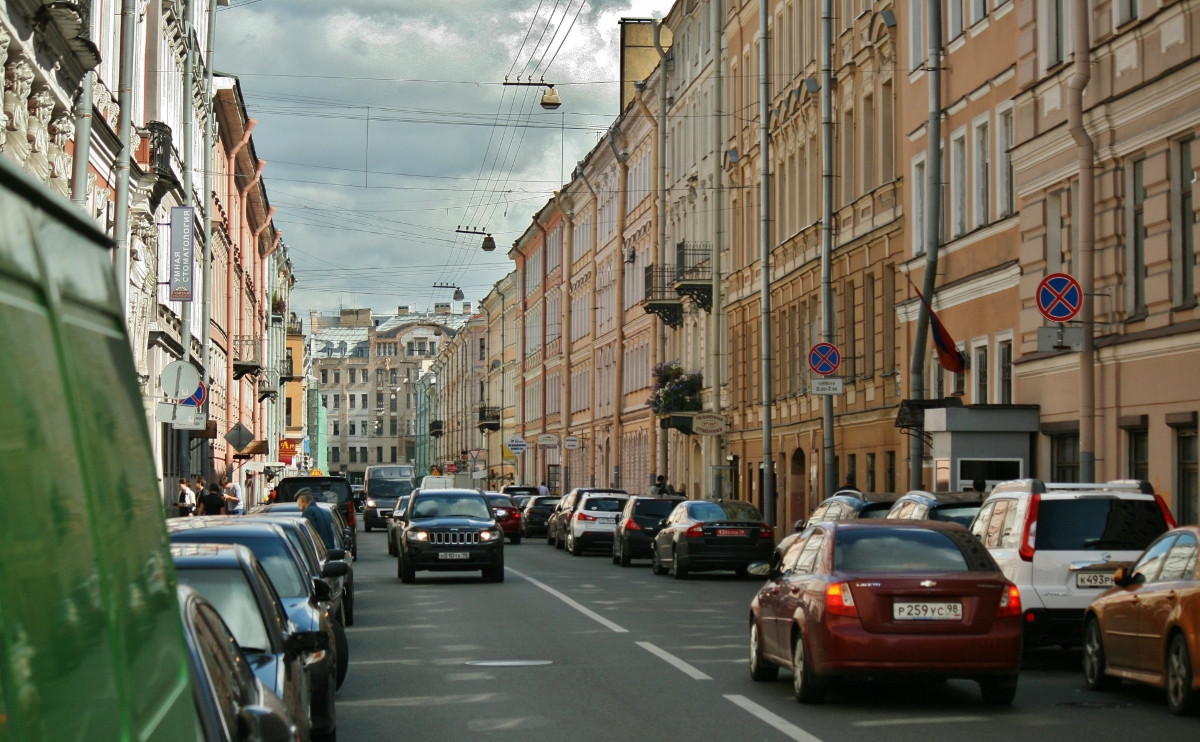 What's for lunch? PIES! All kinds of pies, filled with vegetables, fruit, meat, cheese, you name it. We had a blast trying out the various kinds of pies at this local place.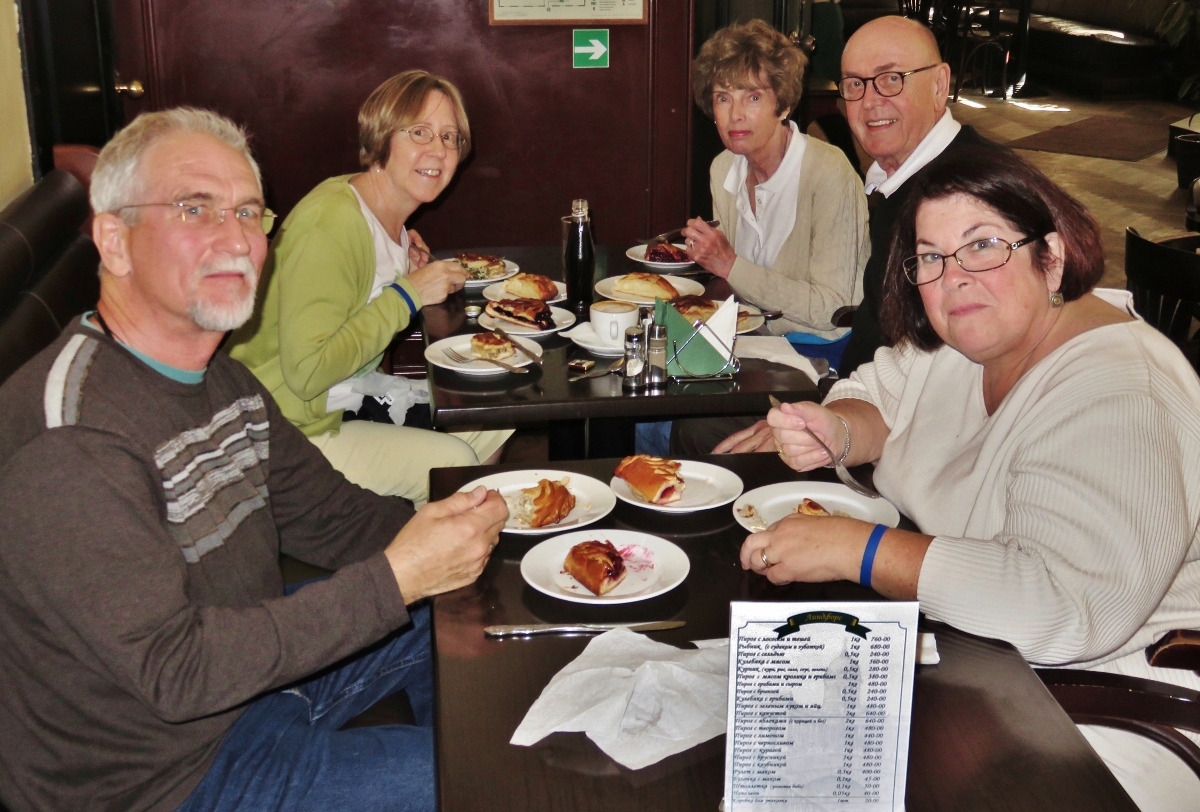 When you have pie for lunch ... life is good!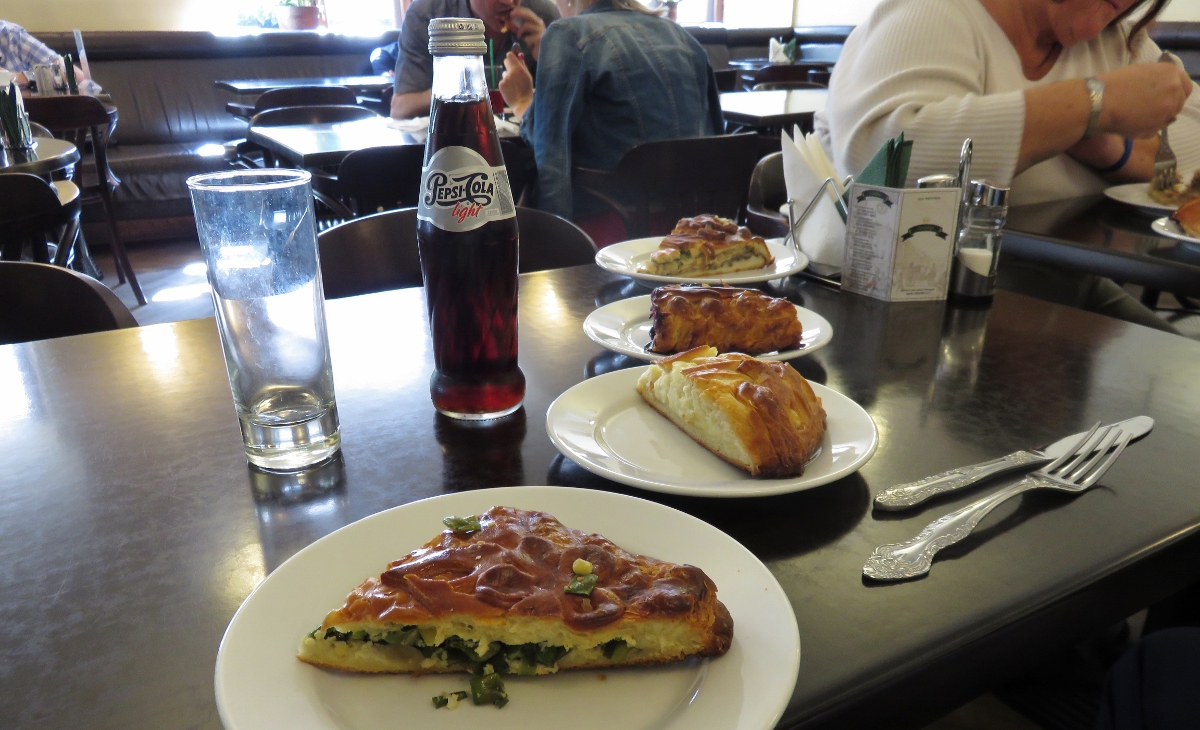 After lunch we head for the Church on Spilled Blood, passing one of the buildings of St. Petersburg University.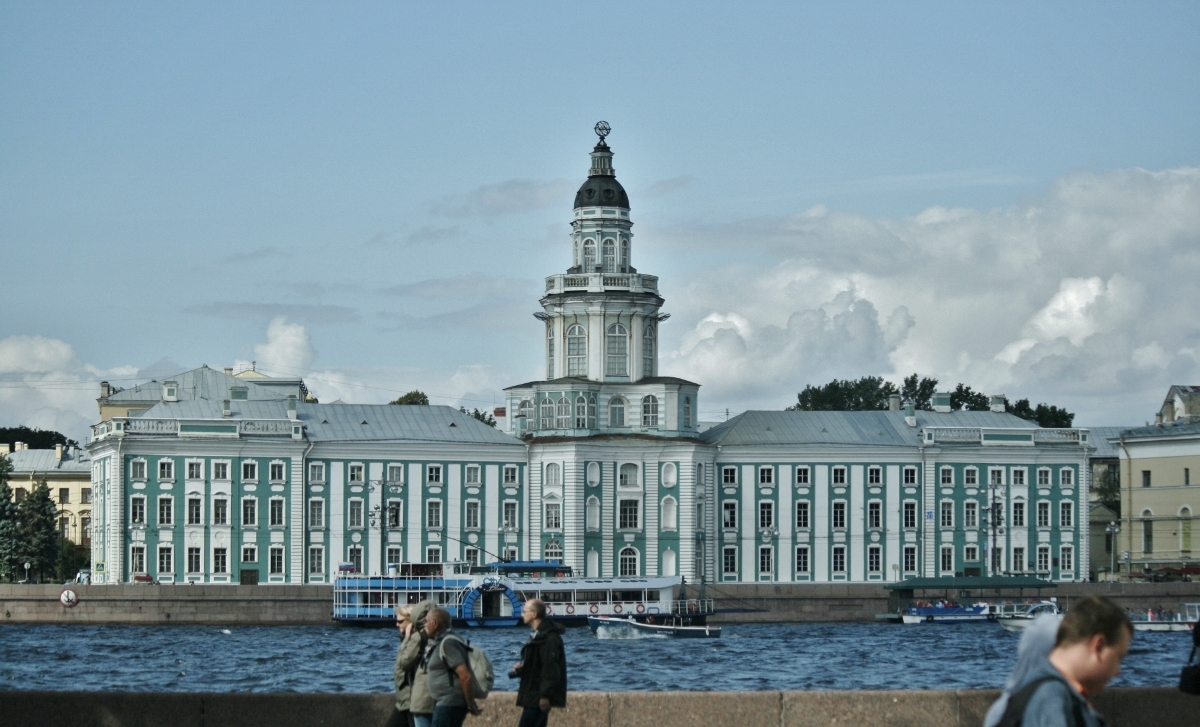 Across the Neva we see Peter and Paul Fortress.
And finally, the one sight I was most looking forward to seeing, The Church of the Savior on Spilled Blood, built on the spot where Tsar Alexander II was assassinated in March 1881 by a group of revolutionaries, who threw a bomb at his royal carriage. Both the interior and exterior of the church are decorated with incredibly detailed mosaics, designed and created by the most prominent Russian artists of the day.
Pictures of this church blew me away before I went on this trip, and seeing it in person was pure delight, so I'm not going to try and narrate the following dozen or so pics. Just enjoy them like I did.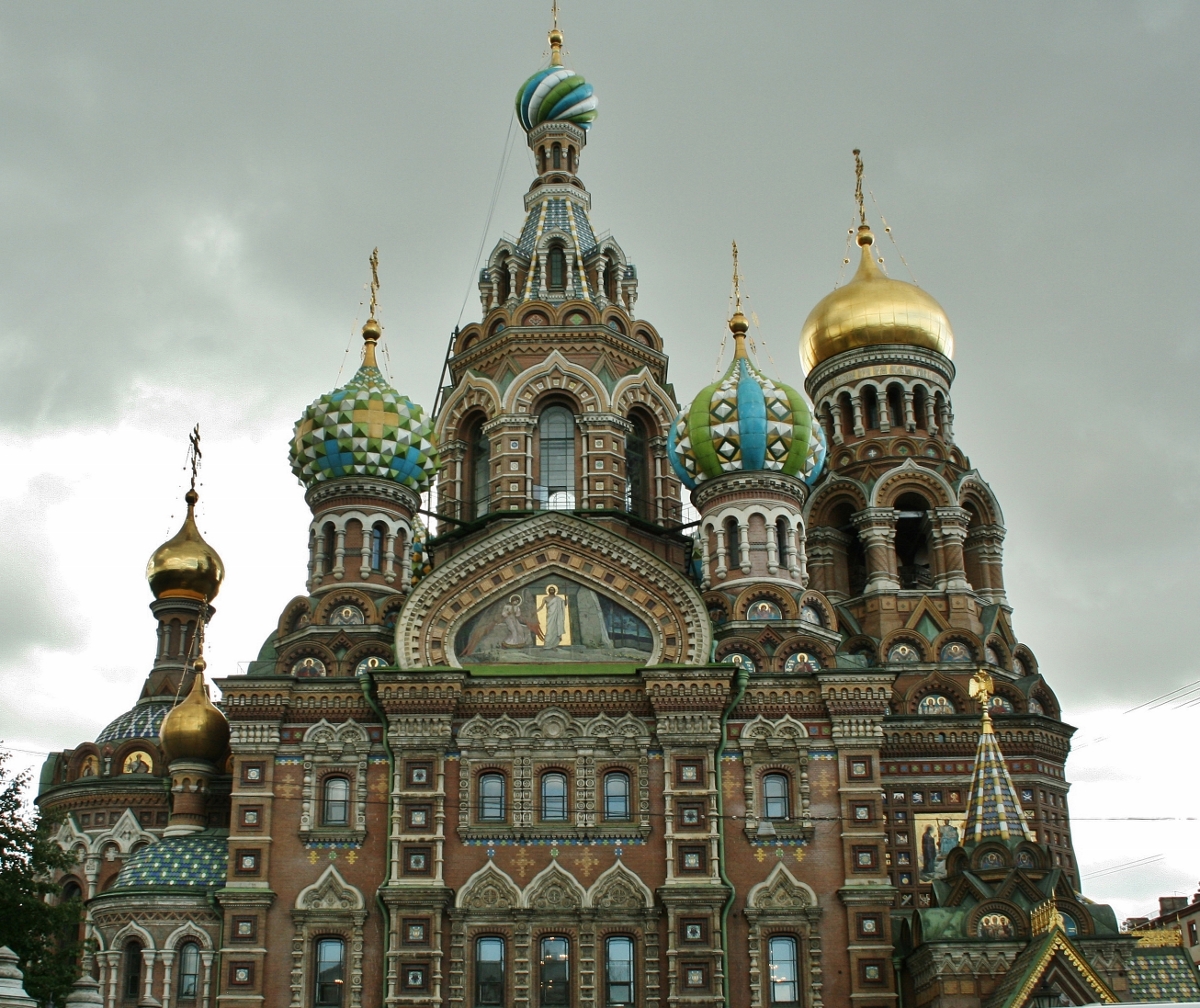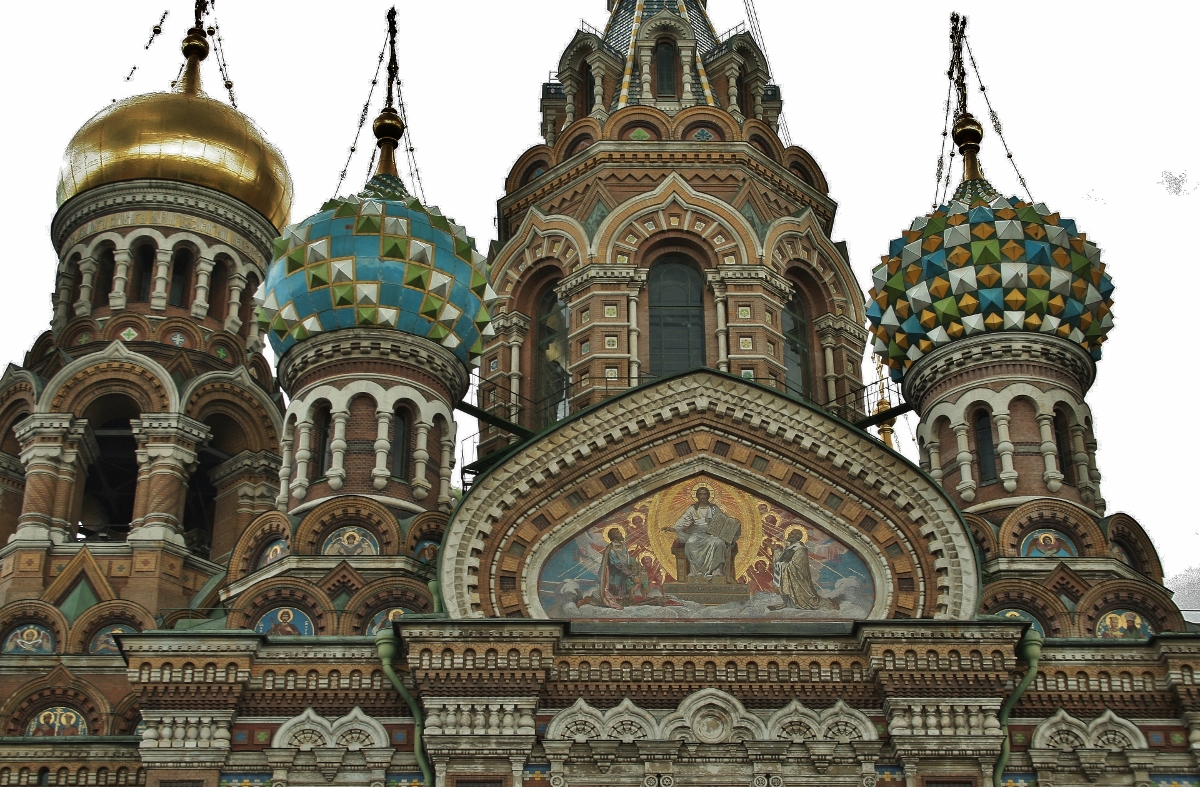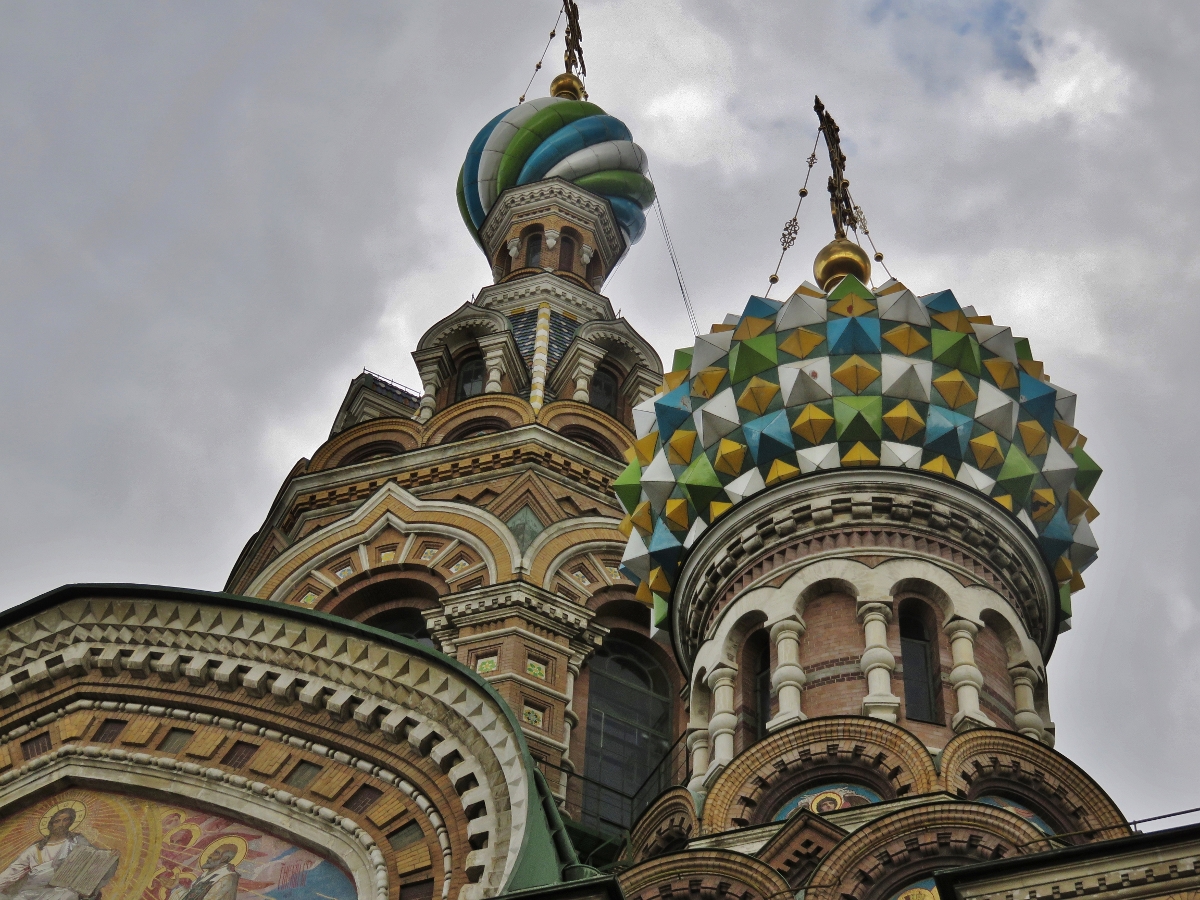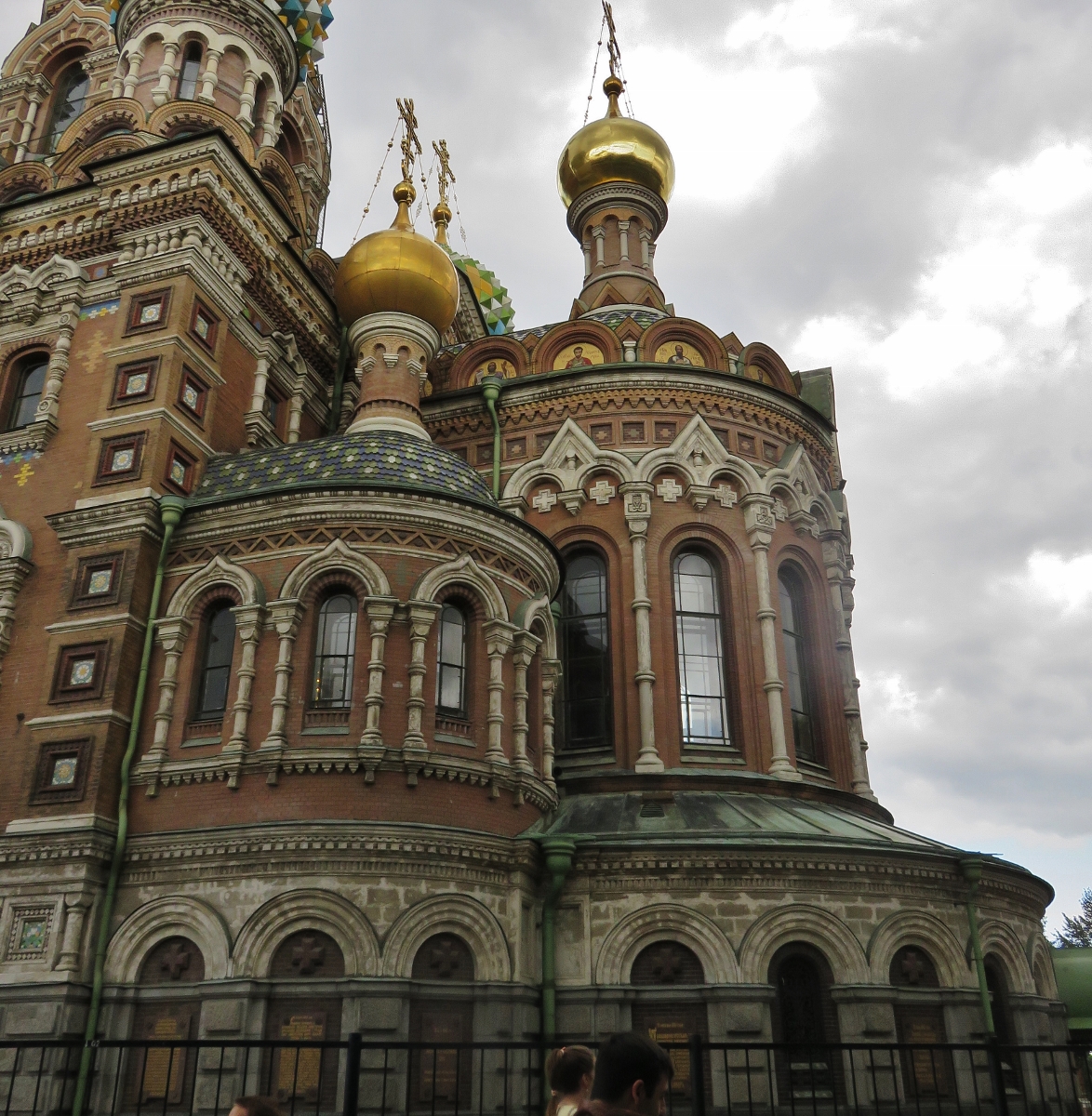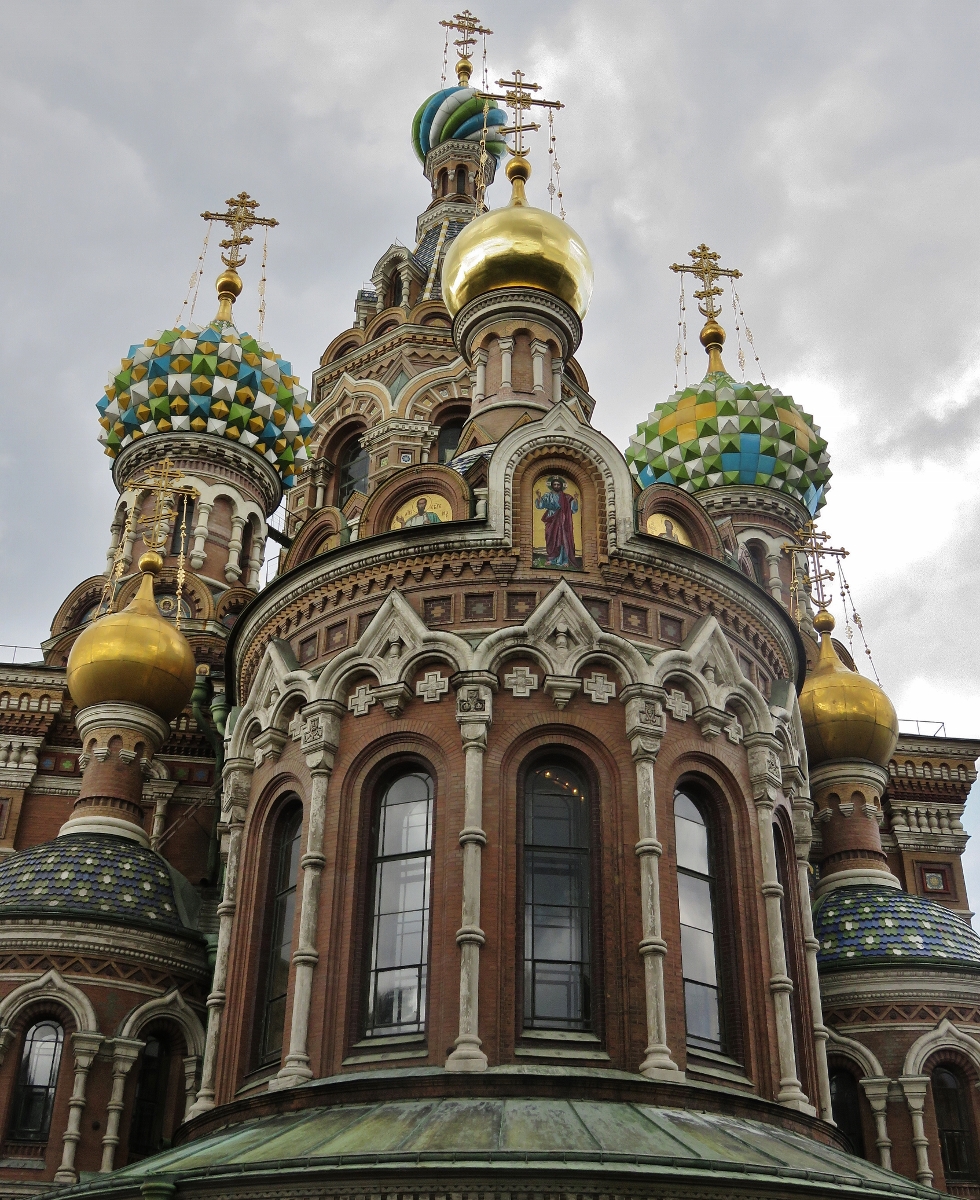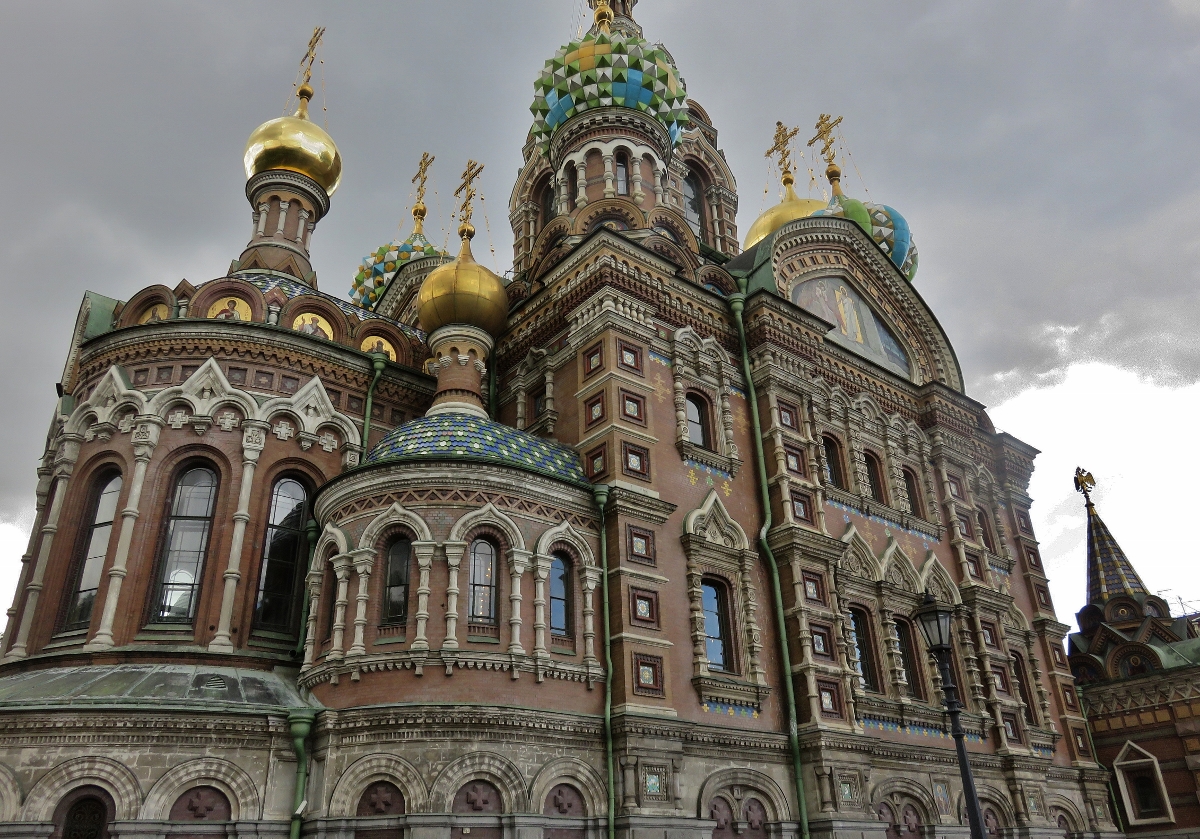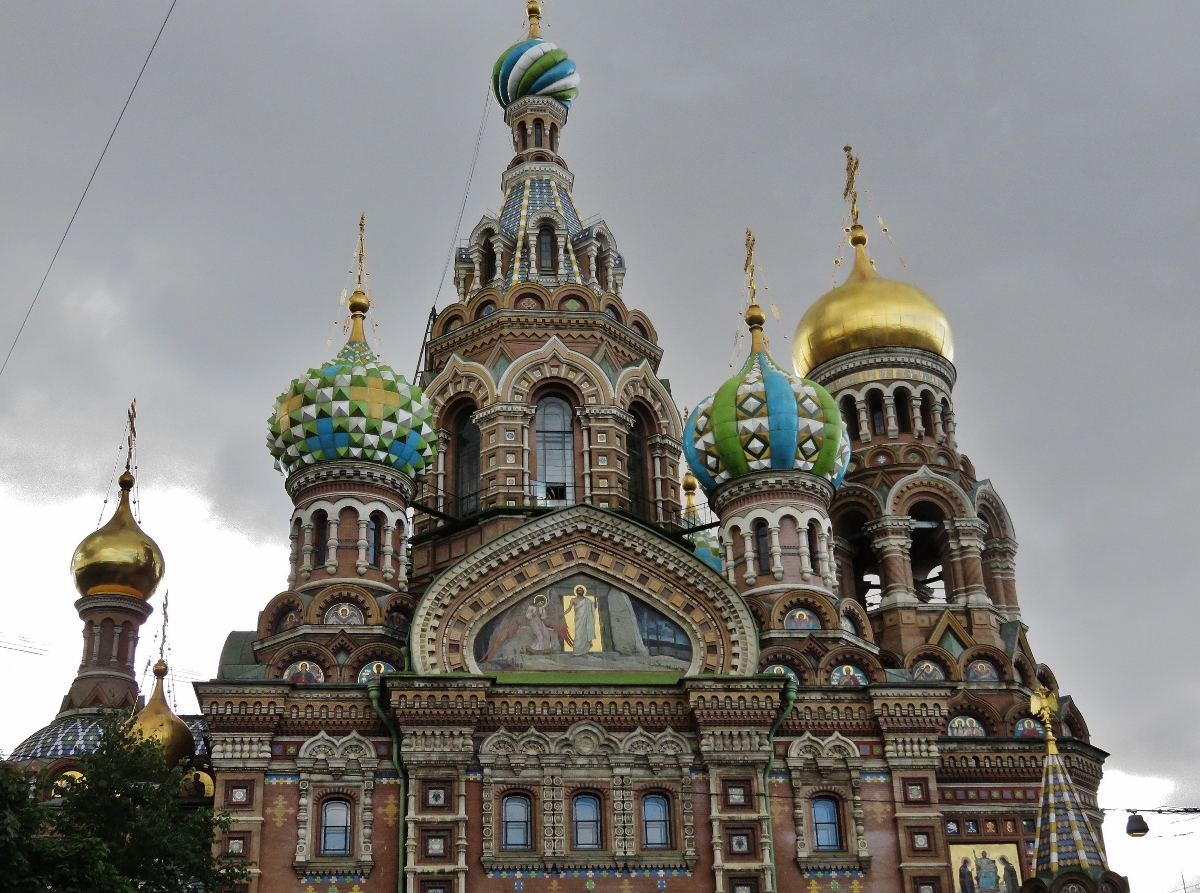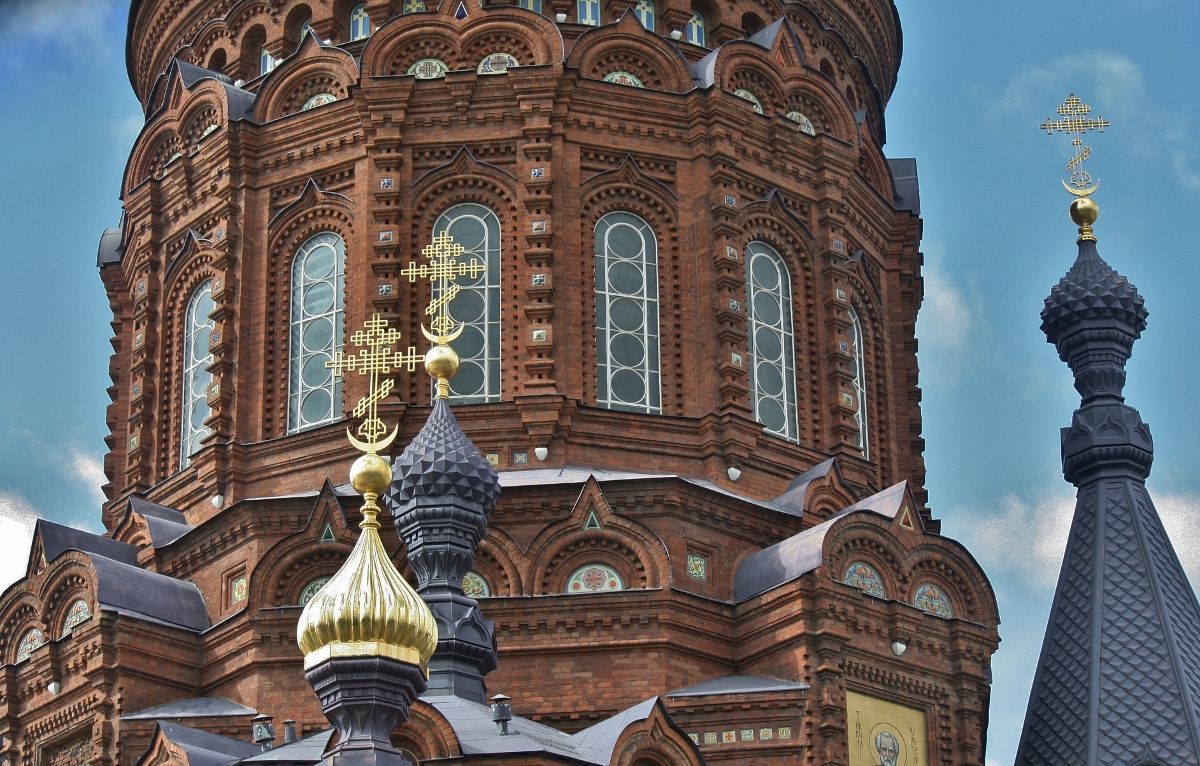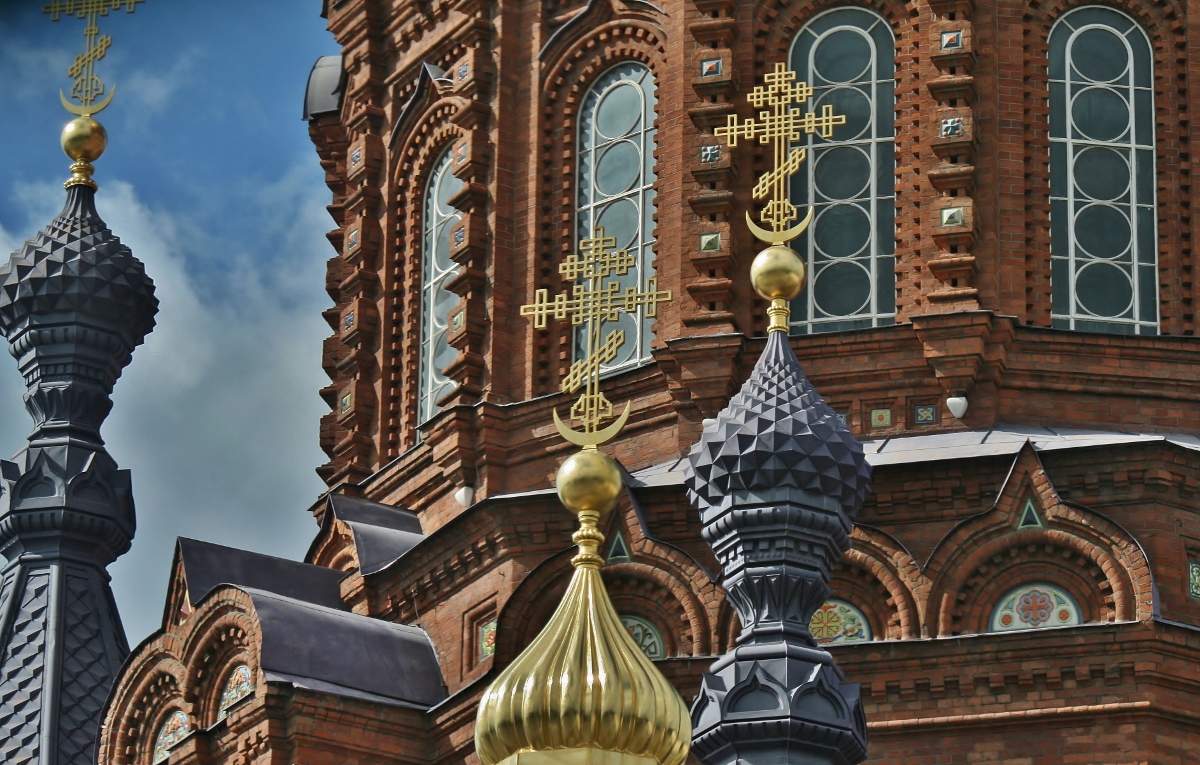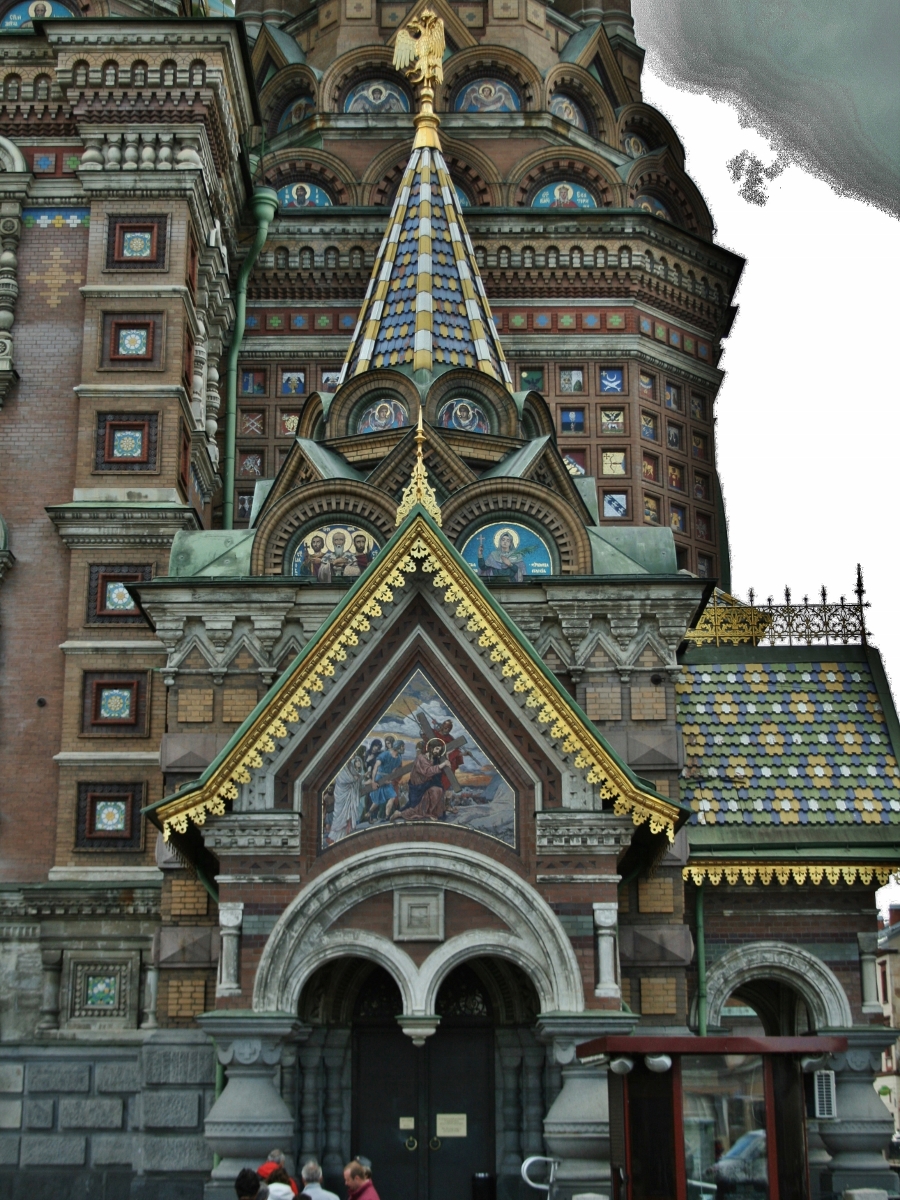 Not sure who these gals were, but they had colorful uniforms. We entered the church, where the inside was just as impressive as the outside.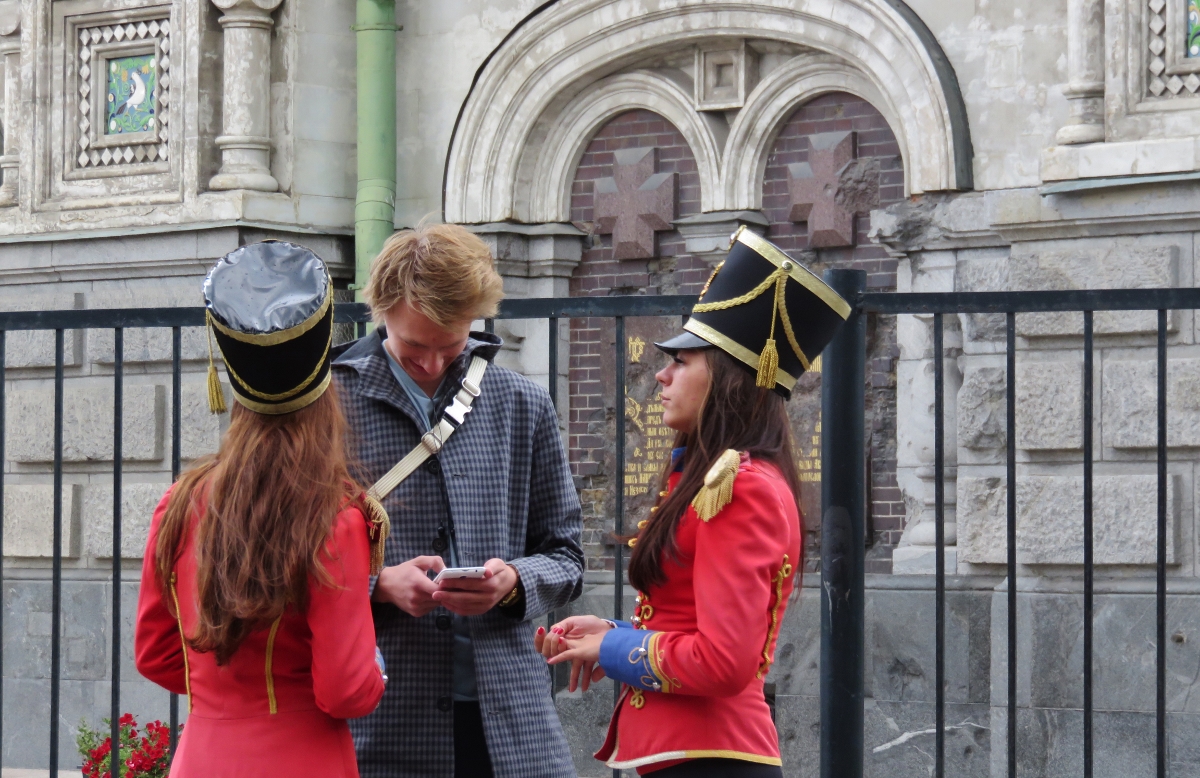 The church interior was awe inspiring.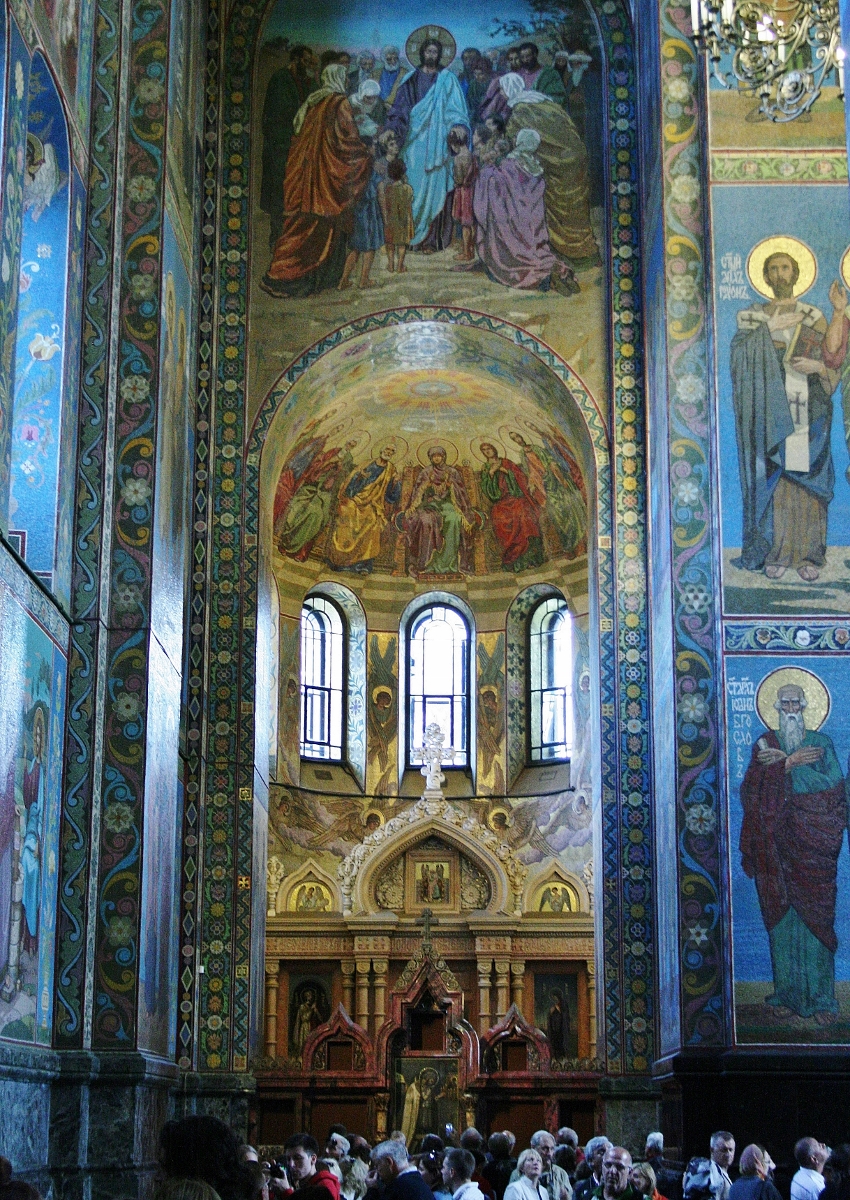 Mosaics everywhere. Some themes were religious.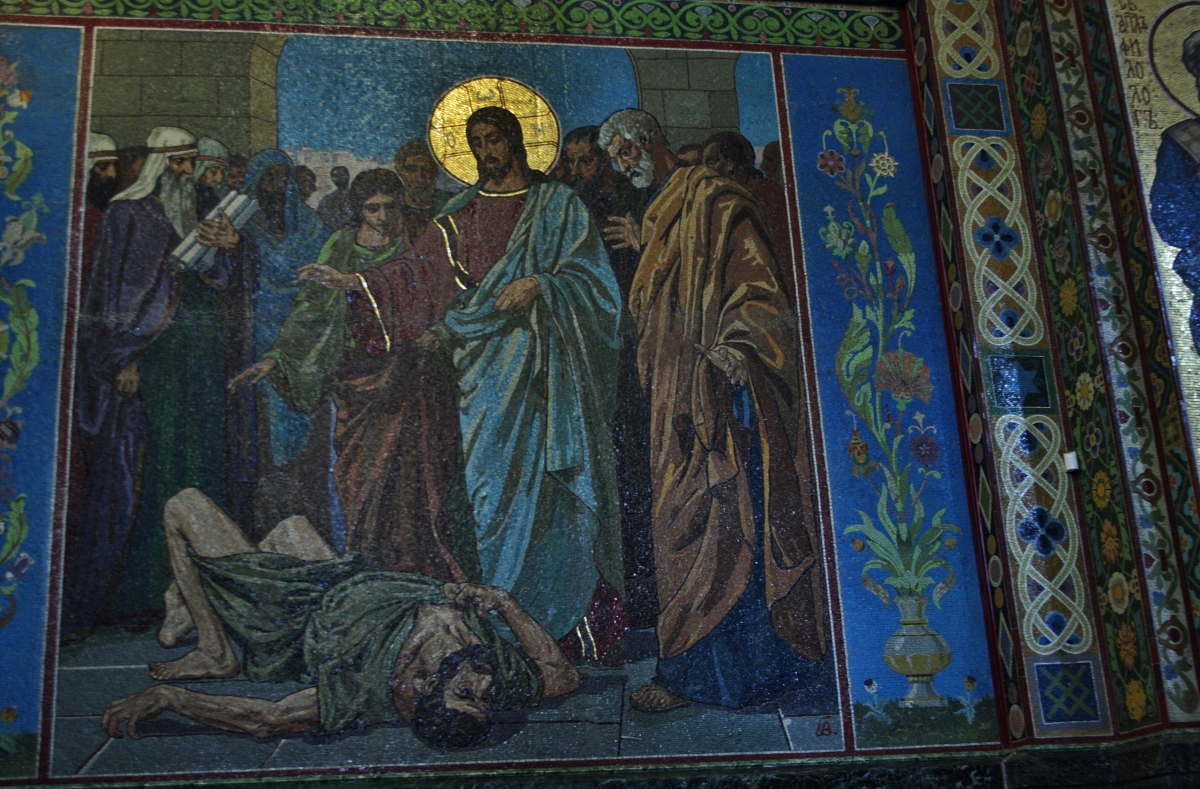 Some were political.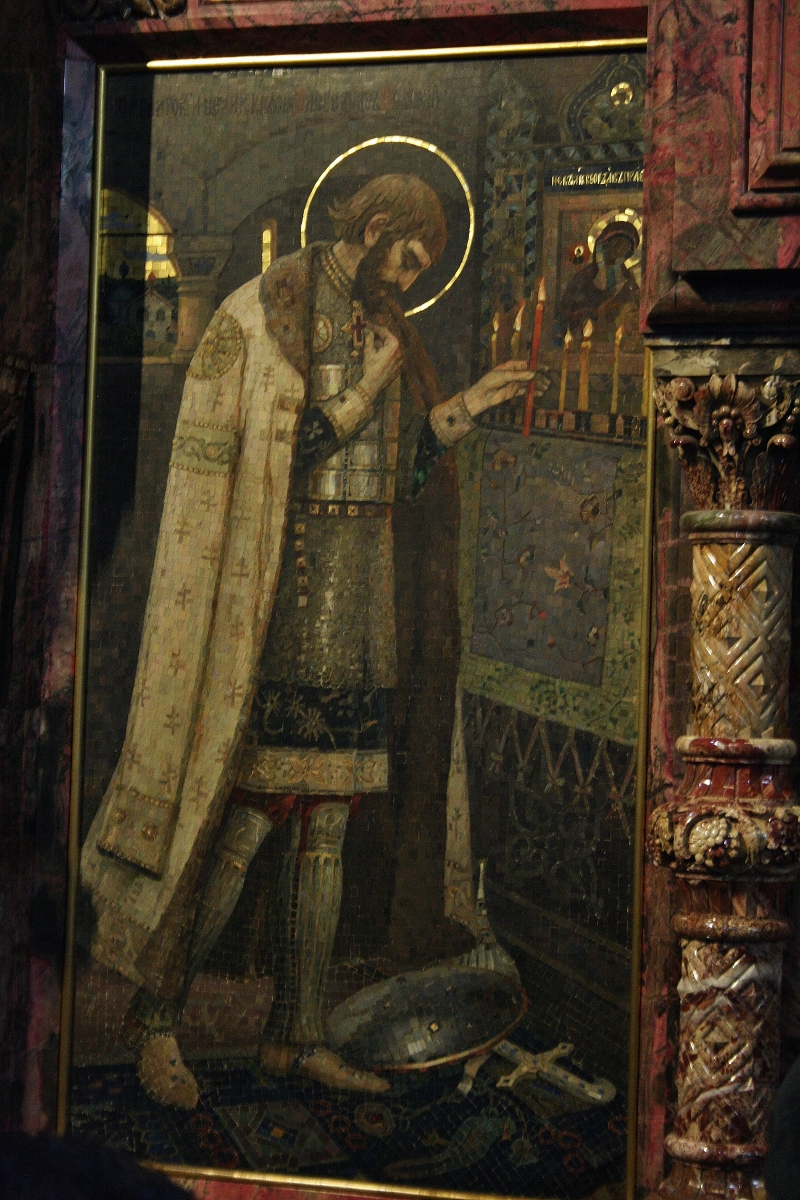 The most elaborate craftsmanship.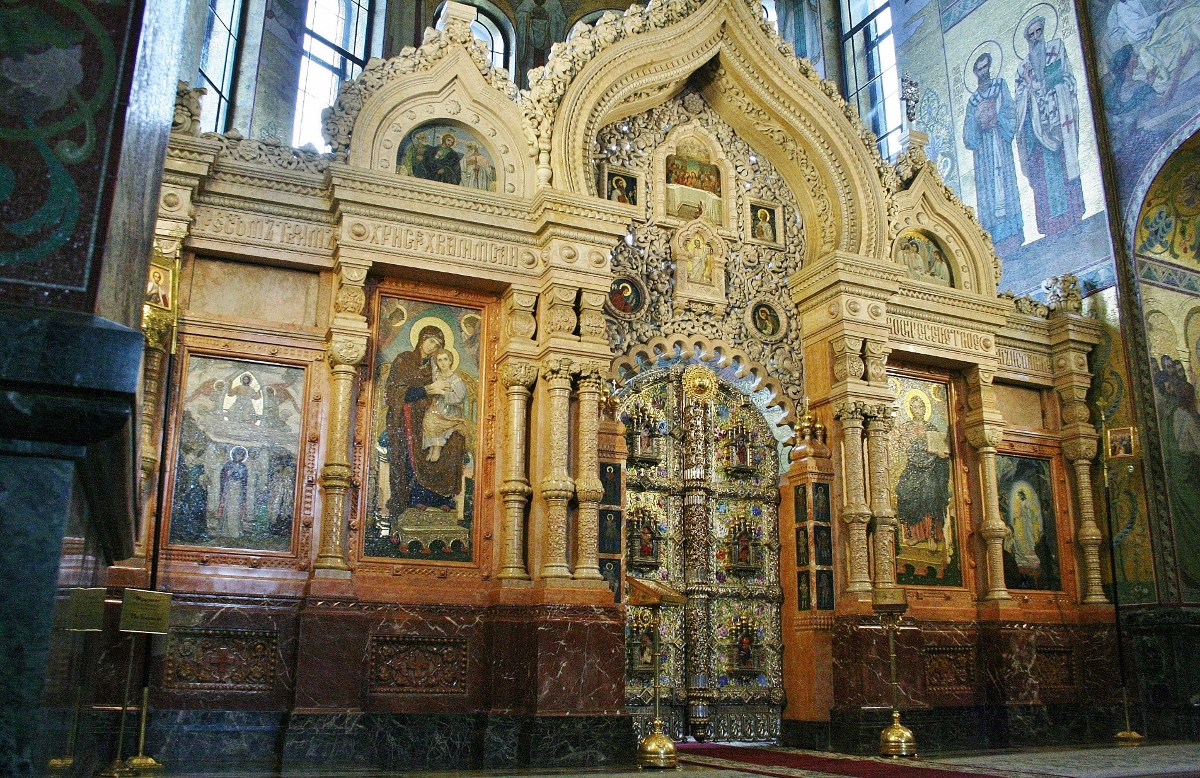 Gold and jewels all around.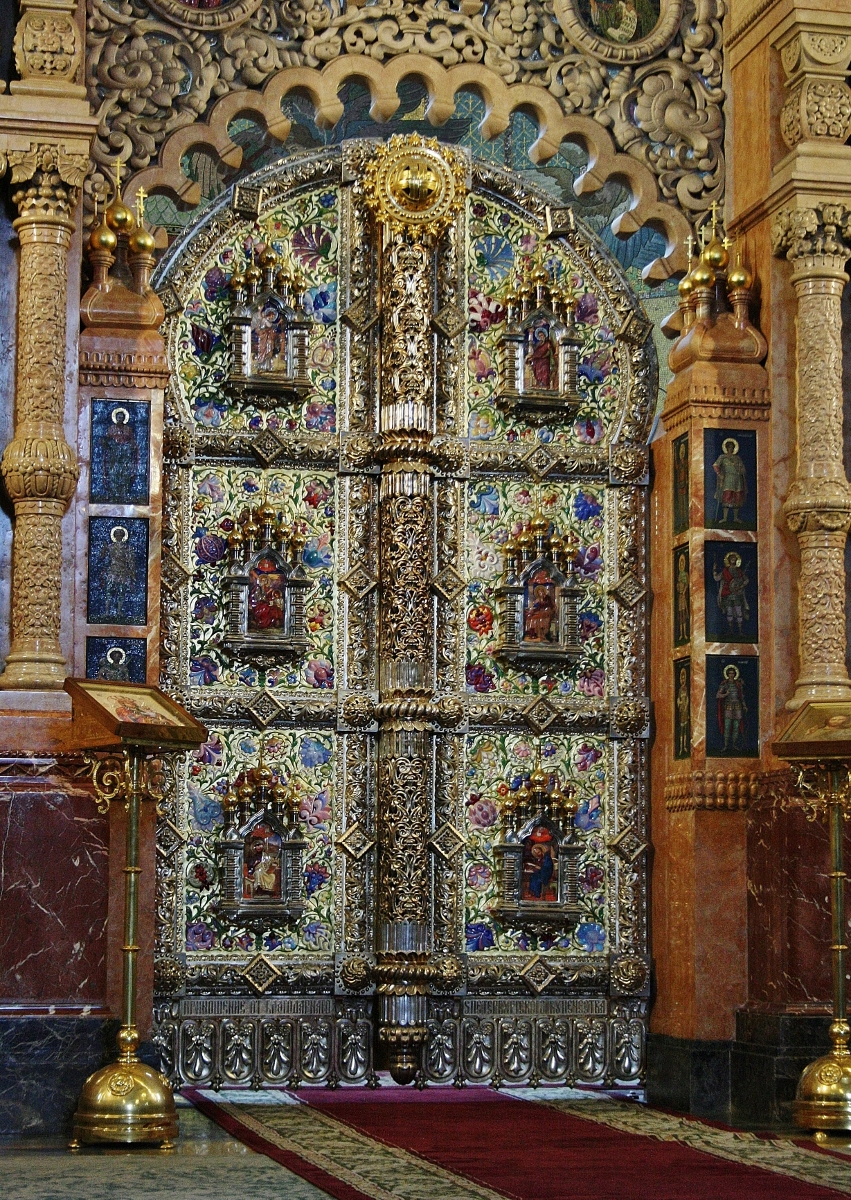 Icons on the walls and ceiling.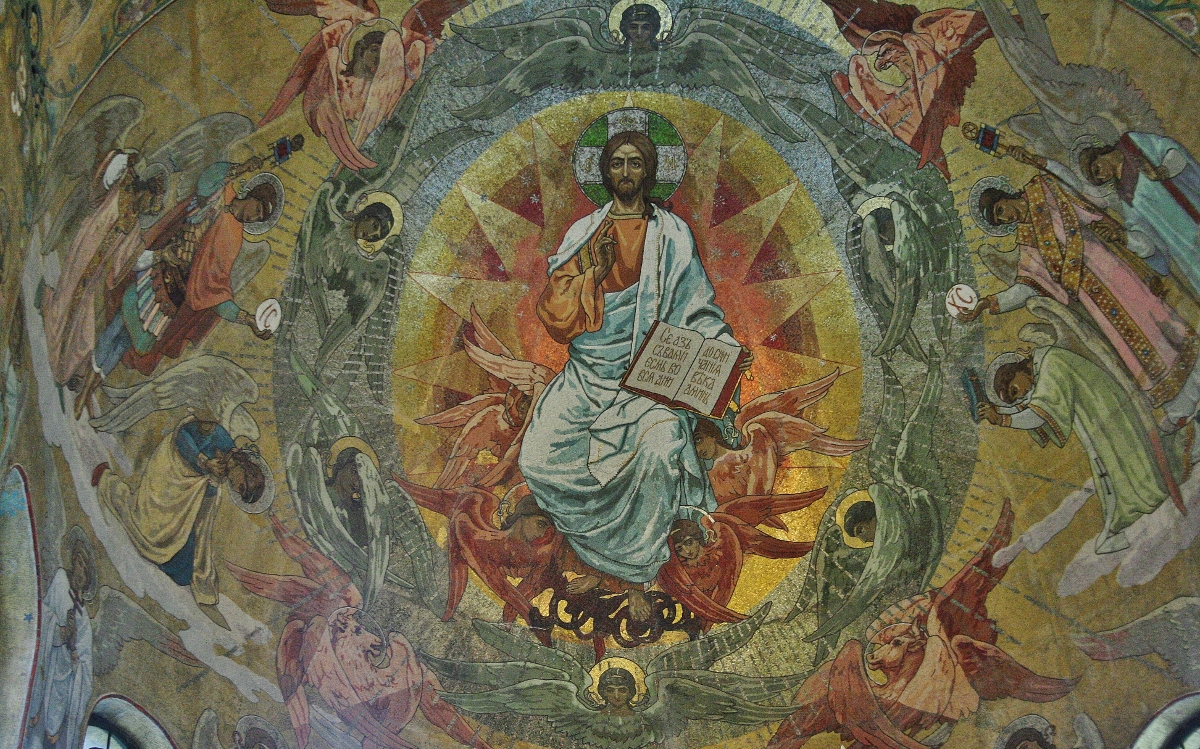 Mosaic.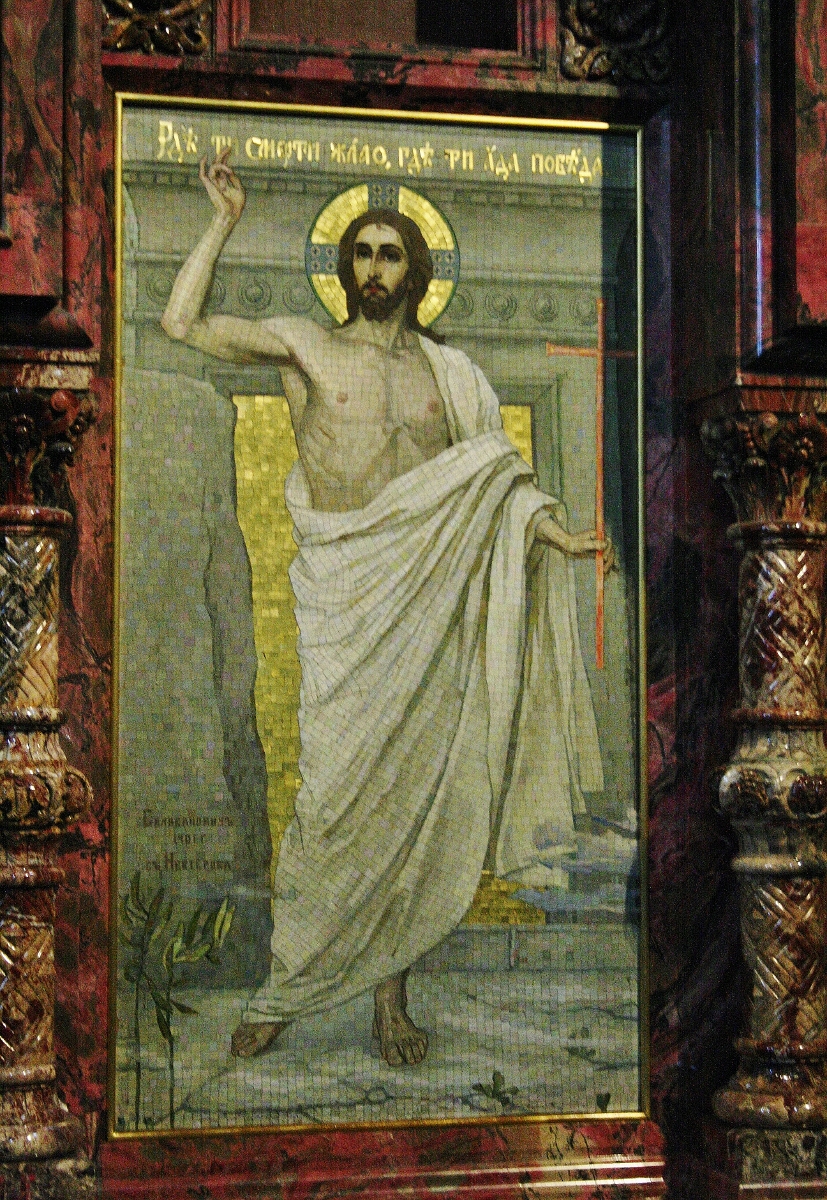 In the center, looking up.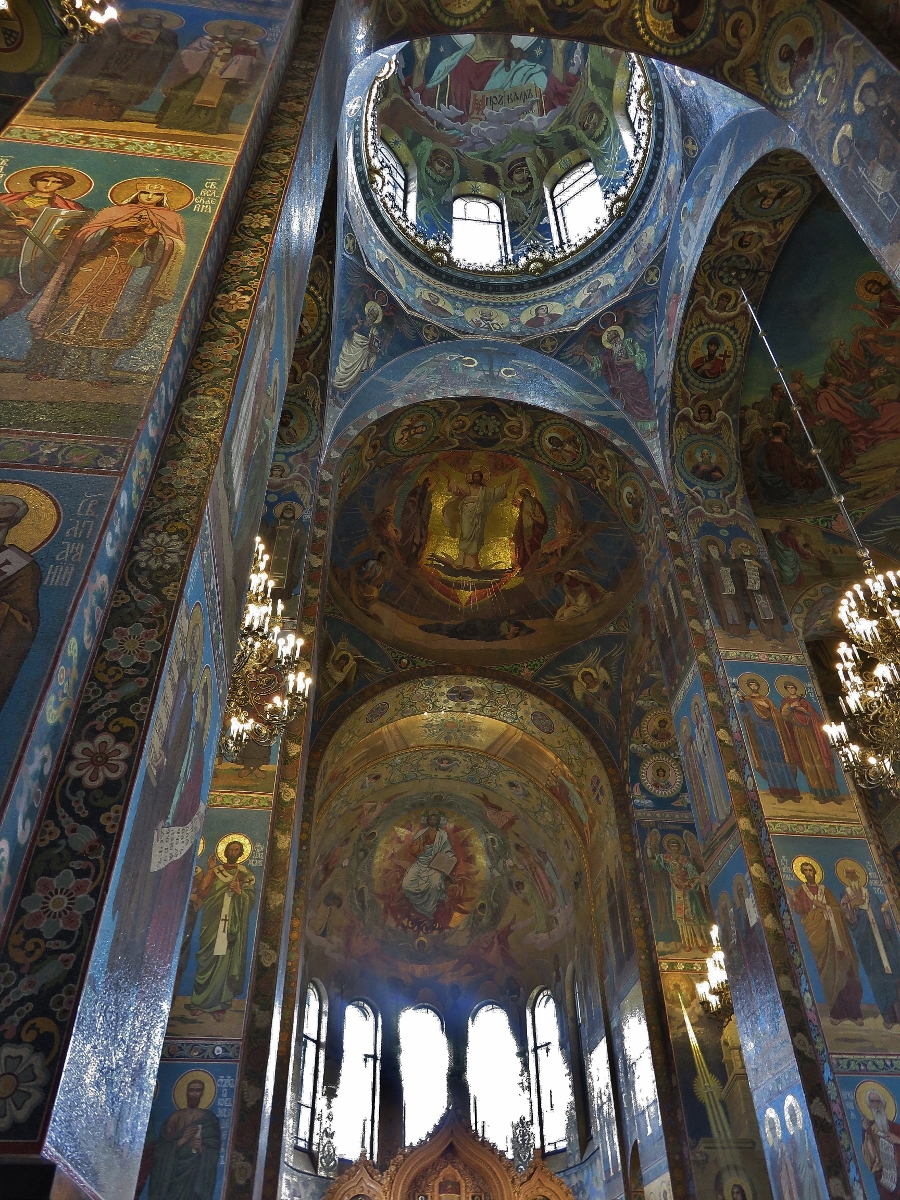 No space left undecorated.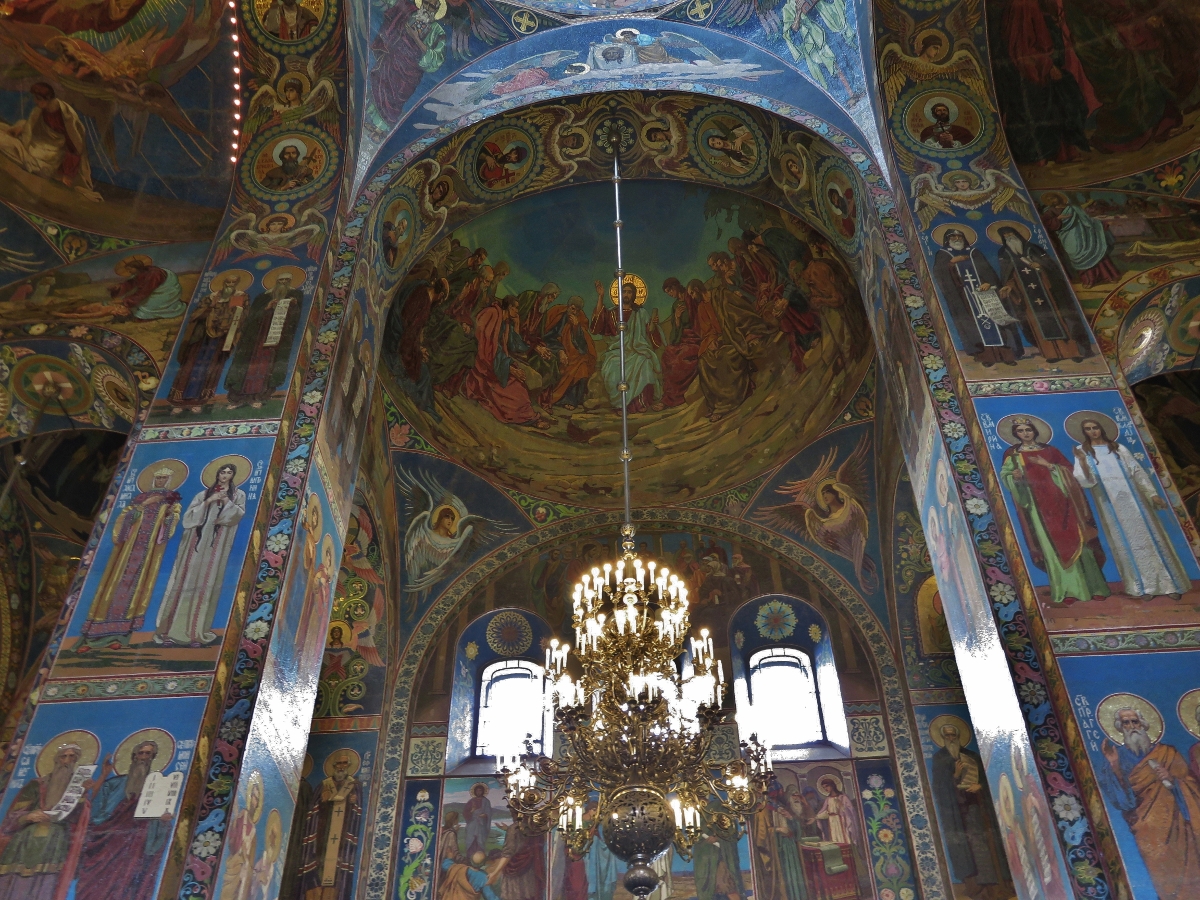 On our way out we noted the canopy that marked the exact spot where Tsar Alexander II was assassinated by a suicide bomber.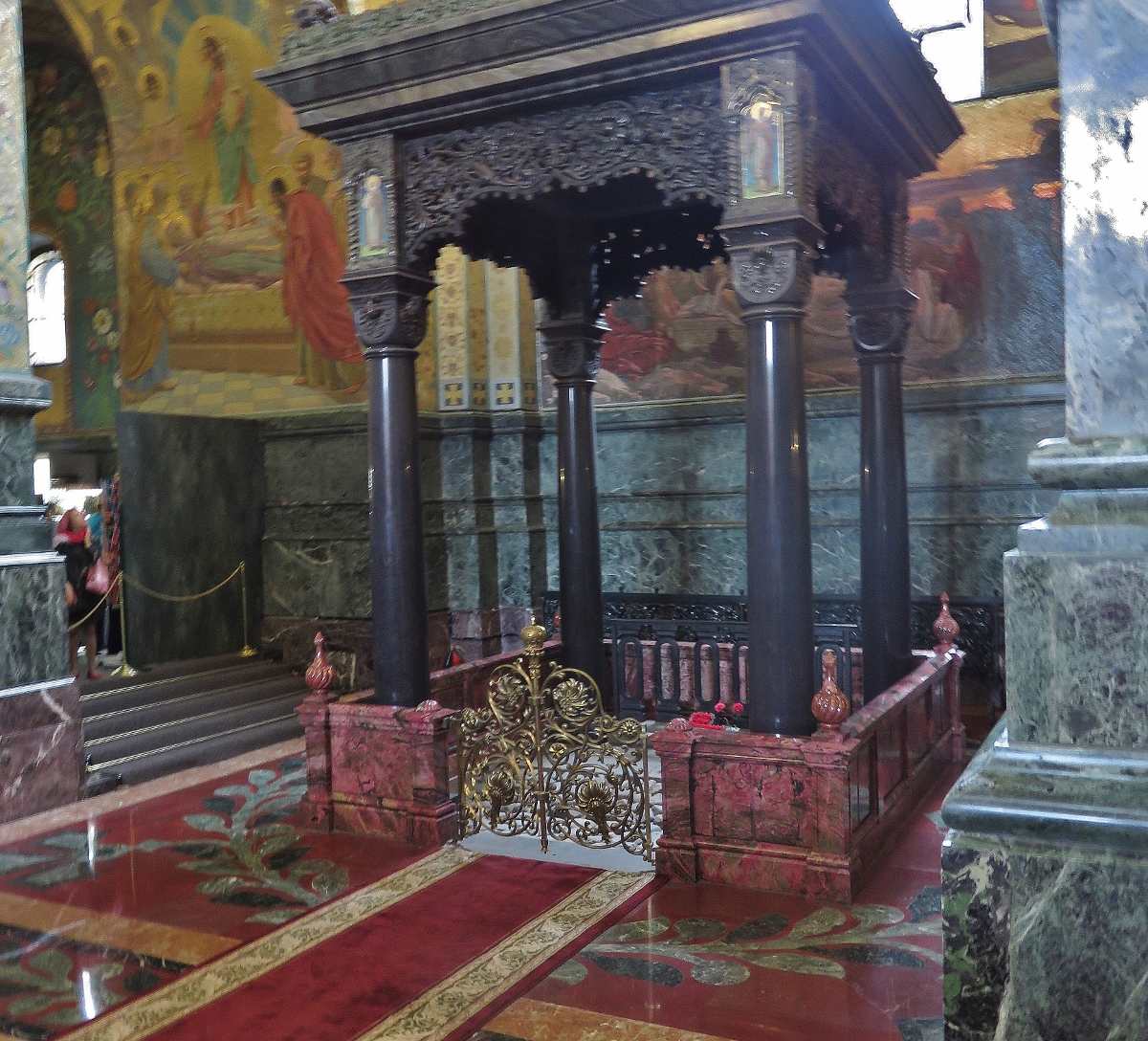 See the pics of Day 5 - St. Petersburg Canal Boat Tour. Or return to the Main Menu to see something else.